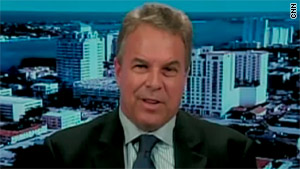 In his battle to become Florida's Democratic Senate nominee, real estate tycoon Jeff Greene says, "Nobody can buy me."
STORY HIGHLIGHTS
Billionaire Jeff Greene facing Rep. Kendrick Meek in Florida's Senate Democratic primary

Some reports say real estate investor has spent $23 million of own money on campaign

Despite wealth, Greene preaches populist message as an outsider

Democratic establishment is backing Meek, who has been leading in pre-election polls

West Palm Beach, Florida (CNN) -- Jeff Greene has deep pockets, and just hours before the polls closed Tuesday in Florida, this billionaire real estate investor, turned unlikely Democratic Senate contender, vowed to dig deep if he wins his party's nomination.
That's right -- continue to dip into his personal fortune to fund his campaign.
"I will spend whatever it takes to get our message out, and it will be a clear message: a self-made businessman gets results against two career Republican politicians, Charlie Crist and Marco Rubio," Greene said in an interview Tuesday afternoon.
Crist abandoned the GOP earlier this year and is running for the Senate as an independent, while Rubio will officially clinch the Republican nomination Tuesday night.
Greene is one of those not so rare successful businessmen and women -- think Meg Whitman in California -- who are using the spoils of successes in the business world to help fuel their ambition to win elected office.

Video: Billionaires spending millions
For a person who made his fortune crunching numbers, Greene doesn't like to talk specifics on how much he has invested in the campaign.
"I don't have an exact number, and I really don't want to speculate," Greene said.
It has been reported that he has spent in the ballpark of $23 million -- a mind-boggling sum given that his campaign has been a sprint, not a marathon.
Yet Greene wears his self-funding like a badge of honor, pronouncing in an interview that he is untouchable when it comes to special interests in the nation's capital. He is simply too rich.
"Nobody can buy me," a confident Greene said as a small group of supporters slowly began to tape white and green campaign signs to the walls in the hallway that leads to the ballroom where the real estate tycoon said he will deliver his victory speech in a few hours.
"Nobody can buy Jeff Greene. Nobody ever has. Nobody ever will."
Greene is playing for keeps and even sought to convince Democrats on Monday that if his primary opponent, U.S. Rep. Kendrick Meek, were to win Tuesday's primary, he would enter the general election at a severe fundraising disadvantage.
"If Meek were to win, he would be sunk before the general election even starts," Greene's campaign said in a news release. "While Meek would be forced to raise money nonstop to be competitive, Jeff Greene would be taking on Marco Rubio and Charlie Crist every day."
Despite his wealth, Greene preaches a populist message: emphasizing that he is an outsider, a self-made man running against a career politician in Meek, a former state legislator who now occupies the seat in Congress his mother once held.
Greene is right: Meek is part of the party machine, but the billionaire is no neophyte when it comes to politics, even though he described politics as "a new business to me." In the 1980s, Greene ran for Congress as a Republican while living in California. And he has opened up his wallet in recent years to the Democratic Party -- a gesture that has in turn opened doors for him that are otherwise closed to the everyday Joe.
This time last year, Greene donated $30,400 to the Democratic Senatorial Campaign Committee -- the political organization that is backing his primary rival Meek. He also has contributed to Rep. Paul Hodes, D-New Hampshire; Sen. Ron Wyden, D-Oregon; and even Meek in recent years, according to reports filed with the Federal Election Commission.
And at the same time he promotes the outsider image, Greene embraces the connections he has been able to make with the powerful few who walk the halls of Congress.
"Of course we spend time with U.S. senators all the time," Greene said as the sound of banging tables filled the ballroom in preparation for Tuesday's primary election night. And these senators, Greene said, have offered him advice on "where I am going."
"And also to talk about what it's like to be a senator, what are some of the frustrations they've had, some of the successes they had, so I know kind of what I am getting into, and they have given me some good direction," he said.
Greene would not name names, a strong trait to have in Washington, where loyalty is held in high regard but not expected.
According to the pre-election polls, Greene has a tough battle on his hands, with Meek leading in the closing days. Former President Clinton's appearance alongside Meek last week on the campaign trail and President Obama's public embrace of the Democratic congressman has helped him in this Democratic primary.
Greene, for his part, said he is not bitter -- he expected the establishment to stand with Meek.
"As soon as I win the nomination, I am certain -- we have already spoken to Sen. [Robert] Menendez [of New Jersey] who runs the DSCC, [Sen.] Bill Nelson [of Florida] -- they are all going to be jumping full speed ahead to support my candidacy."
But if he loses, Greene said he plans to back Meek in the general election.
"I already said early on that I would endorse whoever the nominee is and support the nominee," Greene said. "This is a great opportunity for us here in Florida as Democrats to win this seat."
FOLLOW THIS TOPIC