Shirley Sherrod to meet with USDA secretary about job offer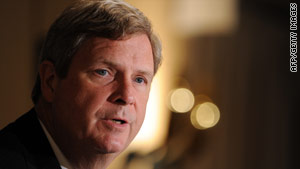 Secretary of Agriculture Tom Vilsack will meet with Shirley Sherrod to discuss a job offer, a USDA official confirmed.
STORY HIGHLIGHTS
Shirley Sherrod is being offered new job with Agriculture Department
She was forced to resign after misleading footage was posted on Internet
The new job involves improving the Agriculture Department's civil rights efforts and image
(CNN) -- Shirley Sherrod, who received an apology after being forced to resign from the Agriculture Department, will meet Tuesday with Agriculture Secretary Tom Vilsack to discuss a job offer, a department official confirmed Saturday.
It will be the first face-to-face meeting between the two since a controversial sequence of events last month culminated in her stepping down.
Sherrod, who was the Agriculture Department's Georgia Director of Rural Development, has said she is being offered the position of deputy director of the Office of Advocacy and Outreach.
The position includes administration and outreach to improve the Agriculture Department's civil rights efforts and image nationwide.
The department official who confirmed the meeting asked not to be identified.
Sherrod was forced to resign in July after misleading and incomplete video footage of a speech she gave was posted on the internet and picked up in media reports. Vilsack apologized to her and offered her the promotion.
The flap began after conservative blogger Andrew Breitbart posted a portion of a speech Sherrod gave in which she spoke of not offering her full help to a white farmer. The original post by Breitbart indicated that the incident Sherrod mentioned occurred when she worked for the Agriculture Department, and news outlets quickly picked up on the story.
However, the incident took place decades before she joined the department, and her speech in its unedited form made the point that people should move beyond race. In addition, the white farmer who Sherrod mentioned has told reporters that she helped him save his farm.
Sherrod spoke about the incident Saturday at a meeting of the Federation of Southern Cooperatives Land Assistance Fund in Epes, Alabama.
She said her work with other agencies to help poor counties in south Georgia was overlooked during the controversy.
Sherrod said Saturday she has no criticism of President Obama and believes the NAACP, which also urged her to resign before learning the video had misconstrued her comments, was tricked.
NAACP President Ben Jealous spoke Saturday at the Alabama meeting.
Repeated calls to Sherrod were not returned Saturday.
FOLLOW THIS TOPIC