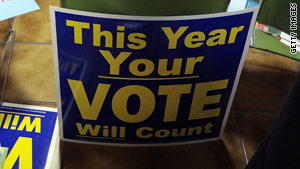 Four states are picking candidates on Tuesday for Senate and/or governor.
STORY HIGHLIGHTS
Voters in four states head to polls for primaries
Obama, Bill Clinton back opposing candidates in Colorado
Connecticut candidate comes from professional wrestling business
Georgia has runoff in GOP gubernatorial race; Minnesota picking gubernatorial candidates
Denver, Colorado (CNN) -- President Obama and former President Bill Clinton are on opposite sides of a divisive Democratic Senate primary and a former pro-wrestling executive could take a big step toward winning election to the Senate -- those are just two of the storylines as Colorado, Connecticut, Georgia and Minnesota hold primary contests Tuesday.
In Colorado, incumbent Sen. Michael Bennet is battling for his political life as he faces a primary challenge from former state House Speaker Andrew Romanoff. Bennet was plucked out of political obscurity early last year when Colorado Gov. Bill Ritter named him to replace then-Sen. Ken Salazar, who stepped down to serve as interior secretary in the Obama administration. Bennet was superintendent of the Denver school system at the time.
As sitting senator, Bennet has the backing and help of the national party and the White House. Obama headlined a fundraiser for Bennet in Colorado early this year and last month he recorded a robocall and sent out an e-mail in support of the senator.
But Romanoff has his own big-name endorsement. Earlier this summer Clinton announced he was backing Romanoff, whom he's known since 1992. Romanoff also supported Hillary Clinton's 2008 Democratic presidential bid. Clinton's voice appears on a robocall urging Colorado Democrats to vote for Romanoff.
With both candidates close on most of the major issues, and both running against Washington, the race has focused on character and has turned negative this summer, with attack ads from both campaigns.
"The Denver Post speaks out, calling Andrew Romanoff's TV attacks sleazy, misleading and below-the-belt. We don't need another politician willing to grossly distort reality," says the narrator in a recent Bennet commercial.
"Newspapers uncover the truth about Michael Bennet. Bennet worked for right-wing billionaire Phil Anschutz. In a corporate takeover, they pushed companies into bankruptcy," says the announcer in a Romanoff ad.
The most recent polls of Colorado Democrats consider the contest extremely competitive.
The winner of the Democratic primary will face off in November against either former Republican Lt. Gov. Jane Norton or Weld County District Attorney Ken Buck. Norton, who enjoys support by some establishment Republicans, was the early favorite. But surveys indicate that Buck, who is backed by many in the tea party movement, has closed the gap.
The GOP primary made national headlines after video of Buck went viral on YouTube. In the clip, Buck jokingly told people gathered at a campaign rally that they should support him "because I don't wear high heels." Days later the Norton campaign used the video in a campaign commercial.
Regardless of which candidate wins the primary, Republicans think they have a good shot at winning back the Senate seat come November.
Also up for grabs is the Republican gubernatorial nomination. Former Rep. Scott McInnis faces off against businessman Dan Maes. The winner will face off against Denver Mayor John Hickenlooper, the presumptive Democratic gubernatorial nominee, and former Republican Rep. Tom Tancredo, who jumped into the race in the past two weeks as the American Constitution Party's candidate. Ritter, a Democrat, decided not to run for re-election.
Most votes cast in the Colorado primary will be by mail. Residents have been mailing in ballots over the past two weeks, with all votes needed to be cast by Tuesday evening. State election officials say the competitive contests could produce a much larger than usual primary turnout.
Connecticut
Polls suggest Linda McMahon is favored to win the GOP Senate primary in Connecticut over former Rep. Rob Simmons and businessman Peter Schiff. McMahon, along with her husband, Vince, operated World Wrestling Entertainment from its startup in 1980 until last year, when she announced her candidacy. McMahon has said she'll spend up to $50 million of her own money on her bid to join the Senate. She's fended off charges from her GOP opponents that she's tried to buy the election and she's also defended herself from the steroids scandals that have rocked professional wrestling over the past two decades.
The winner of the Republican primary will face off in the general election against Connecticut Attorney General Richard Blumenthal, the presumptive Democratic Senate nominee. Blumenthal faced controversy in May, when he apologized for misstating that he served in Vietnam. Blumenthal served in the Marine Corps Reserve stateside.
The winner in November will succeed longtime Democratic Sen. Christopher Dodd, who is retiring rather than run for re-election this year.
Connecticut is also holding primaries for governor, with the most recent surveys indicating that the Democratic and GOP nomination battles are too close to call
Georgia
High-profile surrogates added to the drama in a close runoff election for the Republican gubernatorial nomination in Georgia. Former Secretary of State Karen Handel and former U.S. Rep. Nathan Deal traded sharp barbs in the final days, each bringing in a national figure for 11th-hour campaigning.
Sarah Palin came to Atlanta for a Handel rally on Monday, with a five-for-five record in endorsing successful candidates for governor. Palin told a crowded rally, "the eyes of America" were on the "epic" Georgia race.
"We are all so proud that Karen is a historic candidate. But no, I didn't endorse her just because she's a woman. She's a sister, yeah ... we're endorsing her because she's the best candidate for Georgia".
Handel told the rally, "This campaign is pretty simple. It's about taking our government back from the professional politicians and once again restoring it with you, the people."
Deal poked fun at the Palin event, held at a hotel in the city's well-to-do Buckhead neighborhood. The Atlanta Journal-Constitution said as he toured the central and southern part of the state, he noted he was "not at a four-star hotel in Buckhead."
Deal, who gave up his seat to run for governor, brought in some help of his own over the weekend to push a message that he was the true conservative. He was endorsed last week by Mike Huckabee, who campaigned with him Sunday at a rally in Gainesville. Huckabee told the crowd of about 700 people that Deal is a "principled conservative who doesn't have to go back to his own campaign literature to see what he's going to do."
Newt Gingrich, from the northern Atlanta suburbs, also released a web video this weekend calling Dean the "leading conservative" in the race.
In the battle of the high-powered endorsements, Deal said, "Endorsements from folks who actually know you mean a whole lot more than somebody who maybe is just passing through the state."
Minnesota
A battle for the gubernatorial nomination also dominates primary day in Minnesota, where three candidates are competing for the Democratic-Farmer-Labor Party nomination. House Speaker Margaret Anderson Kelliher has the party backing, but is battling former U.S. Sen. Mark Dayton and former State Rep. Matt Entezna.
The winner of the primary battle will take on the Republican nomination, State Rep. Tom Emmer, and an Independence Party candidate in the race to succeed Gov. Tim Pawlenty. Pawlenty chose not to run for a third time while he positions himself for a potential Republican presidential bid.
Emmer has shaken up his campaign this week, bringing in a new campaign manager amid polls that show him trailing the Democratic candidates.
FOLLOW THIS TOPIC