Census Bureau comes in under budget for 2010 operational costs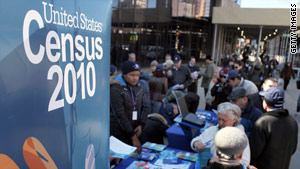 Census Bureau workers raise awareness about the census count earlier this year in Brooklyn, New York.
STORY HIGHLIGHTS
The Census Bureau is returning almost a fourth of its budget for 2010
Some $1.6 billion of operational funds aren't needed, according to commerce secretary
The savings include a $800 million emergency fund that wasn't tapped
Official: 72 percent of households returned questionnaires by mail
Washington (CNN) -- The U.S. Census Bureau is giving back almost a quarter of the money it received to do its job this year.
Commerce Secretary Gary Locke announced Tuesday that the Census Bureau, which compiles the U.S. population survey every 10 years, is returning $1.6 billion of its almost $7 billion operational budget.
According to a statement from Locke, the savings included:
• $800 million from an emergency fund that never was needed;
• $650 million in the door-to-door questioning phase of the census survey because 72 percent of households returned mailed questionnaires; and,
• $150 million because of lower-than-planned costs in some areas including Alaska and tribal lands.
"With proficient management, the cooperation of the American public and a little bit of luck, the census stayed on track with significant cost savings to taxpayers," Locke said in the statement.
He praised Census Bureau Director Robert Groves for improved management practices, including buying additional advertising in communities where responses lagged to improve the overall response rate.
FOLLOW THIS TOPIC