Obama rallies unions, rips GOP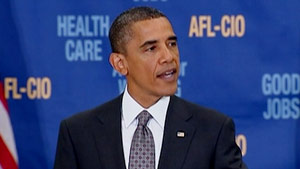 "We're on the right track," President Obama said of the economy Wednesday.
STORY HIGHLIGHTS
Obama tells a union audience the midterm elections offer a clear choice
The president rips the GOP for backing philosophy that helped only the wealthy
Many Democrats are worried about losing seats because of a lukewarm recovery
Obama pledges to push for a bill making it easier to unionize
Washington (CNN) -- President Obama sought to rally the Democratic Party's union base Wednesday, telling a meeting of AFL-CIO leaders that the looming midterm elections offer a clear choice between moving forward with a stronger economy and moving backward with a failed GOP philosophy.
He ripped former President George W. Bush's administration for fostering "a profound animosity toward the notion of unions" and creating an unstable economy that only advanced the interests of "a privileged few."
The president's remarks were delivered against a backdrop of rising Democratic fears over the November elections due largely to what many analysts view as a tepid economic recovery.
"We're on the right track," Obama declared at the Washington Convention Center. But it "took us nearly a decade to dig ourselves into the hole that we're in," and a full recovery will take time.

Video: The GOP's 'birther problem'
Obama told the union leaders that they have to remind their members over for the next three months that the Republicans "drove America's economy into a ditch. And for the last 20 months ... we've been shoving that car out of the ditch, and they've been standing" aside without "lifting a finger to help."
Now, Democrats have the car "on the blacktop, and they say they want the keys back. Well, you can't have the keys, because you don't know how to drive."
The president joked that "when you're in a car and you want to go forward, you put it in 'D.' " If you want to go backward, "you put it in 'R.' "
Among other things, Obama took credit for passing health care and Wall Street reform over a solid wall of GOP opposition. He also pledged to keep pushing for passage of the Employee Free Choice Act, a bill designed to make it easier for workers to unionize.
Republican leaders have called the measure undemocratic because it discourages secret ballot elections.
CNN's Alan Silverleib contributed to this report.
FOLLOW THIS TOPIC