STORY HIGHLIGHTS
Chelsea Clinton wore a gown by Vera Wang, the family says
The ceremony incorporated the couple's two faiths
The wedding took place at the posh Astor Courts, a 50-acre estate
Rhinebeck, New York (CNN) -- Former first daughter Chelsea Clinton and longtime beau Marc Mezvinsky were wed Saturday "in a beautiful ceremony at Astor Courts," a 50-acre estate in Rhinebeck, New York, according to her parents.
"We could not have asked for a more perfect day to celebrate the beginning of their life together, and we are so happy to welcome Marc into our family," former President Bill Clinton and Secretary of State Hillary Clinton said in a statement. "On behalf of the newlyweds, we want to give special thanks to the people of Rhinebeck for welcoming us and to everyone for their well-wishes on this special day."
The confirmation by the Clintons put to rest a slew of speculation on where and when the nuptials would take place.
"Today, we watched with great pride and overwhelming emotion as Chelsea and Marc wed in a beautiful ceremony at Astor Courts, surrounded by family and their close friends," the statement said.
The interfaith ceremony -- Clinton is Methodist and Mezvinsky is Jewish -- was led by Rabbi James Ponet and the Rev. William Shillady, the family said. The groom wore a tallit, or prayer shawl, and a yarmulke.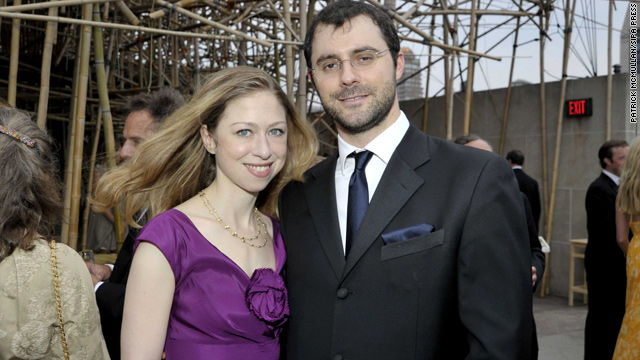 Gallery: Chelsea Clinton through the years

Video: The perfect gift for Chelsea Clinton

Video: Bill Clinton's take

Video: Inside Chelsea's fairy tale wedding
A friend of the couple read the Leo Marks poem "The Life That I Have," according to the family.
The bride -- as predicted -- wore a dress designed by Vera Wang, the family said.
The strapless dress had a swirling silk organza ball skirt and train, and was accented by an embellished belt.
Clinton had been spotted by Women's Wear Daily outside the designer's showroom in New York earlier this week, and Wang was spotted in Rhinebeck on Saturday.
Hillary Clinton wore a pink gown by Oscar de la Renta, the family said.
Jim Valli and his band performed at the reception, and the couple's good friend, Tim Blane, played at the rehearsal dinner, according to the Clinton family. The reception was catered by The St. Regis, the rehearsal dinner by Blue Ribbon.
Hundreds of curious onlookers -- along with hordes of reporters and cameramen -- gathered Saturday at the main intersection of the tiny New York town in hopes of catching a glimpse of celebrities and dignitaries attending the wedding.
Well-heeled wedding guests wearing floor-length gowns and tuxedos were seen boarding shuttles to take them to what one event planner billed as "the wedding of the century."
Storefront windows displayed signs reading "Congratulations Marc & Chelsea" and similar messages.
"You could make a case that this is the most significant thing to happen in Rhinebeck since Washington's army drove the British out of Rhinebeck back in the 1700s," said Jim Langon, editor of the Hudson Valley News newspaper, who was the first to report that the wedding would take place there.
By Leo Marks
---

The life that I have
Is all that I have
And the life that I have
Is yours

The love that I have
Of the life that I have
Is yours and yours and yours

A sleep I shall have
A rest I shall have
Yet death will be but a pause

For the peace of my years
In the long green grass
Will be yours and yours
And yours
Bill and Hillary Clinton were seen arriving at a formal dinner at the Beekman Arms Inn in Rhinebeck on Friday night.
Also attending were former Secretary of State Madeleine Albright -- who was spotted lunching in town before the wedding Saturday, presidential adviser Vernon Jordan and numerous young couples presumed to be friends of the bride and groom.
Actors Ted Danson and Mary Steenburgen -- longtime married friends of the Clinton family -- told CNN that despite the public spectacle of the wedding, "it's been a very personal experience for them."
"There's been so much love and tenderness around the whole thing," Steenburgen said. "That kind of gets obscured a little bit when you're talking about someone that's a public person. But on the inside of it I can tell you that it's been very much like everybody's wedding -- full of tenderness and memories and laughter."
Some wedding planners had speculated that the cost of the celebration could run to seven or even eight figures, but a longtime Clinton family friend said the cost would be less than $1 million.
Mezvinsky, a 32-year-old investment banker, is the son of former U.S. Reps. Marjorie Margolies-Mezvinsky of Pennsylvania and Ed Mezvinsky of Iowa.
When Bill Clinton was seen in Rhinebeck earlier this week, someone asked him if his daughter was going to look beautiful on Saturday.
"She looks beautiful every day to me," the beaming father said.
Earlier in July, Hillary Clinton told Polish media that she was enjoying taking part in her daughter's wedding planning.
"It's a very happy time for my family," she said. "It truly is the most important thing in my life right now."
Steenburgen, who told CNN that she has known the Clintons for 30 years, predicted tears from the former president by the end of the night.
"Knowing my friend Bill ... I can honestly tell you that I'm sure he'll be crying his eyes out," she said.
CNN's Susan Candiotti contributed to this report.
FOLLOW THIS TOPIC