Aides: White House trying to distance Obama from Sherrod controversy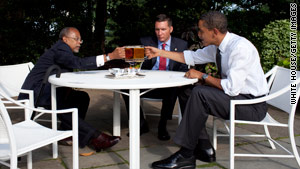 President Obama, police Sgt. James Crowley and professor Henry Louis Gates Jr. held a beer summit in the wake of the controversy surrounding Gates' arrest last year.
STORY HIGHLIGHTS
NEW: White House apologizes for the handling of the Sherrod case
Aides say they're trying to distance White House from USDA controversy
Consensus inside White House is that Sherrod's remarks were taken out of context
Aides say they debated whether Sherrod should step down
Washington (CNN) -- White House aides said Wednesday they do not expect President Barack Obama to call Shirley Sherrod, the black former USDA employee who resigned after a video clip of her discussing a white farmer surfaced earlier this week.
Obama did not appear at the White House briefing Wednesday to discuss the issue. At the briefing, White House Press Secretary Robert Gibbs apologized to Sherrod on behalf of the administration.
Last year, the president did make a surprise appearance at a briefing to address reporters regarding the controversy surrounding the arrest of Harvard professor Henry Louis Gates Jr., even though White House officials had said he wouldn't speak publicly about it.
"No more beer summits here," one aide said. After Gates' arrest, Obama, Gates and police Sgt. James Crowley met at the White House for beers.
Aides are doing all they can to keep the resignation of Sherrod as far away from the president as possible. They are emphasizing that it was not a White House-driven decision and the review of the situation now taking place is not a White House review. The aides said the White House is trying to convey that this story expressly belongs to the Agriculture Department.
White House aides acknowledge that Americans have seen the tape of Sherrod's remarks, that it speaks for itself and that even Agriculture Secretary Tom Vilsack has acknowledged the case merits a complete review.

Video: USDA to review Sherrod resignation
Aides say there was a good deal of debate Tuesday among White House officials over whether Sherrod should resign.
Many initially supported Vilsack's conclusion that her position at USDA had been compromised over the controversy and she should step down, they said. Others believed a more thorough review of her remarks was required.
After the full tape was made available on the internet through the NAACP about 7 p.m. Tuesday, the White House contacted the USDA later that night to push Vilsack to reopen Sherrod's case.
Gibbs confirmed that account at the Wednesday briefing, saying the White House contacted the Agriculture Department on Tuesday night to ensure that "fairness" occurred in the Sherrod case based on the more complete information available about her remarks.
FOLLOW THIS TOPIC