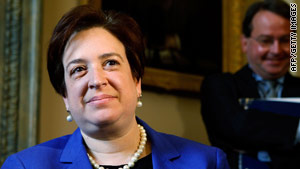 Solicitor General Elena Kagan met with senators ahead of her confirmation hearings.
STORY HIGHLIGHTS
Elena Kagan's Supreme Court confirmation hearings begin Monday
Kagan is the solicitor general of the United States
Clinton-era e-mails show an engaged, efficient lawyer and policy analyst
Washington (CNN) -- Elena Kagan will face a grilling from members of the Senate Judiciary Committee on Monday, as the committee holds confirmation hearings on her nomination to the Supreme Court.
But a look into Kagan's past shows the U.S. solicitor general is no stranger to defending herself -- and is willing to work with her ideological opposites.
As dean of Harvard Law School, Kagan welcomed the thousand or so members of the right-leaning Federalist Society in 2005, but let them know she shared few of their views on the law and society.
"You are not my people," she told them.
Yet the conservative and libertarian faithful that night cheered Kagan's honesty and willingness to mix it up with her ideological opposites. It is that reputation as a consensus-builder that has earned the solicitor general positive reviews on the left and right.
Those bipartisan skills, and her limited public comments on hot-button issues, have generally kept Republican criticism at bay and helped the experienced lawyer and policy-maker earn President Obama's nomination to the Supreme Court.
"Kagan has a lot of fans on the right as well as the left from her time as the dean of Harvard Law School," said Thomas Goldstein, a noted Washington attorney and founder of scotusblog.com. "She's someone who is an intellectual, who has earned a lot of respect. She's relatively young, a woman, and doesn't likely generate a significant political fight."
Although she has never served as a judge, some on both the left and the right have found aspects of the New York native's record troubling, and she'll more than likely run into tough questioning by members of the Senate Judiciary Committee on such issues as homosexual rights and national security.
She drew criticism from conservatives over her strong efforts to try to block military recruiters from Harvard because of the current "don't ask, don't tell" policy on removing openly homosexual service members. Kagan supported other schools challenging a federal law requiring that colleges give recruiters equal access or face the loss of federal funding. The Supreme Court unanimously upheld the law in 2006.
Just four months after taking the job as dean, in October 2003, Kagan told students in a campuswide e-mail, "This action causes me deep distress. I abhor the military's discriminatory recruitment policy." She called it "a profound wrong -- a moral injustice of the first order."
From the Ivy League to the Clinton White House

Video: Kagan's 'sparse' record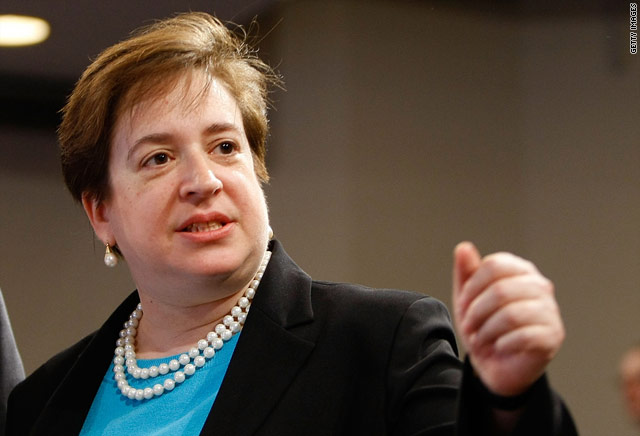 Fast facts: Elena Kagan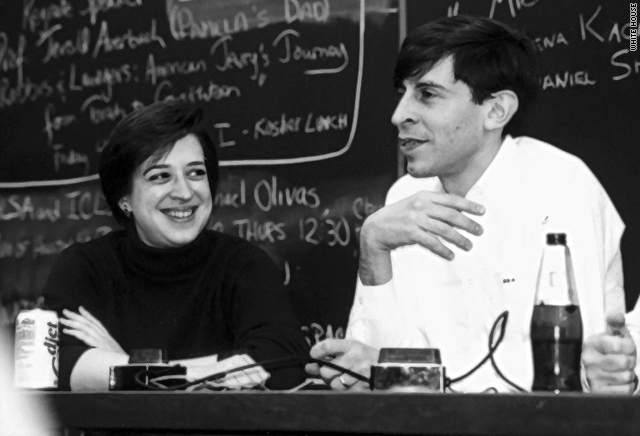 Gallery: Elena Kagan through the years
Kagan was born in April 1960 and grew up in a Jewish household in the Upper West Side of Manhattan. She went on to Princeton University and Harvard Law School. She served as a law clerk for well-known liberal federal judge Abner Mikva and then for liberal Thurgood Marshall on the high court.
In her 1986 job application to Marshall, she rather matter-of-factly told the civil rights pioneer, "I would be honored to serve as your clerk." The nation's first African-American justice affectionately called the diminutive Kagan "Shorty."
Kagan later went into teaching, starting at the University of Chicago, where one of the part-time faculty was Barack Obama.
President Clinton later named Kagan associate White House counsel and then appointed her to the Domestic Policy Council, where she earned a reputation for articulate and well-reasoned statements on tricky political issues.
She was the administration's point person on passing anti-tobacco legislation, negotiating in 1998 with Republican Sen. John McCain to give the federal government the authority to control cigarettes as it does pharmaceuticals and medical devices.
Clinton picked her in 1999 for the powerful U.S. Court of Appeals for the D.C. Circuit. But no Senate confirmation hearings were held, and the nomination lapsed. The seat was later filled by John Roberts -- who quickly used the appointment as a springboard to chief justice -- and Kagan moved on to Harvard.
Soon after Obama took office in 2009, he nominated Kagan as solicitor general -- the administration's top lawyer before the Supreme Court. She has argued several high-profile cases before the justices since taking the job in spring 2009.
Tough-talking political player
Old documents unveiled recently offer fresh signs that Kagan was an eager, tough-talking political player while working as a lawyer in the Clinton White House.
In one e-mail, she criticizes one of Clinton's most important speeches as "presumptuous."
Some 160,000 pages of documents are being publicly disclosed from Kagan's four years in the Clinton White House. The latest and final batch -- more than 80,000 pages, mostly e-mails -- was released Friday by the William J. Clinton Presidential Library.
The documents released by the Clinton library are available online at http://www.clintonlibrary.gov/.
About 11,000 e-mails from Kagan reveal an engaged, efficient -- but often outspoken and cynical -- lawyer and policy analyst.
Many of the computer-generated e-mails are in the typically breezy, terse style of interoffice communications. "Shameless" was her one-word response to a fellow staffer in one e-mail, but the details leading up to that response were not revealed.
The communications often illustrate the mostly mundane aspects of scheduling meetings, following up on various projects, and responding to one policy crisis after another.
Early into her stint as deputy on the Domestic Policy Council, she described her hands-on approach to the job: "One of these days soon, I'm going to get around to meeting with everyone. In general, you should presume that I want to be kept generally up to speed on everything."
Apparent snarkiness sometimes crept into her messages. When trying with great effort for days to coordinate who would attend a big meeting of officials on various domestic matters, Kagan noted that then-Attorney General Janet Reno would appear.
"The AG is coming. After talking to me a bit, her scheduler announced that it sounded as if the meeting 'wouldn't be a waste of time,'" she wrote on January 28, 1997. "Pressure's on."
Kagan in the e-mails shows her political antenna was sharply aligned. In 1999 she notified then-Vice President Al Gore's chief of staff of upcoming White House staff meetings with a variety of issue advocates -- including homosexual rights supporters and religious groups -- on a pending religious freedom law.
With Gore preparing to run for president, Kagan suggested he not support the legislation, believing it would create a "gay/lesbian firestorm."
"We'll let you know as soon as it's safe to go back into the water," the 39-year-old lawyer told top Gore aide Ron Klain, now chief of staff to Vice President Joe Biden.
A liberal backlash?
Kagan's views on executive authority in particular have raised some eyebrows on the left. As chief defender of the administration's anti-terrorism strategy, Kagan has articulated a more robust defense of the White House than many civil rights and human rights groups would like.
"There's a real concern about Solicitor General Kagan with respect to national security issues," said Vincent Warren, executive director of the Center for Constitutional Rights, which has defended dozens of prisoners held at Guantanamo Bay, Cuba.
"We do know from how she addressed the issue at her confirmation proceedings [for solicitor general], and I certainly can't see anything that would lead me to believe that she would have a less expansive version of what executive power is than certainly the current form, and certainly with respect to how George W. Bush viewed it. So I think there's a real concern for human rights groups."
Warren's group wonders whether as a justice, Kagan "might go with what the Obama administration and what the Bush administration had put in play rather than seriously challenging that."
Her supporters counter with a 2001 law review article in which Kagan articulated, in a pre-September 11 environment, the consequences of the "unitary executive" theory that was promoted in the Clinton administration where she worked and later enthusiastically embraced by the Bush administration.
Kagan concluded, "President Clinton's assertion of directive authority over administration, more than President Reagan's assertion of a general supervisory authority, raises serious constitutional questions."
FOLLOW THIS TOPIC