Obama names new top drilling regulator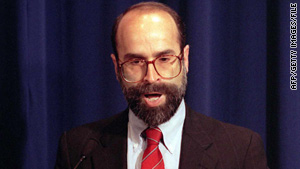 Michael Bromwich is a lawyer who specializes in internal investigations and regulatory matters.
STORY HIGHLIGHTS
Michael Bromwich to head federal efforts to regulate offshore drilling
Bromwich was Justice inspector general in the Clinton administration
Agency is being reorganized in the wake of the Gulf oil spill
Washington (CNN) -- President Barack Obama on Tuesday appointed Michael Bromwich, a former Justice Department watchdog in the Clinton administration, as the new head of a reorganized federal effort to regulate offshore oil drilling.
A White House statement said Bromwich would "lead the effort to reform the Minerals Management Service," an Interior Department agency accused of corrupt practices and poor oversight of offshore drilling in the run-up to the Gulf oil disaster.
"For a decade or more, the cozy relationship between the oil companies and the federal agency was allowed to go unchecked," Obama said in a White House statement. "That allowed drilling permits to be issued in exchange not for safety plans, but assurances of safety from oil companies. That cannot and will not happen anymore."
According to the statement, Bromwich will develop plans "for a new oversight structure, replacing long-standing, inadequate practices with a gold-standard approach for environmental and safety regulation."
"He has a mandate to implement far-reaching change and will have the resources to accomplish that change," the statement said.
Interior Secretary Ken Salazar previously announced plans to split MMS into three new divisions -- the Bureau of Ocean Energy Management, the Bureau of Safety and Environmental Enforcement, and the Office of Natural Resources Revenue.
Bromwich, a lawyer who specializes in internal investigations and regulatory matters, was the Justice Department inspector general from 1994-1999 under President Bill Clinton. The job entailed investigating alleged corruption and misconduct in the department.
A graduate of Harvard College, Harvard Law School and Harvard's John F. Kennedy School of Government, Bromwich was a federal prosecutor in New York and served as an associate for the independent counsel office in the Iran-Contra case.
FOLLOW THIS TOPIC


Oil disaster: Tracking the numbers
Part of complete coverage on

A number of organizations are recruiting volunteers to help clean up coastal areas

Get the numbers, see the images and learn how the worst U.S. oil spill has changed lives, ruined economies and more.

These stories help us look into the lives of the hardworking people of the Gulf as they watch this disaster take its toll.

Is your area being affected by the spill? Help CNN track the oil slick and its effects on Gulf Coast communities and wildlife


Most popular stories right now