Gates praises intelligence nominee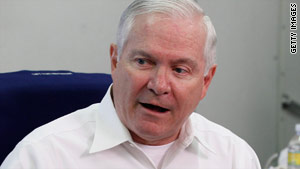 Defense Secretary Gates: James Clapper "has the respect of virtually everybody in the community."
STORY HIGHLIGHTS
Gates: Clapper a "consummate" professional
Obama announced nominee Saturday
GOP senator expresses doubts
(CNN) -- Defense Secretary Robert Gates praised national intelligence director nominee James Clapper on Sunday, telling reporters that President Barack Obama "could not have found a better person" for the job.
Speaking to reporters on a trip through Asia, Gates said Clapper -- currently a Pentagon intelligence official -- has good ties with leaders of other U.S. spy agencies and with the congressional committees that oversee them.
"He is the consummate intelligence professional who has the respect of virtually everybody in the community," Gates said.
"I think the president could not have found a better person, more experienced person, or with a better temperament to do this job and actually make it work, than Jim Clapper," he added.
Obama named Clapper, a retired Air Force lieutenant general, to the post on Saturday. If confirmed by the Senate, Clapper would replace Dennis Blair, who resigned at the end of last month.
Some political observers have indicated that Clapper's prospects for confirmation on Capitol Hill, however, are questionable.
Intelligence Committee Chair Sen. Dianne Feinstein, D-California, recently said the "best thing for the U.S. intelligence community is to have someone with a civilian background in charge." And Sen. Kit Bond, the ranking Republican on the Intelligence Committee, said he has reservations about Clapper.
"I believe he is too focused on the Defense Department issues and he has tried to block out efforts to give more authority to the DNI," argued Bond, of Missouri.
Bond's counterpart on the House side, Rep. Pete Hoekstra, R-Michigan, also said he believes Clapper is the wrong person, because he is "not forthcoming, open or transparent" with Congress.
But Obama said: "Jim also understands the importance of working with our partners in Congress. As he has said, not merely to appear when summoned, to keep Congress informed and seek members' consent."