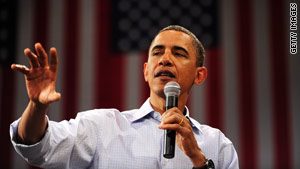 President Obama said Thursday that the bill would allow Americans to "follow the money."
STORY HIGHLIGHTS
Measure would ban foreign-controlled companies from spending on elections
Most firms getting government contracts, bailout funds would also be banned
It is designed to mitigate Supreme Court ruling on corporations' election ads
Some say legislation would infringe on freedom of speech
Washington (CNN) -- Congressional Democrats unveiled legislation Thursday that would ban foreign-controlled companies and most firms receiving either government contracts or federal bailout funds from spending money on U.S. elections.
The bill also would require the head of any corporation running a political ad to appear in the commercial to say that he or she "approves this message," just as candidates themselves must do today.
The measure is designed to mitigate the impact of a controversial Supreme Court campaign finance ruling this year that overturned a longstanding ban on corporations and unions using their treasury funds to run presidential and congressional election ads.
The 5-4 decision -- a victory for the high court's conservative majority -- also rejected a prohibition on companies and unions running campaign ads 30 days before a primary election or 60 days before a general election.
Democrats slammed the decision as a win for traditionally Republican-leaning corporate interests.
In a statement Thursday, President Obama said the proposed legislation would establish "the toughest-ever disclosure requirements for election-related spending by big oil corporations, Wall Street and other special interests, so the American people can follow the money and see clearly which special interests are funding political campaign activity and trying to buy representation in our government."
"This bill will also prohibit foreign entities from manipulating the outcomes of American elections and help close other special-interest loopholes," Obama's statement said.
It added that congressional approval of the legislation would be crucial to overcoming the harm caused by the Supreme Court's campaign finance ruling.
Others argue that the ruling was an affirmation of First Amendment rights and that the new proposal would infringe on freedom of speech.
"Though it comes wrapped up in language of 'transparency,' the plain intent ... is to discourage people from exercising their constitutional right to free speech," Theodore B. Olson, who presented the winning oral argument to the Supreme Court, said in a statement.
Republican leaders say that rather than providing reform, the bill is designed to give Democrats an advantage in election tactics. Senate Minority Leader Mitch McConnell of Kentucky said the bill "is not about reform, transparency, accountability or good government. It is about election advantage, plain and simple."
Democrats have pledged to pass the bill before the July 4 recess so it will take effect before the 2010 midterm elections.
All the Senate sponsors, led by Charles Schumer of New York, are Democrats. There are two Republican co-sponsors in the House, Mike Castle of Delaware and Walter Jones of North Carolina, joining Democrats Chris Van Hollen of Maryland and Robert Brady of Pennsylvania.
The proposed legislation would require:
• The names of the top five contributors to any organization created for political purposes that purchases advertising to be listed at the end of the ad.
• The top funder of any political advertisement to record a separate "stand-by-your-ad" disclaimer.
• Certain business and unions to establish "political activities" accounts monitored by the Federal Election Commission for the purpose of receiving and spending political funds.
• Any political expenditure made by a company to be disclosed within 24 hours on the company's website.
• Any political expenditure made by a company to be disclosed to shareholders on a regular basis.
• A ban on corporations and unions coordinating election ads with federal campaigns if those ads promote or oppose a specific candidate.
• A ban on coordination between a candidate and outside groups on ads that reference a candidate during a time period beginning 90 days before a primary and running through the general election.
Foreign companies would be defined as those with a foreign ownership of 20 percent or more, or those in which a majority of the board of directors is composed of non-U.S. citizens.
In addition, a company would be defined as foreign if its U.S. operations or its decision-making regarding political activities are directed by a foreign entity, including a foreign government.
During his State of the Union address, Obama warned that the Supreme Court's decision would allow American elections to be effectively "bankrolled" by "foreign entities."
Justice Samuel Alito, part of the high court's conservative majority, was seen apparently uttering the words "not true" in response.
The court's ruling did not specifically address the question of whether restrictions on political spending by foreign-based companies would be lifted.
In the landmark ruling, the Supreme Court offered greater spending flexibility for a broader range of for-profit and nonprofit groups seeking a voice in the crowded national political debate.
The conservative majority said corporations, unions and other groups should enjoy the same free speech and association rights enjoyed by individuals when it comes to campaign spending.
The issue hinged on whether the ability of corporations and special interest groups to pour money into election campaigns could be strictly regulated or whether they have free-speech rights to spend their cash to influence elections, just like individuals do.
In the ruling, the justices also nullified rulings upholding the core of a 6-year-old federal law aimed at curbing special interest campaign spending.
Under current law, there are severe restrictions on campaign ads used by corporations, unions and others for federal elections. They generally must be issue-focused -- talking about abortion or taxes, for instance -- and not expressly in support or opposition of a candidate. Those limits have now been generally removed.
Big winners from the ruling could be businesses, unions and advocacy groups seeking to influence the elections, mainly through "issue ads." Other beneficiaries might be television and radio stations that regularly air these campaign commercials.