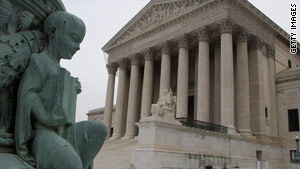 Justice John Paul Stevens' retirement gives President Obama another opportunity to shape the nation's highest court.
STORY HIGHLIGHTS
GOP Sen. Jeff Sessions won't rule out filibuster if Obama nominates a liberal activist
Democratic Sen. Patrick Leahy calls for both parties to set aside politics
Justice John Paul Stevens announced plans to retire Friday
Washington (CNN) -- Two leading senators on the Judiciary Committee, which will consider President Obama's upcoming Supreme Court nominee, signaled Sunday that a bruising fight is likely.
Committee chairman Sen. Pat Leahy, D-Vermont, called the current conservative-leaning Supreme Court the most activist he had seen, while ranking Republican Sen. Jeff Sessions of Alabama wouldn't rule out a filibuster if Obama nominates what the GOP perceives to be a liberal activist.
Appearing on the NBC program "Meet the Press" on Sunday, Leahy said Obama wants the replacement for retiring Justice John Paul Stevens to represent all Americans rather than any particular ideology.
Stevens, who will turn 90 on April 20 and has served nearly 35 years on the court, announced his resignation on Friday.
"This is a very, very activist court, the most activist court in my lifetime," Leahy said, citing the recent Supreme Court ruling that lifted restrictions on corporate spending on elections.
Leahy called for both parties to set aside politics and "stop listening to single-interest groups on the far right and left" in order to avoid a bitter confirmation process.

Video: Replacing Justice Stevens
Sessions responded that the current Supreme Court was not activist, but instead had "faithfully" tried to follow the Constitution.
Asked about a possible filibuster, Sessions said it would depend on the nominee.
"If it's somebody ... clearly outside the mainstream, then I think every power should be utilized to protect the Constitution," Sessions said.
Leahy said he doubted a GOP filibuster would occur, calling such a move the "lazy" way out of having to vote yes or no on a nominee.
Asked about a timetable, Leahy said he expected the confirmation process to be concluded by the end of summer and the new justice to be installed in time for the Supreme Court's new session next fall.
Other senators interviewed Sunday echoed Leahy's assessment that a filibuster was unlikely. On the ABC program "This Week," Sen. Chuck Schumer, D-New York, said Obama was likely to select a strong candidate without any clear ideological ties.
"What you want is somebody who will follow the law, not make the law, not impose their ideology, if they're far right, far left, on the law itself," Schumer said. "If they're in the mainstream, you don't have to agree with all of their views to vote for them."
Sen. Jon Kyl, R-Arizona, told the same program that he agreed with Schumer's assessment, saying: "What I object to and I think my colleagues would object to is somebody that comes in with preconceived notions about how particular cases should be decided."
"That's why I think both Chuck and I would agree that it is unlikely that there would be a filibuster, except if there is an extraordinary circumstance," Kyl said, but added in reference to a filibuster: "I'm never going to take it off the table."