CNN Poll: Democrats lose edge on economy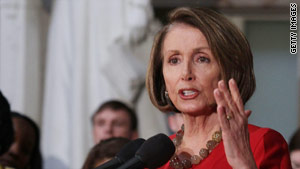 House Speaker Nancy Pelosi's party faces a tough re-election fight this November.
STORY HIGHLIGHTS
CNN/Opinion Research Corp. Poll released Thursday night
Poll: 48 percent say Republicans in Congress would do a better job with the economy
45 percent say congressional Democrats would better handle the issue
Democrats have also lost some ground on health care, the poll finds
Washington (CNN) -- Democrats have lost their large advantage over Republicans when Americans are asked which party would do a better job with the economy, according to a new national poll.
A CNN/Opinion Research Corporation survey released Thursday indicates 48 percent of Americans say Republicans in Congress would do a better job dealing with the economy, compared to 45 percent for Democrats. That's a switch from last August, when Democrats held a 52 percent to 39 percent advantage on the economy.
According to the poll, Democrats have lost some ground on health care as well. In August, 51 percent thought Democrats would do a better job with health care reform than the GOP. That's now down to 48 percent, but it's still slightly higher than the 46 percent who say Republicans would do a better job on the issue.
"Democratic losses on the economy are roughly twice as big as their losses on health care," said CNN Polling Director Keating Holland. "That's evidence that the economy -- not health care -- is the chief reason for the Republicans' current advantage over the Democrats in the midterm congressional races."
A CNN survey released Tuesday indicates the GOP holds a four point edge over Democrats in voters' choice for Congress, a switch from last fall, when Democrats held a six-point advantage.
Democrats currently hold a 253 to 177 advantage in the House of Representatives, with four seats formerly held by Democrats, now vacant and one seat formerly held by Republicans, now vacant. Republicans need to win 40 seats to take back control of the chamber.
While the battle over health care reform has dominated headlines lately, the economy is still issue No. 1 with voters, and nearly 8 in 10 people questioned in the survey said the economic conditions in the country today are "somewhat poor" or "very poor". That's down five points from February but still nearly quadruple the number of people who say the economy's in "very good" or "somewhat good" shape.
"Dissatisfaction with the economy is roughly 20 points higher than any opposition to the new health care bill," said Holland.
The survey indicates that only terrorism is a better issue than the economy for Republicans. While the GOP has a 10-point edge on terrorism, Democrats score slightly better on foreign policy and Afghanistan. According to the poll, the Democrats' best issues are education and the environment.
The CNN/Opinion Research Corporation poll was conducted March 25-28, with 1,009 adult Americans questioned by telephone. The survey's overall sampling error is plus or minus three percentage points.