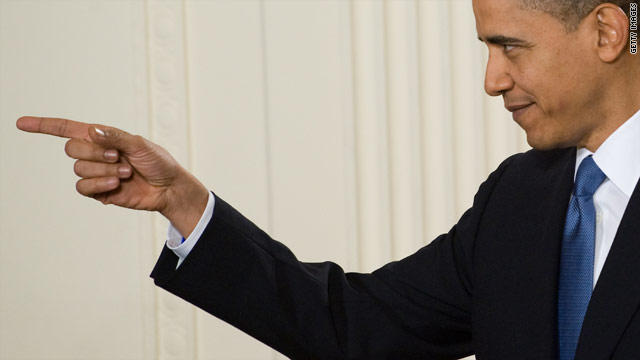 STORY HIGHLIGHTS
President Obama will speak at the University of Iowa in the afternoon

Speech is part of a plan to aggressively sell the benefits of the health care overhaul

University of Iowa Field House has a capacity of about 3,000 people

Washington (CNN) -- Barack Obama's journey to reform America's health care system comes full circle Thursday as he returns to the place where he launched his ideas.
Three years ago, Obama began his crusade with a memorable speech focusing on health care that was delivered in Iowa City, Iowa, the state that holds the first presidential caucus in an election year.
The president will speak on the newly signed law at the University of Iowa in the afternoon, his first event since the historic passage of the landmark legislation.
How will health care reform affect you?
Obama's speech is part of a White House plan to begin aggressively selling the benefits of his health care overhaul and give some political cover to Democratic lawmakers jittery about their political futures, according to Democratic officials familiar with the plans.
Obama is expected to make many such trips in the weeks ahead, following up on promises to push back on Republican attacks in the months leading up to the November mid-term elections, the officials said. They spoke on condition of anonymity because they are not authorized to publicly discuss the emerging White House strategy.

Video: Dems receive death threats

Video: Health care: What happens when?
Which cities Obama will visit were not immediately available, but it's obvious why he picked Iowa City as his first stop.
It was there in May 2007 that Obama began his grass-roots drive for an overhaul. He began by telling the story of Amy and Lane Chicos who were paying 40 percent of their income for health insurance premiums, on the brink of bankruptcy, after Lane Chicos lost a lung, a leg bone and part of a hip to cancer.
Obama said he had heard stories like that all over America. He unveiled his ideas on making health care more affordable and promised the crowd that as president, he would make health care a priority.
But after he signed the legislation into law Tuesday, a Gallup Poll found that nationwide skepticism was still high -- 49 percent of Americans thought the bill was a good thing, while 40 percent believed it to be bad.
Those numbers suggest Obama still has some persuading to do.
So far, according to White House Press Secretary Robert Gibbs, 16,500 people have signed up online for tickets to hear Obama speak Thursday. "We're going to need a bigger boat!" Gibbs tweeted, referring to the University of Iowa Field House which has a capacity of about 3,000 people.
Some of those attending might be wondering what many Americans have in the past few days: What does the new bill mean for me?
Gibbs said at a briefing Monday that Obama would discuss how the new law affects small businesses and families with children who suffer from a pre-existing condition. He will also address the impact for senior citizens and gaps in coverage by Medicare Part D, which subsidizes prescription drug costs.
After fiery debate and a spate of threats and vandalism against lawmakers, the University of Iowa issued a statement encouraging those who attend Obama's speech "to demonstrate courtesy and respect toward guests and one another, an expectation for participants and spectators of all campus events."
CNN's Ed Henry contributed to this report.