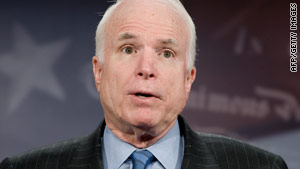 Sen. John McCain has introduced an amendment striking "sweetheart deals" for Democrats in return for their votes.
STORY HIGHLIGHTS
NEW: Senator offers amendment to prohibit drugs for erectile dysfunction to sex offenders
House-backed "fixes" bill is being debated in the Senate
Republicans are looking to use parliamentary tools to undermine or defeat the measure
Democrat says House is prepared to vote on the fixes bill again if it comes back
Republican Mitt Romney will talk to Larry King about his campaign to repeal health care reform legislation and will take your Facebook/Twitter questions and phone calls on "Larry King Live," 9 p.m. ET on CNN.
Washington (CNN) -- The Senate launched debate Tuesday on a House-passed bill to make changes in the hours-old health care reform law, with Republicans promising to use every parliamentary tool available to undermine or defeat the measure.
The "fixes" bill was necessary to get reluctant House Democrats to approve the Senate's version of the health care reform bill. By approving the Senate version of the bill Sunday night, the House sent it to President Obama, who signed it into law Tuesday.
However, House Democrats agreed to support the health care bill only if the fixes measure accompanied it to make changes to the Senate version. Now, the Senate must approve the fixes bill so Obama also can sign it.
Democrats say they're concerned that Republicans may be able to change the delicately balanced package. Any changes would force the bill back to the House for another vote.

Video: GOP will try to repeal bill

Video: Health reform's legal fight

Video: Where the GOP goes from here
Republicans are expected to propose numerous amendments to the fixes bill in an effort to hold up progress and force Democrats to vote against provisions they might usually support.
"I know that some of our friends have made plans to spend the rest of the week on delaying passage of this," Sen. Christopher Dodd, D-Connecticut, said on the Senate floor. "One cute little amendment after the other ... all of it is designed to do nothing else but one thing, and that is just delay."
"I hope we're not going to see the kind of tactics that some on the other side have said they're going to use -- by offering amendments that have really nothing to do with anything except killing this very important bill," said Sen. Barbara Boxer, D-California.
"There will probably be amendments that sound nice, that given any other circumstance you'd like to vote for," said Democratic Sen. Tom Harkin of Iowa.
One such amendment was offered Tuesday afternoon by Oklahoma GOP Sen. Tom Coburn, who proposed that drugs for erectile dysfunction, like Viagra and Cialis, be prohibited to sex offenders.
Sen. John McCain, who promised Monday that there would be no cooperation from Republicans for the rest of the year, introduced an amendment striking the "sweetheart deals" promised several Democrats in return for their votes.
House Majority Leader Steny Hoyer, D-Maryland, said Tuesday he didn't think the Senate would change the bill, but if so, the House would be prepared to vote on the revised bill and send it to Obama.
After a White House meeting Monday night with Senate Democratic leaders and Obama, a senior Democratic source said they believe some issues may be ruled out of order in the complicated legislative process. The source would not specify the potential problems identified at the meeting.
Senate Finance Chairman Max Baucus, D-Montana, said one or two potential problems were identified, but he said they were minor. Baucus also said House Democratic leaders were aware the chamber may have to vote on the health care fixes bill a second time.
In an ironic twist, many of the provisions of the fixes bill were backed by Republicans during debate on the Senate health care bill. For example, the fixes bill would eliminate a provision for the federal government to pay Medicaid cost increases for the state of Nebraska that was negotiated by Democratic Nebraska Sen. Ben Nelson in exchange for his support.
Republicans cited the Nelson trade-off as an example of what they called unethical deal-making by Democrats to get the health care bill passed in December.
Since then, Senate Democrats lost their filibuster-proof 60-seat majority in the chamber when Republican Scott Brown won the Massachusetts seat long held by Democrat Ted Kennedy, who died last year.
Without the supermajority of 60 seats, Democrats cannot pass the health care bill again in the Senate because Republicans have enough seats to filibuster it. Therefore, Democrats are trying pass the fixes bill through reconciliation, which allows bills affecting the budget to pass by a simple majority of 51 votes.
Republicans are expected to object to aspects of the legislation that they say violate strict reconciliation rules that govern this process.
Once Republicans raise a point of order, it would be up to the Senate parliamentarian to rule on whether it is legitimate. Democrats will have difficulty defeating a point of order, because that will require 60 votes.
Senate Minority Leader Mitch McConnell of Kentucky fired an initial salvo Tuesday, forcing the Senate's presiding officer to concede that it was likely the chamber would for the first time take up a reconciliation bill that didn't come from a Senate committee.
Republicans followed up by using a Senate rule to shut down committee meetings scheduled for Tuesday. Senate Majority Leader Harry Reid accused the party of "throwing a temper tantrum."
"The 'Party of No' wouldn't even agree to let Senate committees meet today," he said. "Ironically, as they make false claims about transparency regarding health reform, they're shutting down a committee hearing today on transparency in government.
"The bottom line is that as millions of Americans are learning about the immediate benefits of health reform, Republicans are throwing a temper tantrum and grinding important Senate business to a halt."
CNN's Tom Cohen and Deirdre Walsh contributed to this report.