House GOP adopts yearlong earmark ban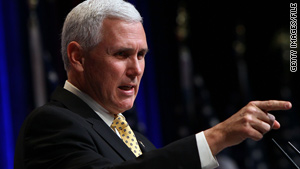 "Federal spending is out of control, and the American people know it," Rep. Mike Pence says.
STORY HIGHLIGHTS
Move is latest salvo in parties' battle over fiscal responsibility
Democrats announced ban on earmarks for for-profit companies
"Earmarks" are federal funding for specific projects
Washington (CNN) -- House Republicans agreed Thursday to adopt a ban on congressional earmarks in spending bills for next year, upping the ante with Democrats in the political battle over fiscal responsibility and pork barrel spending.
"Federal spending is out of control, and the American people know it," said Rep. Mike Pence, R-Indiana. Earmarks are "emblematic of everything that's wrong" in Washington, he said.
"Earmarks" refer to federal funding designated for particular projects, with taxpayer money allocated by members of Congress to home-state and home-district projects, often with an eye toward re-election.
Such projects bring money into a congressman's district, providing jobs and funding projects sought by local constituents.
House Democrats said Wednesday that they will ban earmarks directed to for-profit companies. The move would apply to government spending bills Congress is considering for next year. But key Democratic committee leaders said in a written statement that the new rules are also "intended to become a long-term proposition."
House Democrats added rules last year requiring members to post their requests online on their own Web sites, but the Appropriations Committee will create a "one-stop" link so the public can view all requests for federal dollars.
According to Taxpayers for Common Sense, a watchdog group that tracks earmark spending, there were 9,500 earmarks this year worth $15.9 billion.
The announcement on earmarks comes as Congress contends with stories about ethics violations and public opinion polls showing the public is fed up with excessive Washington spending.
CNN's Deirdre Walsh, Evan Glass and Alan Silverleib contributed to this report.