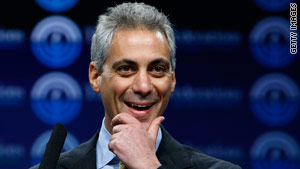 Rahm Emanuel is a former congressman from Illinois and President Obama's chief of staff.
STORY HIGHLIGHTS
Rahm Emanuel is the White House chief of staff
Emanuel is known in Washington for having an aggressive personality
Critics say Emanuel and other top advisers have led Obama down the wrong path
Democratic strategist says Emanuel is the perfect person for the job
Washington (CNN) -- White House chief of staff Rahm Emanuel is accustomed to working in the shadows, but he now finds himself the subject of newspaper stories.
From The New York Times to the Chicago Sun-Times, the focus is on palace intrigue surrounding Emanuel's effectiveness as one of President Obama's top advisers. It comes as the administration is fighting to get the president's health care reform plan passed in Congress.
While some of the stories question whether Emanuel is effectively pulling off the behind-the-scenes work a chief of staff does -- including wrangling members of Congress and dealing with White House staff -- there are others that point out the speculation as Washington hype.
For those who have served in similar roles in the White House, front page criticism and praise comes with the job.
"At the end of the day when you're the chief of staff, no matter how able you are, whether Dick Cheney, who was Ford's chief of staff, or Jim Baker, who was Ronald Reagan's chief of staff, you get beat up," said Ed Rollins, a CNN contributor and Republican consultant.
Rollins, who served as an adviser to Reagan, said the positive stories about a top White House aide bring forth a backlash from within.
"When you start getting front page stories saying how great you are, how smart you are, there's a bunch of people in the background who want to make sure they know you're not quite so smart," Rollins said. "Rahm has a tough job, and I think he's been a real asset."
David Gergen, who has served in both Democratic and Republican administrations, said stories focusing on Emanuel might be meant to ultimately hurt Obama's image.
"I think the profiles are damaging in part because they're doing so at the expense of the president," Gergen, a CNN senior political analyst, said. "If the president had only been smart enough to listen to Rahm Emanuel, so goes the argument, he would be a much more effective leader right now. That's clearly not helpful."
CNN contributor James Carville, who worked closely with Emanuel in Clinton's 1992 presidential campaign, came to the former Illinois congressman's defense, saying "the truth of the matter is Rahm's a compelling guy, and people like to write and talk about him. That's just the way it is."
For Emanuel, swimming against the steady current of Republican opposition is hardly a new task for him. During the Clinton years, he was able to help the former Arkansas governor maneuver tough legislation through a Republican-controlled Congress and fight back against criticism.
"I think Rahm brings an enormous amount of experience from the Clinton years," said Democratic strategist Julian Epstein. "At the end of the day he is a realist, and he knows what it's going to take to get stuff done. Frankly, I think the White House could use a few more Rahm Emanuels inside there."
Obama's selection of Emanuel was criticized by some Republicans because of his reputation as a political infighter. But he has most recently been targeted by liberal members of his own party.
The Progressive Change Campaign Committee recently launched a TV ad that questions Emanuel's role in health care reform. The group has said Emanuel undermined progressives in his meetings with top Democratic leaders in Congress.
"There's nobody in Washington, D.C., who caves at the slightest hint of a fight with corporate interests more than Rahm Emanuel," committee co-founder Adam Green said in a statement. "We're making clear to Rahm that when he undermines progressives and the overwhelming will of the American people on issues like the public option, he will pay a political price back home."
The PCCC is also urging members to sign a pledge claiming they will not to support him if he decides to seek political office again.
Epstein noted that the White House is facing a struggle between pragmatism and idealism. It may be why, as some of the news stories suggest, people are taking aim at Obama's top guy.
"Rahm represents pragmatism. I think most sophisticated political observers would say pragmatism has won the argument," he said. "I think the White House needs to listen to him a lot more closely and insist that he stay in that position."
Critics argue that the administration's recent setbacks -- including a stalled health care reform bill and the Democrats' loss of the late Sen. Ted Kennedy's seat in Massachusetts -- may be tied to flawed decision-making coming from Emanuel and other members of Obama's inner circle.
"The fact is that after a campaign that appealed so successfully to idealism, Obama hired a bunch of saboteurs of hope and change," wrote Dan Froomkin in a Huffington Post blog post entitled "Obama's Chief of Sabotage."
"Rahm is simply their chief of staff. And now, this hypercompetitive bantam rooster is attempting to blame others for what went wrong."
He added: "To Emanuel, victory is the only thing, and rather than recognize the error of his ways and recalibrate, he is publicly declaring that the now widely recognized enfeeblement of his boss' presidency is not his failure, but his vindication. Hail Emanuel triumphant."
Nathan Gonzales, political editor of the Rothenberg Political Report, said that regarding Massachusetts and other political miscalculations by the White House, "Obama's inner circle ran arguably the best political campaign in recent history but have found the politics of governing to be significantly more difficult."
It's perfect, then, that Emanuel should have a seat at the table, Epstein said.
"Rahm was brought in there because he knows what it takes to get success. At the end of the day he is a realist ... I think he brings a sobriety, maturity and a level of experience that this White House badly needs."
As for whether the criticism will force Emanuel out of the White House? Don't count on it, Epstein said.
"Rahm is not a quitter. Rahm might leave to do something else once things have been done, but failure is just not in Rahm's vocabulary."