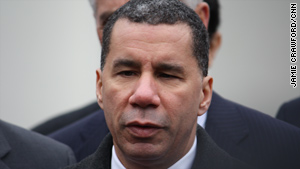 New York Gov. David Paterson says he will not run for a full term in office.
STORY HIGHLIGHTS
NEW: State police superintendent says he's retiring
National Organization for Women says reports about New York governor "disappointing"
Governor accused of having staffers contact woman who accused aide of assault
He has asked state attorney general to investigate matter
(CNN) -- The National Organization for Women's New York chapter called for embattled Gov. David Paterson's resignation Tuesday after a report alleging that he asked two staff members to call a woman who accused a governor's aide of assault.
"It is inappropriate for the governor to have any contact or to direct anyone to contact an alleged victim of violence," Marcia Pappas, the group's president, said Tuesday.
"This latest news is very disappointing for those of us who believed the governor was a strong advocate for women's equality and for ending violence against women," she said.
Recent reports said that a Paterson aide, David Johnson, was involved in domestic violence incident with a woman and that state police later pressured her to keep quiet. Paterson has asked New York Attorney General Andrew Cuomo to investigate the matter.
Paterson has suspended Johnson, who has not been charged with a crime, without pay. Efforts to reach him and his attorney have been unsuccessful.

Video: Why won't Paterson resign?

Video: Paterson won't seek full term

Video: Scandal over Paterson aide
On Monday, The New York Times reported that the governor asked two staff members -- his press secretary, Marissa Shorenstein, and another state employee, Deneane Brown -- to contact the woman. Brown is a friend of the governor's and the woman's, according to the newspaper.
The newspaper quoted two unnamed people with direct knowledge of the governor's actions. Neither Paterson nor his office has responded to request for comment.
The newspaper said that Shorenstein did not reach the woman but that Brown reached out to her several times and set up a phone call between the woman and the governor.
The New York Times has previously quoted the alleged victim's lawyer, Lawrence Safler, saying that the governor called the woman. The lawyer said the governor asked how she was doing, the newspaper reported.
Through a spokesman, the governor told The New York Times that the woman initiated the phone call and declined to answer further questions.
On Tuesday, State Police Superintendent Harry Corbitt announced his retirement, according to a state police spokesman. The retirement, effective Wednesday, comes less than a week after the abrupt resignation of New York Deputy Secretary for Public Safety Denise O'Donnell.
O'Donnell has said Corbitt told her in January that a senior administration staff member had an argument with his girlfriend and a domestic incident report was filed. She said Corbitt told her "the matter was being handled as a local police matter by the New York Police Department" and that state police were not involved.
She said she resigned after learning state police were indeed involved.
Corbitt has said he did not dispute O'Donnell's account of what he told her, but said "the conclusions she appeared to draw from these statements were incorrect."
No reason is being given for his retirement, according to police spokesman Lt. Glenn Miner.
Last week, Paterson -- the New York lieutenant governor who stepped into the governor's mansion when Eliot Spitzer resigned in 2008 over a prostitution scandal -- abandoned his campaign for election to a full term, saying it was not the "latest distraction but an accumulation" of obstacles that were behind his decision.
Cuomo is a possible contender for the governor's office.