Clinton to visit 5 Latin American nations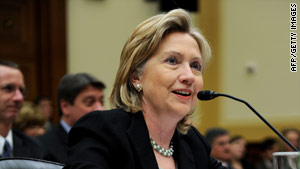 U.S. Secretary of State Hillary Clinton is expected to talk with Brazil's president about his upcoming trip to Iran.
STORY HIGHLIGHTS
Hillary Clinton will travel to Uruguay, Chile, Brazil, Costa Rica and Guatemala next week

Secretary of state will try to foster ties with newly elected leaders, renew old friendships

Clinton will attend Uruguay's inauguration of President-elect Jose Mujica

Clinton will bid farewell to popular Chilean President Michelle Bachelet

Washington (CNN) -- U.S. Secretary of State Hillary Clinton will visit five Latin American nations next week, seeking to foster relationships with some newly elected leaders and cement ties with others.
Clinton will start her week in Uruguay with Monday's presidential inauguration of Jose Mujica, a former member of a radical guerrilla group who spent 14 years in prison. He was released in 1985 when democracy was restored to Uruguay after a 17-year dictatorship.
Mujica was minister of livestock and agriculture from 2005 to 2008 and was a senator until his election to the presidency in November.
Clinton is expected to meet with Argentine President Cristina Fernandez de Kirchner and other Latin American leaders while in Uruguay.
The secretary of state next will travel to Chile, which also recently elected a new president. Conservative billionaire businessman Sebastian Pinera beat former President Eduardo Frei in a January runoff and will take office on March.
Clinton will bid farewell to President Michelle Bachelet, Chile's popular leader who will be leaving with high approval ratings for steering her country through the global economic downturn and promoting progressive social reforms. Under Chile's constitutional term limits, a president cannot run for a second consecutive term.
After Chile, Clinton will travel to regional powerhouse Brazil, which will hold presidential elections in October. Brazil, which has one of the largest economies in the world and has landed the 2014 World Cup and 2016 Summer Olympics, has aspirations of becoming a global power.
She is expected to talk with President Luiz Inacio Lula da Silva about his upcoming trip to Iran, which the United States and other nations suspect has undertaken a program to build nuclear weapons.
Costa Rica, which elected its first female president this month, will be Clinton's next stop. The secretary will meet separately with President Oscar Arias and President-elect Laura Chinchilla, who takes office in May.
Clinton will wrap up her five-nation trip with a stop in Guatemala, a Central American nation beset by poverty and high crime. She will meet with President Alvaro Colom before heading back to Washington on Friday.