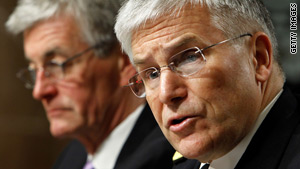 Army Secretary John McHugh, left, and Army Chief of Staff Gen. George Casey testify Tuesday in Washington.
STORY HIGHLIGHTS
Chief of staff tells Senate panel he worries about strains on military
Army secretary objects to proposed moratorium on discharges
Lieberman has said he will introduce legislation to repeal policy next week
Washington (CNN) -- Army Chief of Staff Gen. George Casey said Tuesday that he has "serious concerns" over the impact of a repeal of the military's controversial "don't ask, don't tell" policy regarding gay and lesbian service members.
"I do have serious concerns about the impact of the repeal of the law on ... a force that's fully engaged in two wars and has been at war for eight and a half years," he told members of the Senate Armed Services Committee.
He agreed, however, that it would be fair to characterize his opinion as not being "strongly" for or against a repeal.
The general objected to a proposed moratorium on discharging people under the "don't ask, don't tell" policy before a repeal is formally enacted.
"I would recommend against it," he said. "We would be put in a position of actually implementing [a repeal] while we were studying implementation. And I don't think that would be prudent."
The policy, enacted under President Clinton in 1993, bars openly gay, lesbian and bisexual individuals from serving in the U.S. military but prevents the military from asking a service member's sexual orientation.
President Obama and Joint Chiefs of Staff Chairman Adm. Mike Mullen support a repeal of the policy. Sen. Joe Lieberman, I-Connecticut, has said he plans to introduce legislation next week that would allow gays and lesbians to serve openly. A separate repeal bill has been introduced in the House of Representatives.
Army Secretary John McHugh, also testifying before the committee Tuesday, declined to offer a personal opinion on a possible repeal of the controversial policy. He joined Casey in pointing out potential problems associated with a moratorium on discharges.
"We have any number of cases under way pursuant to the current law that would be greatly complicated were there a moratorium," he said. "But if it were passed, obviously ... we would follow through with that."
This month, Defense Secretary Robert Gates announced that the Pentagon had taken the first steps to prepare for a repeal of "don't ask, don't tell."
Laying the groundwork will take more than a year, Gates said. In the interim, however, the Defense Department will start enforcing the policy "in a fairer manner," he said.
Gates noted that he has appointed a high-level working group to start a review of the issues tied to a smooth implementation of a repeal.
The group is being led by Department of Defense General Counsel Jeh Johnson and Gen. Carter Ham, commander of U.S. Army Europe. It will produce its findings and recommendations in the form of an implementation plan by the end of 2010, Gates said.
The defense secretary told members of the Armed Services Committee that "a guiding principle of our efforts will be to minimize disruption and polarization within the ranks, with special attention paid to those serving on the front lines."
Gates also noted that the Pentagon will ask the RAND Corp. to update a study it conducted in 1993 on the impact of allowing homosexuals to serve openly in the military.
Since the "don't ask, don't tell" policy was implemented, more than 13,500 service members have been discharged because of it, according to Rep. Jim Moran, D-Virginia. In 2009, there were 428 discharges under the policy, the lowest rate of discharge since implementation, he said. The highest year was 2001, with 1,227 discharges.
Gen. David Petraeus, the head of the U.S. Central Command, indicated on NBC's "Meet the Press" on Sunday that he supports the Pentagon review process. While refusing to state a clear personal opinion on a repeal of "don't ask, don't tell," Petraeus said he wasn't sure whether most soldiers care anymore if they serve with individuals who have a different sexual orientation.
Gen. Ray Odierno, the top U.S. commander in Iraq, said Monday that his opinion is that "everyone should be allowed to serve ... as long as we're still able to fight our wars,and we're able to have forces that are capable of doing whatever they are asked to do."
Retired Gens. Colin Powell and John Shalikashvili, both former chairmen of the Joint Chiefs, have expressed their support for a repeal of "don't ask, don't tell."
Adm. Giampaolo Di Paola, chairman of the NATO Military Committee, told CNN's Wolf Blitzer on Monday that having openly gay and lesbian service members is "working out quite well" in other NATO countries.
Questions about sexual orientation have not undermined unit cohesion or combat readiness, he said. "Sexual orientation is a personal matter, not a matter for state policy," he said.
But at least one current member of the U.S. Joint Chiefs of Staff -- Gen. James Conway, commandant of the Marine Corps -- has expressed reservations in the past about repealing the law.
"Our Marines are currently engaged in two fights, and our focus should not be drawn away from those priorities," Conway said in November through a spokesman.
Sixty-nine percent of Americans believe that openly gay people should be allowed to serve in the military, according to a February 12-15 CNN/Opinion Research Corp. poll. Twenty-seven percent are opposed to such a change.
In 1994, shortly after the "don't ask, don't tell" policy was implemented, 53 percent of Americans believed that openly gay people should be allowed to serve in the military, while 41 percent were opposed.