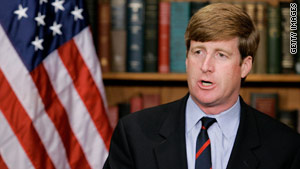 Rep. Patrick Kennedy announced Thursday night that he will not seek re-election.
STORY HIGHLIGHTS
Democrats defending 13 open seats in midterms; GOP defending 17
Rep. Pete Sessions says "not all retirements are created equal"
Democrats have a 255- to 178-seat advantage in House
Two nonpartisan political reports predict healthy gains for GOP in midterms
Washington (CNN) -- It seems it's becoming a trend.
"Having spent two decades in politics, my life is taking a new direction, and I will not be a candidate for reelection this year," Rep. Patrick Kennedy of Rhode Island said in a video message released Thursday night. Kennedy becomes the fourth member of the House of Representatives to announce over the past three days that they'll retire at the end of the year rather than run for re-election.
If you are keeping score, eight House Democrats have now announced that they are retiring. That doesn't include former Rep. Robert Wexler of Florida, who stepped down to head the Center for Middle East Peace. A special election will be held in April to fill his seat for the rest of the year.
Rep. Neil Abercrombie of Hawaii is expected to resign this month to run full-time for governor. A special election will be held for his seat in the next few months.
Five other House Democrats are making bids for statewide office this year rather than run for re-election in November. That means that as of now, the Democrats will be defending 13 open seats in the midterm elections.
But it's not just a problem for Democrats. Six House Republicans are retiring at the end of the year, and another 12 are making bids for state-wide office rather than run for re-election. Do the math, and you have the GOP, as of now, defending 18 vacant seats come November.
Rep. Pete Sessions of Texas, chairman of the National Republican Congressional Committee, said this week that "not all retirements are created equal."

Video: Kennedy won't seek re-election

Video: Impacting the Kennedy legacy
Sessions said that many of the House Democratic retirements were occurring in some tough political territory, adding that "the fact of the matter is, Democrats in swing districts are retiring because they know what November has in store for them."
"Instead of buying all the hype from the NRCC about taking back the House, the numbers don't lie," said Ryan Rudominer, national press secretary for the Democratic Congressional Campaign Committee.
Rudominer adds that the House GOP vacancies are "10 percent of the entire House Republican conference."
Regardless of those responses, one thing seems certain: Since only five state filing deadlines for candidates have passed, expect the number of retirements to grow in the weeks and months ahead.
Four years ago, when the Democrats grabbed back control of both the House and the Senate in the midterm elections, there were 33 open seats in the cycle, with the GOP defending 21 of those vacancies. Back in 1994, when the Republicans stormed back and grabbed control of both houses of Congress, there were 52 open seats, with 31 of those vacancies belonging to the Democrats.
The Democrats currently have a 255- to 178-seat advantage in the House, with two seats the Democrats controlled vacant. Republicans need to pick up 40 seats in November to take back the chamber.
Two well-respected nonpartisan political reports, the Cook Political Report and the Rothenberg Political Report, predict healthy gains for the GOP in the midterms.
The Rothenberg Report indicates that the Republicans could pick up 24 to 28 seats, with more possible. And the GOP appears to have momentum on its side, winning three Democratic-held seats in the last three statewide contests: last month's special senate election in Massachusetts and the New Jersey and Virginia gubernatorial contests in November.
"Republicans and conservatives are energized for the first time in years, and independent voters are finally open to casting ballots for Republicans again," said Nathan Gonzales, political editor for the Rothenberg Report. "That's why we expect the GOP to do quite well this autumn."
Although each member who has announced his or her retirement has their own reasons for not running for re-election, national polls indicate a tough climate for incumbents right now.
Fifty-six percent of people questioned an ABC News/Washington Post survey released this week said they are inclined to look around for someone else rather than re-elect their representative, with 36 percent saying they're inclined to vote to reelect their representative. And nearly half the people questioned in a recent CNN/Opinion Research Corp. poll said they were angry with both political parties.
But the math works against House Democrats: There are more of them than Republicans up for re-election this year.
"A year ago, we wouldn't have even dreamed of the Republicans winning a majority in the House, and now we can't rule it out," Gonzales said.
CNN's Robert Yoon contributed to this report.