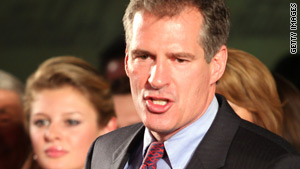 Massachusetts Republican Scott Brown's win has pushed health care reform to the brink of defeat.
STORY HIGHLIGHTS
Democrats no longer filibuster-proof, reviewing options to pass health care bill
House may pass Senate's bill, send it directly to President Obama for signing
Stripped-down version or compromise bill are also options
Senate could try to push health care through with simple majority of 51 votes
Washington (CNN) -- Nervous Democrats debated Wednesday how to save a health care reform plan suddenly pushed to the brink of defeat by an upset GOP Senate win in Massachusetts.
Senator-elect Scott Brown's victory in one of the most progressive states in the nation raised already-high anxiety levels among Democrats looking ahead to midterm elections. It also stripped Democrats of their 60-seat Senate supermajority, giving Republicans enough votes to block any measure in the chamber.
Administration officials and top congressional Democrats are reviewing a diminished range of options to pass a health care bill and salvage victory on President Obama's top domestic priority.
"I think most of us have tried to weigh what happened in Massachusetts and feel that perhaps we need a little breathing space here to reflect on it, and to chart a course," said Sen. Dick Durbin of Illinois, the No. 2 Democrat in the Senate. "We haven't decided on a strategy."
"We are working through the best way forward," White House press secretary Robert Gibbs said. "Health care continues to be a priority."

Video: Obama agenda in jeopardy?

Video: Coakley loss a 'wake-up call'

Video: Democrats re-thinking agenda?

Video: Senate reacts to Brown win
Gibbs told reporters there was plenty of blame to cast for what he called the frustrating defeat in Massachusetts.
"I think everybody bears some responsibility, certainly including the White House," Gibbs said.
Brown said the result showed voters want a new kind of politician to change the way Washington works.
"Maybe there's a new breed of Republican coming to Washington," Brown told reporters Wednesday. "Maybe people will finally look at somebody who's not beholden to the special interests of the party, and who will look to just to solve problems."
House Democratic leaders spent much of the day huddling with rank-and-file members behind closed doors.
Obama and other Democrats said Wednesday they opposed trying to push a bill through the Senate before Brown formally joins the chamber.
"The Senate certainly shouldn't try to jam anything through until Scott Brown is seated," Obama said in the ABC interview. "People in Massachusetts spoke. He's got to be part of that process."
Among the options under consideration is to draft a new, stripped-down version of the bill capable of passing both chambers.
"I would advise that we try to move quickly to coalesce around those elements of the package that people agree on," Obama said Wednesday in an interview with ABC News.
"We know that we need insurance reform, that the health insurance companies are taking advantage of people. We know that we have to have some form of cost containment because if we don't, then our budgets are going to blow up," he said.
Such a bill, according to several rank-and-file Democrats, would focus on less controversial provisions, such as barring discrimination by insurers based on pre-existing conditions and closing the Medicare "doughnut hole" to bring down prescription drug costs.
"There are great concerns about the health insurance system and the kind of power that the insurance people have over people to deny care, to raise rates and so on," White House strategist David Axelrod told CNN Wednesday. Obama is "not going to walk away from that."
A second option is having the House pass an identical version of the bill approved by the Senate in December. Doing so would allow the measure to proceed straight to Obama's desk to be signed into law.
House Speaker Nancy Pelosi told reporters Wednesday it "remains to be seen" whether there's enough support in the House for such a course of action.
"There's a lot of good things in the Senate bill," she said. "As you know, 85 percent of the bills are the same."
Pelosi argued "the message from Massachusetts" was that voters are angry about special state-specific provisions added to the Senate bill in order to win over wavering Democrats. She specifically cited a provision exempting Nebraska from the costs of expanded Medicaid coverage -- a provision critics have labeled "the Cornhusker kickback."
"Some of those issues are lightning-rod issues and some of that has to be changed," Pelosi said. "I don't think our members should be asked to support something that even Sen. [Ben] Nelson" -- the Nebraska Democrat who initially pushed for the provision -- "has backed away from."
A number of House liberals, however, are pushing back hard against the idea of adopting the Senate plan without major changes. The more conservative Senate measure contains a number of provisions unpopular with progressives, including a 40 percent tax on high-end "Cadillac" health plans which would be imposed on the insurance companies that provide them.
"If it comes down to that Senate bill or nothing, I think we're going to end up with nothing," Rep. Stephen Lynch, D-Massachusetts, said Tuesday. "I don't hear a lot of support on our side."
Rep. Anthony Weiner, D-New York, told reporters he didn't think he could vote for the Senate bill. "And I don't think there are the votes in the House for the Senate bill," he said.
Several other Democrats echoed Lynch's concerns, telling CNN that even if there was a firm commitment to follow approval of the Senate version with a second bill containing changes negotiated by House and Senate leaders and the White House, they wouldn't vote yes.
A key labor union, however, indicated a willingness Wednesday to go along with what has become known as a "two-step process."
"The House should pass the Senate's health insurance reform bill -- with an agreement that it will be fixed, fixed right, and fixed right away through a parallel process," said Andy Stern, head of the Service Employees International Union.
A third option -- trying to ram a compromise bill through the House and Senate before Brown is seated -- appears to be losing favor among Democrats. Sen. Jim Webb, D-Virginia, released a statement Tuesday night arguing that it would "only be fair and prudent that we suspend further votes on health care legislation until Senator-elect Brown is seated."
A fourth option is to revisit the idea of trying to push health care through the Senate with a simple majority of 51 votes.
Rep. Lynn Woolsey, the California Democrat who chairs the Progressive Caucus of liberal House members, outlined a plan in which the House would approve a health care package negotiated by the White House that combines the bills previously passed by the House and Senate.
According to Woolsey, the Senate would then pass as much of the package as it could under reconciliation procedures needing only 51 votes. In addition, the Senate also would pass an accompanying measure -- under normal procedure that would require 60 votes to overcome a filibuster -- with as much of the rest of the House-passed version as possible. The House would then have to approve the Senate measures to send them to Obama's desk.
Senate Finance Committee Chairman Max Baucus, D-Montana, told CNN on Wednesday that he thinks reconciliation will be necessary to pass a health care bill in the chamber. However, multiple Democratic aides warned that using the reconciliation process would take time and possibly evoke criticism of relying on a procedural trick to pass a bill.
"It looks too partisan," said Rep. Gerry Connolly, a freshman Democrat from Virginia, while Democratic Rep. Earl Pomeroy of North Dakota likened the move to "legislative trickery."
CNN's Ted Barrett, Dana Bash, Evan Glass, Suzanne Malveaux, Alan Silverleib and Deirdre Walsh contributed to this report.