Stop spread of illegal guns from states with weak laws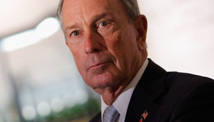 STORY HIGHLIGHTS
Michael Bloomberg: Ten states with weak gun laws contribute most to market for illegal guns
Mayors' group report shows state laws to deter illegal trafficking work, he says
If a state ignores gap in its laws, Bloomberg says, other states deal with more murders
New York mayor says gaps must be closed between state and federal law
Editor's note: Michael R. Bloomberg is serving his third term as mayor of New York. He is co-founder of Mayors Against Illegal Guns.
New York (CNN) -- A handful of states with weak gun laws are the largest contributors to the U.S. market for illegally trafficked guns. That's the alarming finding of "Trace the Guns: The Link Between Gun Laws and Interstate Gun Trafficking," a new groundbreaking report issued by Mayors Against Illegal Guns, a coalition of more than 500 mayors that I co-chair with Boston Mayor Thomas Menino.
"Trace the Guns" examines troves of new data released to Mayors Against Illegal Guns by the Bureau of Alcohol, Tobacco, Firearms and Explosives and for the first time demonstrates the connection between laws designed to deter illegal trafficking and lower export rates for guns used in crimes.
Mississippi, West Virginia, Kentucky, Alaska, Alabama, South Carolina, Virginia, Indiana, Nevada and Georgia were the 10 states that supplied guns used in crimes at the highest rates -- each of them supplying such guns at a rate more than twice the national average.
Not only do they supply a disproportionate amount of crime guns, but these states are also more likely to be the source of guns recovered in crimes within two years of the original sale, which the ATF said is a key sign of illegal trafficking.
If one state ignores a gap in its laws, other states have to deal with the deadly consequences.
--New York Mayor Michael Bloomberg
See for yourself: Read the report and see where guns are coming from in your state on the website TraceTheGuns.org.
The stakes are high: 12,000 people a year are murdered with guns in the United States. If one state ignores a gap in its laws, other states have to deal with the deadly consequences.
There is urgent work to be done by policymakers at all levels to strengthen enforcement of the laws we have on the books, and to close gaps in state and federal law. For example, the gun show loophole enables people with criminal records to avoid FBI background checks if they buy a gun from an unlicensed "private seller."
The report shows that states where this loophole is open export crime guns at 2½ times the rate of states that have closed it. The ATF has long identified gun shows as a leading source for traffickers, and while we didn't need any more proof that legislators should put a stop to this end run around background checks, we now have it.
"Trace the Guns" should serve as a clear road map for how we can more effectively fight illegal gun trafficking, support police and protect public safety -- and mayors around the country will be urging lawmakers in state capitols and in Washington to take action.
To see how your state stacks up, visit TraceTheGuns.org.
The opinions expressed in this commentary are solely those of Michael R. Bloomberg.
FOLLOW THIS TOPIC