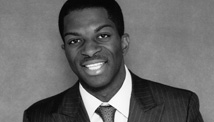 STORY HIGHLIGHTS
Anthony Coley says Tavis Smiley an inspiration, but stance on Obama is wrong
Coley finds Smiley's "assault" on Obama's policies for all Americans disturbing
Smiley's call for black agenda wrongly implies Obama ignores blacks' concerns, he says
He writes: Obama knows black America's destiny is woven in with all Americans'
Editor's note: Anthony Coley is the former communications director and chief spokesman for the late Sen. Edward Kennedy and former New Jersey Gov. Jon Corzine. He works as a director at the Brunswick Group, a communications consulting firm.
(CNN) -- Dear Tavis: Although we've never met, I feel like I know you. I've followed your career and listened to your commentary for over a decade.
During that time you've inspired me and challenged me. You gave me reasons to smile, to hope and to dream.
Most recently you've left me scratching my head.
Your unwarranted assault against President Obama's creation of policies that aim to lift up all Americans is particularly disturbing. Equally troubling is your upcoming travel to the president's hometown to press your case for a new "black agenda" in the Obama administration.
Perhaps this wasn't your intent, but such rhetoric suggests that the president has been ignoring the pressing concerns of African-Americans -- which is just not the case.

Video: Some black leaders mad at Obama
Black America's destiny is intertwined with that of all Americans. We all sink or swim together. America will never reach its full potential unless all the differing communities come together, united in purpose, to secure our shared future.
Not too long ago you seemed to agree with that view. In the forward of your 2009 book, "Accountable: Making America as Good as Its Promise," you write:
"We, the people, have a big job ahead to hold our elected officials and ourselves accountable. Therefore, we decided, at the inception of this book, that unlike the titles that precede, we would address readers including and beyond the African-American community.
" 'Accountable' is aimed at the total American community, in the belief that we need 'all hands on deck' in this ambitious and perpetual process, regardless of background, socioeconomic level, or ethnicity."
Why write a book aimed at all communities if you didn't believe it takes a comprehensive effort to tackle issues of concern to all of us, most especially African- Americans?
African-Americans are not alone in our quest for well-paying jobs with benefits, safe schools and communities, and access to quality and affordable health care. The rest of America wants those same things. The concerns of both are inextricably linked.
And that's been the beauty of Barack Obama's campaign and presidency. He's abandoned the entire us-vs.-them approach to governing and has refused to play the divisive racial politics of yesteryear. Thankfully, the president has focused his efforts on policies that would create an environment for all communities to thrive and prosper and, in so doing, strengthen America.
"A rising tide lifts all boats," is how another young president, John F. Kennedy, described the thought in September 1963.
Three months later the Rev. Dr. Martin Luther King Jr. shared similar views: "All life is interrelated, somehow we're caught in an inescapable network of mutuality tied in a singe garment of destiny. Whatever affects one directly affects all indirectly."
It took just a generation for our nation's first African-American president to build a campaign and administration that gave these words new life. And the impact this approach is having on the African-American community is impressive.
Just consider health care, the issue of the moment.
We all benefited when the Obama administration invested some $850 million last year in community health centers across the nation. Among those most notably helped were the children, seniors and working families who live in economically distressed neighborhoods that lack well-trained doctors and quality facilities.
The second bill Obama signed into law expanded the Children's Health Insurance Program. Millions of kids who lacked health insurance now have the health care they need and deserve because of this historic effort.
And for the past year, Obama has been fighting for a health reform bill that expands access to quality, affordable health care for all Americans.
Those who stand to benefit most are the 50 million Americans who don't have health care and millions more who can't afford it because of a pre-existing medical condition. As you well know, a disproportionate amount of these people are African-Americans.
This is not to suggest that all is perfect in our community. Unemployment remains unacceptably high -- nearly twice the national average. The Obama administration has acknowledged the challenge and has not let its foot off the gas. In addition to last year's Recovery Act (which invested millions in job training for dislocated workers and summer jobs for young people, among other notable investments), the president has signed the HIRE act, a new $18 billion jobs bill. And yet he still doesn't seem satisfied:
"Now, make no mistake: While this jobs bill is absolutely necessary, it is by no means enough. There is a lot more we need to do to spur hiring in the private sector and bring about a full economic recovery."
Brother Tavis, I'm not questioning your sincerity and I hope your voice remains a part of the national dialogue for years to come. We all agree that there's more work to do in the African-American community. Indeed, we've still got rivers to cross. My argument is just that we are not in the boat alone. We must all work together to get to the other side. Thankfully, we finally have a president who not only gets it -- he's leading the way.
The opinions expressed in this commentary are solely those of Anthony Coley.