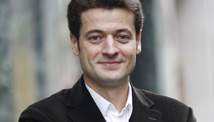 STORY HIGHLIGHTS
Julliard: Protests after 2009 election led to unprecedented intimidation
But, he says, journalists and bloggers already were regularly arrested and harassed
Islamic republic's anniversary sees stepped up restraints, he says
Reporters Without Borders works to get journalists out of Iran so they can tell their stories
Editor's note: Jean Francois Julliard is general secretary of the international press freedom organization Reporters Without Borders.
Paris, France (CNN) -- Early last week, Supreme Leader Ayatollah Khameini reportedly said Iran's celebrations commemorating the Islamic revolution would stun the world. It is difficult to believe anything Iran could do at this point could surprise the world.
The protests after the June election led to an unprecedented campaign of intimidation and arrests. Freedom of expression had been seriously undermined by the regime even before Mahmoud Ahmadinejad's disputed re-election. Journalists and bloggers were regularly arrested and harassed for discussing topics like women's rights or issues involving ethnic minorities.
News organizations with ties to the reformist movement were fined, suspended or even shut down for criticizing government policies. But in spite of these measures, there remained a functioning press. If reformist publications were limited in their criticism of the government, conservative outlets were rarely the target of censorship or harassment.
This is no longer the case. Any criticism of the government, regardless of its ideological line, is met with repression.
The prospect of Ahmadinejad's speech last Thursday being interrupted by opposition protesters was viewed as potentially damaging to the Iranian regime's already fragile claims to legitimacy.
This is why in the weeks before the event, Reporters Without Borders has learned, there was an increase in arrests of journalists and bloggers. The Reporters Without Borders research desk was able to confirm that at least 40 journalists and bloggers were arrested between January 6 and February 12.
Iran has now become the largest prison for journalists and bloggers in the world, with more than 80 Iranian journalists and bloggers behind bars -- more than the number of reporters being held in Cuba and China combined.
The international community must now go beyond publicly condemning Iran. As the United Nations Human Rights Council reviews the Iranian situation, member states must make a firm decision to censure the Iranian government for its human rights abuses and send U.N. special rapporteurs to conduct investigations into the abuses.
Hundreds of other journalists are under constant surveillance by the security apparatus and many have had to flee the country because of the threat of being arrested.
Iran no longer even bothers to respect its own judicial standards or procedures. People -- journalists and a broad array of those judged to oppose the government -- are detained in undisclosed facilities, where reports of physical and sexual abuse are common. These prisoners have no access to lawyers or even information about the charges against them.
One report, from The International Campaign for Human Rights in Iran, puts the number of arrests in the past two months at 1,000, with people often detained without a reason given under a detention order instituted after the elections last June.
They are often forced to make confessions or take part in what amounts to Stalinist show trials before being sentenced to long prison terms or even death on such charges as being "enemies of God," "receiving professional training abroad in the preparation of a velvet revolution," "disturbing public order" and "collaborating with foreign governments."
The government saw last week's anniversary festivities as an opportunity to prove it had the support of the population.
So the new wave of arrests was coupled with other measures to prevent Iranian citizens from communicating with each other and the rest of world. Last week, several mobile phone companies stopped allowing users to send or receive text messages. The aim was obvious: to prevent possible protesters from coordinating with each other during the planned celebrations.
Hundreds of Web sites remain inaccessible within the country and Internet connections have been entirely suspended in certain areas. YouTube and Google Mail are two sites most recently blocked. Other Iranian Web sites have also been the target of cyberattacks thought to be linked to the Islamic Revolutionary Guards Corps, Iran's powerful military, political and economic organization.
Reporters Without Borders has been working to help many of these exiled journalists find safe havens outside Iran so they can continue their work. We believe this is very important work for us, one of the few concrete ways we can ensure Iranian authorities do not successfully silence their own population and transform the country into a true dictatorship.
If the international community hopes to address issues like human rights and the Iranian nuclear program, it must take a strong stand and ensure that all of Iranian society is part of the debate. We cannot afford to exclude or forget those who have been silenced by the regime.
The opinions expressed in this commentary are solely those of Jean Francois Julliard.