Let Haitians in U.S. stay here legally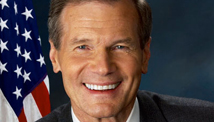 STORY HIGHLIGHTS
U.S. must help get Haiti back on its feet, says Sen. Bill Nelson
Nelson: President Obama should grant temporary protected status to Haitians in the U.S.
Lawmaker says such a move would let Haitians earn money in U.S., send it home to relatives
He says U.S. has granted such status to people from Honduras and El Salvador in recent years
Editor's note: Sen. Bill Nelson, a Democrat who is Florida's senior senator, has visited Haiti four times in recent years.
(CNN) -- The catastrophic earthquake that devastated Haiti has left millions of our neighbors in dire need of food, shelter and medical care. Haitians are a resilient and proud people, but this tragedy would leave even the strongest of nations decimated.
Even before the shattering 7.0 quake, Haiti ranked as the poorest country in the Western Hemisphere. Our neighbor literally has suffered from one natural disaster after another. Just last year, Haiti was ravaged by four hurricanes and tropical storms in a one-month period.
The U.S. and international community must provide humanitarian relief and longer-term reconstruction assistance to help Haiti get back on its feet and become a stable country over the long term.
While Homeland Security Secretary Janet Napolitano has announced a temporary halt to all deportations from the U.S. back to Haiti, for the time being, the action is limited. Compassion and common sense tell us that we must do more.
This is why I recently urged President Obama to grant what is called temporary protected status, or TPS, to Haitians in the U.S.
The Department of Homeland Security says there about 30,000 Haitians facing orders to leave our country.
The latest disaster underscores the need for protective action that would allow these immigrants to remain and work here legally.
The United States did so for Honduras and Nicaragua in 1999, following Hurricane Mitch; and, for El Salvador in 2001, following several earthquakes.
This administration has stopped short of granting TPS status that would allow Haitians who are in the U.S. to be able to work legally while they're here.
And the ability to work is significant: It allows immigrants not only to make money to support themselves but also to send remittances to their suffering families back in Haiti.
Keep in mind that TPS isn't free. Each person granted it pays the government $340 for a work permit.
Frankly, it makes no sense to tell Haitians already here that they can stay in the U.S. in the wake of the earthquake, but cannot legally support themselves.
To address this inequity, I and several members of Congress who represent Haitian communities will continue to press the Obama administration to give temporary protected status to Haitians in the U.S.

Part of complete coverage on

They filled the grounds in front of the collapsed cathedral in Haiti's capital Wednesday. To remember. To cope. To pray.

Can-Do founder Eric Klein spent most of 2010 in Haiti helping people recover from the devastating earthquake.

A much-awaited review of Haiti's disputed presidential election has been completed but not yet been handed over to the president.

Haiti's economy is getting a boost thanks to a venture with one of Korea's largest companies that promises to bring in 20,000 jobs.

Nadine Devilme has thanked God countless times for saving her baby and has wanted to thank the doctor who treated the child after the earthquake.

Amy Wilentz says a year after the earthquake, much of the funding to rebuild is stalled as aid organizations wait for the election crisis to be resolved.


Most popular stories right now