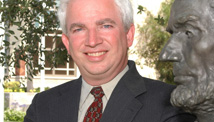 STORY HIGHLIGHTS
John Eastman: Prop 8 trial puts voters, traditional marriage on trial in pro-gay marriage city
Eastman: Prop 8 sponsors will be unfairly grilled on views about homosexuality, religion
Judge's ruling to allow broadcast of proceedings on YouTube is legal theater, he writes
Eastman says Supreme Court, not federal judge, will decide law's constitutionality
Editor's note: John C. Eastman is the Donald P. Kennedy Chair in Law and dean of the Chapman University School of Law in Orange, California.
(CNN) -- The trial to determine the constitutionality of California's same-sex marriage ban, Proposition 8, is being held in San Francisco, one of the most pro-gay marriage venues in the country. This is a decided home-court advantage for those challenging the law and, by implication, the nation's marriage laws.
Judge Vaughn Walker has pushed this case to trial despite many objections from the proponents of Prop 8. Already, the 9th Circuit Court of Appeals has been peppered with appeals from the backers of Prop 8 over Walker's procedural rulings, which have significantly tilted the litigation environment in favor of the opponents.
It is virtually unprecedented that Walker is forcing a full-blown trial of this issue.
Either limiting the definition of marriage to one man and one woman is constitutional, or it isn't. This is a question of law. That's why every other challenge to a state marriage law has been decided on the basis of legal precedent, analysis of legislative intent, scholarly analysis and expert reports.
The constitutionality of Proposition 8 does not hinge on the views of the sponsors of Prop 8 about marriage and sexuality, nor does it depend on the TV commercials and other communications put forth by the campaign in favor of the measure. Yet Walker has not only ruled that these issues are relevant, so are the private thoughts of backers never communicated to voters.
Walker will allow the plaintiffs' lawyers to grill the sponsors of the initiative, their campaign consultants and key supporters on the stand. They'll be asked to explain and defend their private views about homosexuality, religion and a variety of other matters.
This should make for great legal theater, and the judge has done his best to make sure the show will be broadly disseminated by his unprecedented ruling allowing cameras in the courtroom and videos to be run on YouTube.
This should make for great legal theater, and the judge has done his best to make sure the show will be disseminated.
--John C. Eastman, Chapman University School of Law dean
On Monday, the day the trial started, the U.S. Supreme Court issued a stay blocking Walker's orders permitting what would have been the first trial in the 9th Circuit to be recorded and broadcast nightly online. The Supreme Court's order expires at 4 p.m. ET Wednesday, giving justices more time to fully consider the issue.
The legal premise that the plaintiffs have put forth in Kristin M. Perry v. Arnold Schwarzenegger is that no legitimate governmental interest justifies limiting marriage to a man and a woman.
Perry co-counsel David Boies has said traditional marriage is nothing but "the residue of centuries of figurative and literal gay bashing." The plaintiffs will argue that gays and lesbians are a politically powerless class of people who are entitled to the highest degree of legal scrutiny of a law that applies especially to them.
In this regard, they say, Prop 8 should be viewed by the same legal standards that are used to evaluate claims of racial discrimination. They'll argue that homosexuality is an immutable characteristic. And they will argue that Prop 8 was passed because of "improper" religious views. They say that there is no rational basis for Proposition 8 and that it could have been adopted only because of voter "animus" toward gays and lesbians.
The defendants are the sponsors of Prop 8 who have been forced to spend millions of dollars supporting the initiative because Attorney General Jerry Brown has abandoned his responsibilities to the people he was sworn to represent.
They can be expected to argue that Prop 8 is a validly enacted and constitutional measure that was supported by more than 7 million California voters -- twice the number who voted for Schwarzenegger to be their governor.
They advance the reasonable and common-sense proposition that marriage is about more than the relationship between the two adults involved and has broad implications for society as a whole, especially children. They will point to the procreative nature of the male/female relationship as one of many things that separate traditional marriage from same-sex relationships.
Whether traditional marriage, and the rights of more than 7 million voters like me who approved Prop 8, prevail in Walker's courtroom remains to be seen.
But no matter how this judge eventually rules, the Perry case is destined for appeals and a final decision in the U.S. Supreme Court.
Ultimately, it will be the nine justices of the Supreme Court, and not a single federal judge in San Francisco, who will determine the constitutionality of Prop 8 and, by extension, the nation's marriage laws.
The opinions expressed in this commentary are solely those of John C. Eastman.