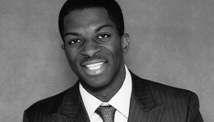 STORY HIGHLIGHTS
Anthony Coley says Republicans are sharks circling Reid
Coley: It's pseudo issue. Dismissing it, Obama said: "I know what's in his heart"
Republicans calling for Reid's resignation graded F by NAACP on key issues, he writes
Reid gets A on commitment to issues that truly matter, Coley says
Editor's note: Anthony Coley is the former communications director and chief spokesman for the late Sen. Edward Kennedy and New Jersey Gov. Jon Corzine. He currently works as a director at the Brunswick Group.
(CNN) -- Sharks can smell even the smallest drop of blood miles away, so it should come as no surprise that, even in their home districts, Beltway Republicans began circling when news broke of Harry Reid's latest self-inflicted wound.
While the rest of us were watching football or "Avatar" or just trying to keep warm this weekend, Beltway Republicans pounced on an inappropriate comment Senate Democratic leader Harry Reid made in reference to then-Sen. Barack Obama.
In case you missed it, late Friday night, theatlantic.com posted an excerpt from the long-anticipated book "Game Change," an account of the 2008 presidential campaign. It quoted Reid as saying Obama was "light-skinned ... with no Negro dialect, unless he wanted to have one."
The contextual inference: African-Americans don't speak the King's English, and Obama's lighter skin makes him more appealing to the masses.
This is a pseudo debate taking place inside the Beltway and on cable TV.
--Anthony Coley
OK, so he shouldn't have said that. To his credit, the majority leader issued a statement apologizing for "offending any and all Americans, especially African-Americans, for my improper comments."
He called President Obama on Saturday afternoon. In a statement, the president graciously accepted Reid's apology and acknowledged his long and passionate leadership on social justice issues. The president concluded, "I know what's in his heart. As far as I am concerned, the book is closed."
But the sharks would have none of that. By Sunday morning, Beltway Republicans -- ignoring Reid's long commitment to equality and justice, including the decades-old effort to integrate the Las Vegas Strip and gaming industry -- were calling for his resignation.
But along the way, they forgot one important point: African-Americans, like everyone else, are more concerned with what politicians do than with what they say. And on that measure, Harry Reid is second to none.
When it comes to issues that matter -- affordable, quality health care; good-paying jobs with benefits; safe schools and communities; more middle-class tax cuts; less government waste -- Reid gets it right.
He has a 100 percent rating on the NAACP's legislative report card. As for Jon Kyl and John Cornyn, the two Republican senators who have called for his head? An F for each of the past six years.
Coming from these guys, this latest attack is weak and pathetic. Perhaps it would have more weight if they were consistently on the side of the issues that matter to African-Americans or if Reid wasn't. Neither is the case.
African-Americans ... are more concerned with what politicians do than with what they say.
--Anthony Coley
This is a pseudo-debate taking place inside the Beltway and on cable TV. It does nothing to get Americans working again or to secure our homeland from real and serious threats.
Instead of knee-jerk criticism of everything Reid says or does, perhaps Kyl and Cornyn and other Beltway Republicans should provide concrete proposals to address the countless challenges we face as a nation.
It's true, Harry Reid doesn't always think before he speaks, but he's not in that boat alone. If we're honest, there's not a one of us who, if given the chance, would not go back to an old conversation and select a different set of words. Yes, Reid's recent comments were unfortunate and, as he says, a "poor choice." Given his track record, I'm inclined to believe it was just that.
To be clear, the overwhelming majority of Americans judge politicians by their actions. And on that test, I'll take Harry Reid over Beltway Republicans any day.
The opinions in this commentary are solely those of Anthony Coley.