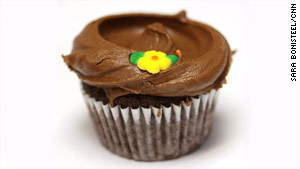 Today's cupcakes are little personalized treats unlike what mom used to bake.
STORY HIGHLIGHTS
Cupcakes are a trend with very long legs and crazy flavors
Expert: Little cakes are so personalized and everyone has a favorite
They can be topped with odd things like chocolate-covered potato chips
The also come in flavors like cocktails, beer or a BLT
(CNN) -- Can we please stop calling the nation's love affair with cupcakes a trend?
Last week, Detroit, Michigan, was the latest city to declare "the nostalgic cupcake craze is prepared for a long stay," echoing a Houston, Texas, Chronicle story from February that heralded "the nostalgic mini treats are a food trend that's here to stay."
These cities are the latest to forget that the cupcake craze took fire more than a decade ago when "Sex and the City" popularized New York's Magnolia Bakery and its sugary treats.
"I don't know how long it takes for a trend to end and become mainstream, but apparently we've established an industry," Magnolia founder Jennifer Appel told The Associated Press last year.
Even Martha Stewart has gotten in on the act. Last year, she published a cookbook, "Martha Stewart's Cupcakes," with everything from "gelato-topped mini-cupcakes" to "pistachio-raspberry tea cakes." When Martha taps something as book-worthy, it's probably more than a fleeting trend.
Rachel Kramer Bussel, who has been blogging about cupcakes since 2004 at Cupcakes Take the Cake, said that "in the last two years or so, cupcakes really exploded" with more cupcake-centric bakeries opening nationwide.
"Some people say it's nostalgia, and I think that plays a small role, but even more, it's that they are so personalized," she said.
"Everyone has a favorite and they get to really stake a claim to that favorite. I think that's why a city like New York or Los Angeles [California] or even Seattle [Washington] or Chicago [Illinois] can sustain so many cupcake bakeries; because some people like one kind of cupcake, some like another."
While there's no doubt that the cupcake industry is booming in places like Houston and Detroit, let's recognize what this is all about -- a passion we've been fueling ever since mom made us fluted-paper box-mix cupcakes for classroom birthday parties.
5 crazy cupcakes across the United States
Chocolate-covered potato chip cupcake
Over the Rainbow Cupcakes, Palm Springs, California
Bring on the salty with the sweet with this chocolate cupcake topped with chocolate buttercream, potato-chip flakes and a chocolate-covered potato chip. If that's not your thing, the bakery also has a chocolate jalapeño cupcake or a fig sweet corn and corn nuts cupcake.
Lucky Charms cupcake
Flour & Sun Bakery, Pleasantville, New York
This suburban bakery north of New York celebrated St. Patrick's Day this year by topping both vanilla and chocolate cupcakes in marshmallow icing and rolling them in Lucky Charms. Magically delicious!
Margarita cupcake
The Cupcake Bar, Cary, North Carolina
North Carolina's Cupcake Bar specializes in cocktail-themed treats such as strawberry daiquiri and the grasshopper. But consider the margarita, an orange cake topped with lime frosting.
The BLT
More Cupcakes, Chicago, Illinois
Heirloom tomatoes and candied bacon dot this savory cupcake from More on Chicago's Gold Coast.
Guinness cupcake
The Atlanta Cupcake Factory, Atlanta, Georgia
The Atlanta Cupcake Factory adds beer to its chocolate cake and tops it with Bailey's Irish Cream frosting. Another mature choice for an adult cupcake lover.
Do you have a local cupcake favorite? Tell us about it in the comments section below.