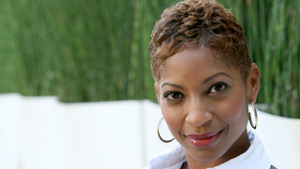 Women should quit trying to please men who can't commit, Audrey Irvine says.
STORY HIGHLIGHTS
Man-whore defined as man who sleeps with random women indiscriminately
Columnist says man-whore evolves into "misunderstood guy who can't commit"
She says women should tell men with no regard for commitment to back off
Editor's note: Audrey Irvine is a senior assignment manager for CNN. Her experiences in the dating world inspire her "Relationship Rant" column. Check back every week for her take on dating and relationships
(CNN) -- Two television shows, "The Bachelor" and "For the Love of Ray J," have one thing in common: They both contribute to the glamorizing of the man-whore.
To understand where I'm going with this, let's first define man-whore.
According to Urban Dictionary.com, a man-whore is "someone who repeatedly sleeps with random women indiscriminately without regard to any consequences. Man-whores are mainly found at local pubs, bars, parties, although they can be found anywhere throughout the world."
Man-whores used to be easy to spot, like that old man hanging out in the nightclub, trying to pick up young ladies.
But the new, improved man-whore wants you to believe he wants to be committed but just hasn't found the right woman to commit to -- yet.
How does he get away with it? Here is where the problem lies, and I fully expect to get some flak for this. Women are the reason the man-whore continues to exist and evolve into the "misunderstood guy who can't commit." Women feed the never-ending addictive cycle. If there were not women around willing to service these men, the man-whore would cease to exist.
Watch any episode of "The Bachelor" -- yes, I admit that I occasionally watch the show for entertainment value and research, of course -- and you will see another version of the man-whore. More than a dozen women are primping and throwing themselves at the bachelor in hopes that he will choose them to be his prize.
The TV bachelor may not appear to fit the definition of man-whore, because the show would have you believe he has some regard for the consequences of his romances. After all, the ladies want to think the goal of the "The Bachelor" is to be monogamous, right?
Another TV show also helps perpetuate the glamorous life of the man-whore. VH1's "For the Love of Ray J" is a less classy version of "The Bachelor." The star is singer Brandy's brother. While Ray J is trying to chose his partner for a long-term relationship, the bevy of women demonstrate how willing they are to meet his needs.
The Ray J antics get raunchier and more in-your-face than on "The Bachelor," where affections are implied while the bedroom doors are closed. However, the common thread of both shows is that women are willing to do whatever they can to close the romantic deal.
Women have a tendency to celebrate the exception instead of paying attention to the rule.
For example, Warren Beatty was for years one of the most famously celebrated man-whores. A new biography on the actor alleges he slept with more than 12,000 women. It wasn't until Beatty met Annette Bening that he finally settled down.
Can you imagine the angst of all the other women in his life who had thought they were the one? This is where women get in trouble. There are many women who believe they are their man-whore's Annette Bening. A woman's constant need to please and nurture has helped coddle and allow the man-whore to survive.
What's the solution? Ladies, my hope is that we can all learn from each other's missteps.
So, the next time you meet that guy who has no regard for commitment and he says one day he'll meet the woman of his dreams and that maybe you're the one? Tell him, "Back off man-whore, I refuse to be one more rat in this rat race of getting you to commit."