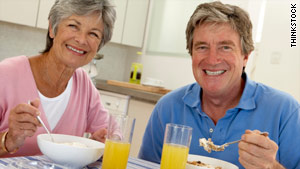 Boomers love their cereal, research shows.
STORY HIGHLIGHTS
Food companies target baby boomers, who've changed their menus
Middle-age consumers eat the most cereal, snack more than other age groups
Research finds boomers want healthier food: less salt, fat and sugar
Companies are responding by making some products healthier
(CNN) -- While consumer advocacy groups continue to shake their fists at the likes of Ronald McDonald and Count Chocula for enticing children with fatty, sugary fare, many companies are refocusing advertising on other susceptible, more mature babies. Baby boomers, that is.
General Mills, whose brand portfolio includes heavy hitters like Betty Crocker, Häagen-Dazs, Green Giant, Pillsbury and Cheerios, announced to investors in February that it will direct more attention to the baby boomer consumer group over the next five years.
The term "baby boomer" typically refers to Americans born in the post-World War II era, between 1946 and 1964. By 2011, the oldest of the boomers will start hitting 65 years of age, according to U.S. Census Bureau projections. And by 2030, there will 71 million Americans over age 65.
"Data shows that some of the highest per capita cereal consumers are among the age 55 and over population," General Mills spokesperson Kirstie Foster said.
"Cereals that appeal to baby boomers, such as Honey Nut Cheerios, Fiber One and MultiGrain Cheerios, have been a big part of our growth in this category."
General Mills is not the only huge company reacting to the boom.
"As a company which was traditionally focused on a younger person, we're now learning to set our sights on the young person and the boomer," PepsiCo Chief Executive Indra Nooyi said at a March investor conference, as reported by Advertising Age.
- Honey Nut Cheerios
- Fiber One products
- MultiGrain Cheerios
- Progresso low-sodium soups
- Progresso reduced-calorie soups
- Progresso high-fiber varieties
- Yoplait yogurt
- Green Giant Just For One vegetables
Source: General Mills
Taking note of an aging population with more active, longer lives and a keener focus on nutrition, PepsiCo plans to cut sodium, saturated fat and sugar in the next five years in products for the boomer market.
"Consumers are heading toward 'good-for-you,' " Nooyi said.
The snack and seed category is another popular sector with older consumers.
At a recent session of the Almond Industry Conference, Donna Diermeier, senior group manager of Frito-Lay North America's Nuts and Seeds Innovation group, observed the need for expanding product lines with almonds -- "including more flavor that blooms with roasting, a less-hard or more-brittle almond that is easier on the teeth, especially for 'baby boomer' consumers, and a lower-fat variety."
So why target the boomers?
"Because they graze more," said Ann Mukherjee, Frito-Lay's chief marketing officer. Baby boomers snack twice as much as other age groups, an average of three times a day.
Advertising to baby boomers is nothing new -- the group is one of the largest demographics in the United States, with hard-earned money power. But as boomers started to move into their 50s and 60s, they started shopping for low-sodium, low-fat, low-cholesterol and high-fiber products to combat the impending woes of aging.
Essentially, boomers adjusted their diets to a more healthful path, according to the 2009 SymphonyIRI Group report, "Baby Boomers II: Preparing for the Upcoming Wave of Aging Shopper Growth."
Marketers are making their own adjustments to have plenty of healthier products to pitch to these changing boomer tastes.