Gift advice from the experts -- and you!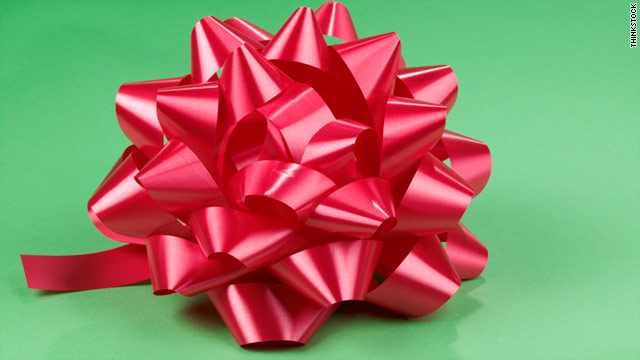 STORY HIGHLIGHTS
Author Jodi Newbern: There is no such thing as a bad regift, only bad regifters
Get in the spirit of selecting a present and don't stress out, Peggy Post says
Never give your wife anything with an electrical cord attached, says author Sherri Athay
Editor's note: Every Thursday during the holidays we're asking our etiquette experts questions to help you navigate the perils of giving and receiving gifts. Check back next week for another dilemma.
(CNN) -- Let the countdown begin. Not to stress you out (ok, maybe a little!) but you officially have eight days to finish your holiday shopping -- less time if you have to ship your gifts, and even less if you're reading this the day after it was published.
Ready for some help? So are we. We asked our holiday etiquette experts for their favorite piece of gift giving advice and they shared some great tidbits. But we're looking for more. Read their tips and then offer up yours in the comments below. We might just feature them in the article!
Jodi Newbern, author of "Regifting Revival: A Guide to Reusing Gifts Graciously"
There is no such thing as a bad regift. There are only bad regifters! Almost anything can become a meaningful and well-received gift if it is gifted -- or regifted -- appropriately.
Peggy Post, great-granddaughter-in-law of Emily Post
Get in the spirit of selecting the gift for somebody by trying to match it up with something they -- not you -- would enjoy. Don't overthink it!
Sherri Athay, author of "Present Perfect: Unforgettable Gifts for Every Occasion"
My brother once told me that he learned early in his marriage never to give his wife a gift with an electrical cord attached. Though there are exceptions to every rule, it's generally sound advice that I've shared with others over the years.
Anna Getty, author of "I'm Dreaming of a Green Christmas"
Enjoy the process and have fun. If it all turns into a hassle then what's the point?
From our readers
Share your best gift-giving (or gift-getting) advice, and it could end up here later today.
FOLLOW THIS TOPIC


Part of complete coverage on

Whether it's a surprise White Elephant party or a co-worker's overzealous gift-giving spree -- here's tips for gift shortages.

What would truly delight the geek in your life? It's nearly impossible to know if you don't share his or her peculiar tastes.

There's no reason why we can't have cultivated, old-timey holiday rituals and flourishes today as well.

Imagine the joy on a sports fan's face as he opens his gift on Christmas. We'll help you sort through the many sites that sell sports items

If you want to feel twice as nice about holiday gift giving, try donating to a charity. Here is CNN's charitable gift guide with fun, practical presents>

While your kid might not be coding just yet, it's not too soon to get him or her a tech-driven gift.

You probably know some people looking for work, and you may want to pay a little extra attention to what you buy them.

Cutting back on gifts when you've been extravagant in the past isn't always easy. Our gift-giving experts offer some help.


Most popular stories right now