Companies brace for holiday shipment spike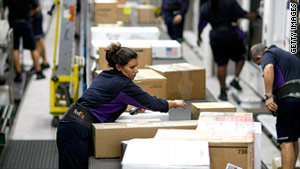 FedEx says it expects to see the busiest shipping day in the company's history Monday.
STORY HIGHLIGHTS
FedEx predicts its busiest day will be Monday
December 20 is the busiest mailing day for the U.S. Postal Service
UPS says its shipping peak comes on December 22
Online shoppers drive a large part of the holiday shipping boom, FedEx says
(CNN) -- Christmas is 12 days away, but already drivers are dashing through the snow to deliver holiday gifts.
The U.S. Postal Service, UPS and FedEx are all gearing up for a spike in shipments.
But they each predict different days will be the year's busiest.
FedEx expects to see the busiest shipping day in the company's history Monday when it moves nearly 16 million shipments around the world, according to projections released by the company last month.

FedEx to move 16 million packages today
The U.S. Postal Service said its busiest mailing day comes a week later, when 800 million cards, letters and packages are expected to be sent on December 20.
And in a statement last month, UPS said its workers were "as busy as Santa's elves" with increased holiday shipments. The company predicts that it will delivery 24 million packages worldwide on December 22.
The holiday spike is "largely driven by online retailers and cataloguers who ship high volumes of lighter shipments to residential customers," FedEx said in a statement.
From Thanksgiving through Christmas Eve, the company says it delivers more than 86 packages per second.
FOLLOW THIS TOPIC