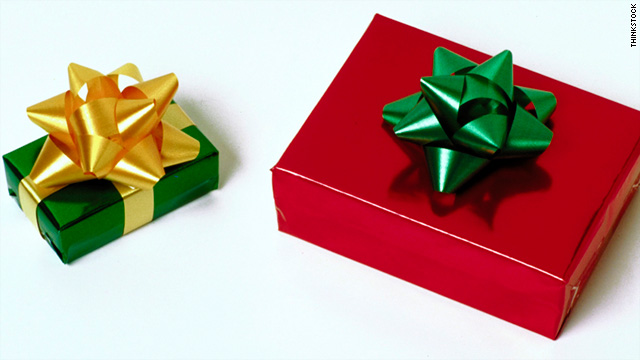 STORY HIGHLIGHTS
Be upfront, be honest and tell the person you're exchanging with early
Don't be afraid to regift a present as long as it fits the new person
When money is tight, get creative -- give bake goods, offer service as a baby sitter
Editor's note: Every Thursday during the holidays we're asking our etiquette experts questions to help you navigate the perils of gift giving and receiving. Check back next week for another dilemma.
(CNN) -- This holiday season is expected to be tough on a lot of people's budgets. But cutting back on gifts when you've been extravagant in the past isn't always easy.
Do you explain to family or friends that your gift giving this year will be a bit lean? Or do you scrimp in another way to save face?
Our gift-giving experts have the answers.
Jodi Newbern, author of "Regifting Revival: A Guide to Reusing Gifts Graciously"
For most people, the ideal gift to give usually has a perceived value equal to or greater than its actual monetary value. This means it's especially great when you get a really good deal.
(And let's hope you are not one who buys "on sale" yet accidentally leaves the original or "compared to" retail price tag in with the gift!)
No matter how much or how little you are able to spend, if you want to give a meaningful gift, make sure that you match the value of the gift to the occasion, the reason and the person.
Don't be afraid to graciously regift something that you might already have on hand. There are plenty of ways to effectively and tastefully add to, embellish or enhance a previously received gift that will make a perfect present.
Peggy Post, great-granddaughter-in-law of Emily Post
One of the principles of etiquette is being honest. Be honest and be upfront and be early in mentioning it.
If you're pretty sure you're going to be exchanging gifts with someone, say, "I always love exchanging gifts with you, but this year, I'm really strapped for cash/things are tight/I lost my job." Make sure you don't sound put out, and it should be fine.
The other person probably is also struggling, so you could say, "How about we cut back this year?"
Or give the gift of time -- two nights baby-sitting so they can go out with their spouse. Or bake them dinner. You don't have to break the bank to exchange gifts.
Sherri Athay, author of "Present Perfect: Unforgettable Gifts for Every Occasion"
• Regift. But do so carefully, and only if the gift is a good fit for the recipient. Unless it's vintage or antique, don't regift used items. Carefully check the item for inscriptions, monograms and other personalization. Rewrap it. And, above all, be sure you don't give the gift to the one who gave it to you.
• Pass on an heirloom. Passing on a family treasure can create a special bond between giver and recipient. A personal note describing the history of the heirloom would help the recipient understand its particular significance.
• Draw names for family and office gift exchanges.
• Give a gift of self. Are you a poet, a photographer or a cook? Compile a selection of your poems, photographs or recipes to share with friends and family that have enjoyed, inspired or encouraged your efforts.
Anna Getty, author of "I'm Dreaming of a Green Christmas"
When the budget is tight, turn to creativity. Make things such as jams, cookies or quick breads. You could make a photo album, which you can easily do online.
When I was on a tight budget in the past, I gave hand-drawn gift certificates for a yoga or cooking class, both of which I teach. Or turn to your community and do trades -- ask your masseuse friend for a couple of massage certificates and in turn cook her a meal for four.
Lastly, try shopping at flea markets and second-hand websites such as eBay for well-priced gifts.
From our readers
Got a tip on gift giving on a budget? Post 'em below ,and they could end up here later today.
FOLLOW THIS TOPIC