STORY HIGHLIGHTS
The number of people asking for jewelry this holiday season is 23 percent

61 percent of holiday shoppers surveyed said the economy will affect their spending plans

Diamond jewelry is a popular pick this season
(CNN) -- If last year was the holiday to buy your wife a practical gift like a crock pot or a blender, then this is the year to buy her jewelry.
Santa spent much of last year handing out small appliances, but this year Americans are putting jewelry on their wish lists, according to a survey by the National Retail Federation.
The number of people asking for some "bling" is 23 percent, up 13 percent from a year ago, according to the report.
"We believe that people will be and are buying more jewelry this year than last season," said Brenna Neal, chief marketing officer, jewelry, Sears Holdings.
"With a slightly steadier financial position versus the last two years, consumers are looking for places to splurge while staying in budget."
High-end jewelry store Solomon Brothers Fine Jewelry in Atlanta, Georgia, feels the same pulse.
"Our retail sales are up the last two months over 2009 sales of the similar period and we look forward to a stellar season," said Ivan Solomon, president and CEO of Solomon Brothers.
While 61 percent of shoppers in the National Retail Federation survey said the economy will affect their spending plans this year, the increased desire for jewelry may very well be a signal of a return to discretionary spending.
"A bump in jewelry sales is a positive sign for retailers that consumer confidence is rising and that the tide could be changing," said Ellen Davis, a spokesperson with the federation.
What is "hot" this year?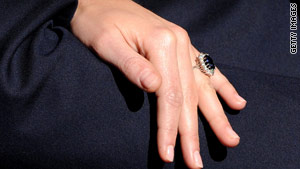 Kate Middleton's engagement ring.
Diamonds have always been a "girl's best friend," and this season may prove that some things never change.
These gems are timeless and always add glamour to a wardrobe. Many retailers are ready to offer consumers a deal for the holidays.
Even Oprah Winfrey is on the "diamond bandwagon." For her "Ultimate Favorite Things 2010" show, she gave away Jessica Leigh Diamond Earrings by Dana Rebecca Designs to her guests. This sparkling accessory comes with more than 100 diamonds in each pair and is available in 14-karat white gold, rose or yellow gold and feature 1.17 carats of diamonds.
"A little sparkle for you," Oprah told her guests.
Kate Middleton, Prince William's fiance, may have made diamonds surrounding a sapphire fashionable this season. She is now the proud owner of Princess Diana's engagement ring, which is the inspiration for replicas being sold at both ends of the price spectrum.
Earlier this month at the 44th Annual Country Music Association Awards, the stars were wearing lots of diamonds, too. Singer Taylor Swift was one of the biggest stars of the show sporting diamond earrings and a matching bracelet and ring. Gwyneth Paltrow rocked the red carpet wearing diamond dangle earrings.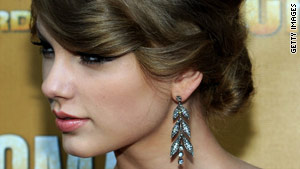 Taylor Swift wearing diamonds at the CMA Awards.
You don't have to be a famous talk show host, royalty or a music star to afford diamonds. Many retailers are selling diamond jewelry at prices that many consumers can afford.
For instance, Kmart is selling 1/10 carat total weight princess cut diamond earrings for $19.99 on Black Friday and Saturday. Sears is selling a 1 carat total weight black and white diamond ring for $149 through Christmas Eve.

Diamond hub in India
"People want gifts that will last and jewelry is something that never goes out of style, and as the slogan says, 'diamonds are forever,'" said jewelry fashion critic Pinny Gniwisch.
"People want to feel like they are not only giving a gift but investing in forever," he added.
FOLLOW THIS TOPIC