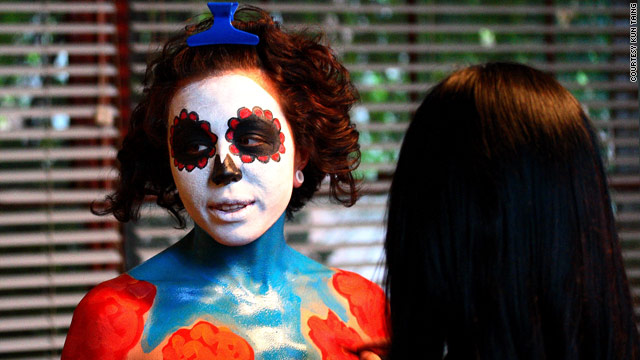 STORY HIGHLIGHTS
Body painting is used in everything from nightclubs to advertisements
Topless models get covered from head to toe in sweat-proof, washable paint
Artist says body painting breaks down self-confidence barriers
(CNN) -- You need four things to get ready for body painting: "A shave, clean underwear, wine and nipple coverings," says model Veronica Guerra.
You also need brushes. And an artist who appreciates an unusual canvas. Plus someone who's willing to walk around in front of a couple hundred people covered by only a thin layer of paint. But the clean underwear certainly doesn't hurt.
Across the country, nightclubs are putting body painting on the summer's entertainment menu. From the L2 Lounge in Washington, D.C., to the Voyeur in San Diego, California, club-goers are gathering to watch artists cover models head-to-toe in sweat-proof, washable paint. Or they're showing up at glow-in-the-dark body painting parties to do it themselves.
"It's so fun, it's ridiculous," world-renowned body painter Craig Tracy said. "It's just incredibly visual and a great way to meet strangers."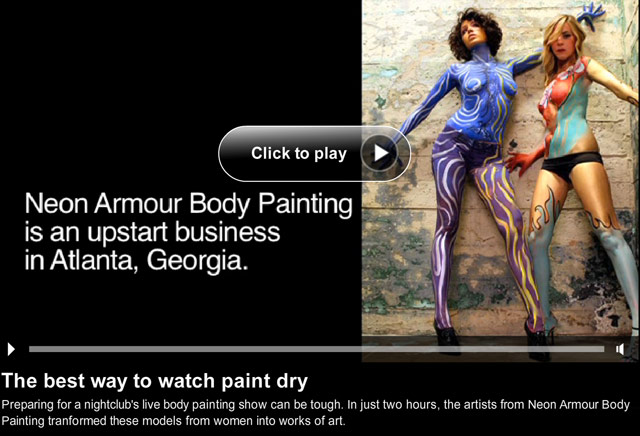 Watch: Body painting
Body painting is popping up in pop culture as well. On a recent episode of "Kourtney & Khloe Take Miami," the Kardashian sisters posed in body paint to promote their new clothing store. In the 2010 Sports Illustrated swimsuit edition, it was difficult to tell which models were wearing real bathing suits and which were covered in paint. Even the Miss Universe pageant contestants posed topless in body paint this year, causing quite a stir

.
Tracy began taking pictures of his body painting work in 2001 and found he could sell the canvases as fine art. He opened the world's first body painting gallery in 2006. Since then, the New Orleans, Louisiana, native has seen his passion's popularity grow exponentially.
Tracy said body painting is generally used in five ways. At resorts, it's a fun and playful activity. Night clubs use it as entertainment with live body painting shows or UV paint parties. It's used in high fashion and sold as fine art. And advertisers use it as a promotional tool -- is there a better way to get your name known than spray-painting it across a topless girl?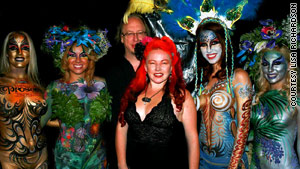 Madelyn Greco and Scott Fray pose with four of their models in Dallas, Texas.
In February, Las Vegas, Nevada, hosted North America's first body painting championship. Scott Fray and his partner Madelyn Greco took third, then went on to win second at the World Bodypainting Festival in Austria in July.
"I have participated in many art forms, and body painting is the one thing that people go absolutely crazy about," Fray said. "There's nothing like it."
The North Carolina couple doesn't make a living solely from body painting -- Greco is a burlesque performer, and Fray works full-time in web design. But their gigs are becoming more frequent. They do everything from painting pregnant women's bodies for portrait shots to elaborate makeup for movie shoots.
Fray and Greco's typical model stands for six to eight hours while being painted. Tracy's professional fine art pieces can take days. But Atlanta, Georgia, newcomers Stephanie Hernandez and Erick Jara of Neon Armour Body Painting can complete a live club painting in less than three hours.
Whether it's on stage or off, Hernandez and Jara paint for their audience's entertainment and their own enjoyment. With the music blasting, people dancing and lights flashing, it's easy to get caught up in the moment.
Stephanie Hernandez paints one of her models in Atlanta, Georgia.
"I don't feel awkward, but I always wonder if the girls feel awkward," Jara said while painting a particularly ... awkward part of his model's body. Does he mind the late hours or low pay? "Oh no, please don't give me an excuse to paint naked women," he deadpans.
Hernandez's favorite part of her art is sharing it with the crowd. Her models walk through the audience after a show, getting a ton of compliments. Sometimes, she uses hesitant friends as models. Afterward, they're almost never shy. "It's like they feel so protected by that little layer of art. It's magical."
Greco has seen the same phenomenon and credits the art form with breaking down many self-confidence barriers. One woman she painted had a scar on her stomach that she hated for years. After showing off her nearly naked body to a festival full of people, she came back to Greco's booth weeping.
"She felt like she could finally embrace her body," Greco said. "It's transformative in ways that we don't always understand for the person being painted. You execute it, and off goes your art -- it walks away to have a whole new life without you. Hearing the stories can be the most rewarding part of all."
"If you have one person tell you, 'Wow, you're beautiful,' that's a big day for you," Fray added. "But to have thousands of people gushing all over you, that can really change someone's life."
FOLLOW THIS TOPIC