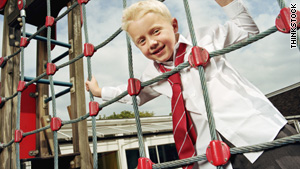 Some workers get to play around on the job.
STORY HIGHLIGHTS
Some jobs combine work and play in a fun career
Scavenger-hunt organizer: Millionaire with plane requests a six-city hunt
Video game party host has as much fun as his guests
Toy magazine editor is paid to play with all the hot new toys
(CareerBuilder.com) -- You've probably worked hard to find a job you love. It may have taken you three different majors in college, a couple dozen career tests and a midlife crisis, but you've landed in a job you enjoy.
Chances are, though, if you were offered the chance to play all day -- and still get paid -- you'd be out the door of your office so fast that you wouldn't even notice if it hit you on the way out.
Unfortunately, paid vacation time is about as close as most of us will come to getting paid to play -- unless of course, you work in one of these seven jobs, where work and play are one in the same.
1. Pediatric occupational therapist
"The theory behind occupational therapy is improving occupational function. A child's occupation is play, so all day I use play as a means to get functional progress with kids -- and it works," says Rachel Rudman, a pediatric occupational therapist.
Rudman spends her time with her patients in an office complete with indoor swings, a trampoline and a rock wall; she regularly uses activities such as board games, coloring, puzzles and craft projects to help meet the needs of the children she works with.
"For example," Rudman says, "if I have a student who has trouble sitting still, I may have him do a table-top game or activity while standing on a wobble board or seated on an inflated cushion to give him the movement he is seeking."
2. Pet photographer
Grace Chon, the owner of Shine Pet Photos in Los Angeles, spends her days exactly as you might expect. She takes pictures of people's pets.
Although Chon has been in the pet biz for more than two years, she had no intention of turning her onetime hobby into a full-blown business when she started out.
"I was in advertising as an art director and for some stress relief I began taking head shots of homeless dogs on the weekend to help them get adopted," she says. "My side business exploded into a full-time career, and in 2008 I quit my art directing gig and have been photographing dogs and cats full-time ever since."
Besides taking photos for individual clients, Chon also provides snapshots for magazines, books and calendars.
3. Scavenger-hunt organizer
Lisa Jennings is the "hunt master" for Masters of the Hunt, a company dedicated to creating and organizing elaborate scavenger hunts.
"There's never a dull moment around here," Jennings says. "The phone will ring and we'll learn that a cruise line wants us to come onboard their ships to create new activities for their guests. Or a millionaire with a plane will call with a request for us to organize a six-city hunt that he and his friends can participate in by flying from place to place."
Although her work is all about play, Jennings is serious about her industry. "I have a [bachelor's degree] in leisure services -- yes, that's a real degree -- from Florida State University," she says.
4. Toy magazine editor
Jim Silver and Chris Byrne are the head-honchos at Time to Play magazine, an online publication that demonstrates and reviews more than 5,000 toys per year. Their job functions will turn your inner child green with envy.
"Essentially, our job is to look at and review toys in the marketplace and analyze them in the context of contemporary culture, what consumers are buying and hopefully identify trends," says Byrne, who jokingly calls himself "Santa's messenger to Earth."
Silver says he knows how lucky he is to be working in such a fun industry. "I actually have 'wow' moments every week that this is my career. It's wild and crazy -- showing the best toys, doing giveaways and then wondering that I get paid for this," he says.
5. Video game party host
Jim Sheehan goes by the title "executive director of fun and games," and says his job "is basically going from one party to another," which is indeed an accurate job description.
Sheehan owns a Pennsylvania franchise of Games2u, a mobile entertainment company that provides amusements such as laser tag, video games, human hamster balls and foam machines for parties and events. He literally brings the fun to parties.
Although it's Sheehan's job to ensure that people have a blast at their events, he often finds himself having just as much fun as partygoers.
"We were pulling away from a party we'd just finished and the kids were running down the sidewalk waving goodbye and yelling. They had a great time and I realized that I'd had just as much fun as the kids. Then it clicked -- the more fun we are having at an event, the more fun the kids and parents have," Sheehan says.
6. Stand-up comedian
"I started in stand-up after carefully evaluating the economics of the business, my skill set, opportunities -- OK, it was because of a girl," says Shaun Eli, a stand-up comedian in New York City.
"On a first date she told me I should take a stand-up performance class and get on stage. It turned out to be our last date, but I took her advice. And she's come to a bunch of my shows."
Eli says that, naturally, making people laugh is one of the best parts of his job. But he also says, "There's the ability to turn something bad from your life into something productive -- to make fun of it or at least find a way to joke about it so some good comes out of it. I have a five-minute story about serving on jury duty in the Bronx. I got paid $14 a day and got a routine out of it!"
7. Playground builder
Carrie Ellis is the director of the project management team for KaBOOM!, a national nonprofit organization dedicated to saving playgrounds. The team Ellis manages works with communities to build more than 200 playgrounds every year.
"I love going to our all-volunteer, done-in-a-day playground builds. Everyone is excited, the music is pumping, we get to wear fun hats -- it's an energy-filled, all-day party," she says.
Although Ellis says all the KaBOOM! volunteers are great, two in particular stick out in her mind. "I got to build a playground with Michelle Obama and Maria Shriver. I was handing Mrs. Obama tools and helping her and Mrs. Shriver navigate all the different projects. It was an amazing day and although I have pictures of us together, it is still hard to believe that I had that opportunity," Ellis says.
"At KaBOOM!, our work is play and play is our work. People know we can be ourselves and still do amazing work," she says.
&copy CareerBuilder.com 2011. All rights reserved. The information contained in this article may not be published, broadcast or otherwise distributed without the prior written authority.