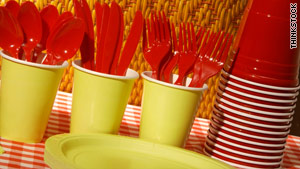 Some plastic forks and plates can be recycled, but not all.
STORY HIGHLIGHTS
Plastic plates, silverware (labeled with #6) are recyclable
Many curbside recycling programs accept them; however, many don't
You can recycle them yourselves into a cutlery wind chime
(Mother Nature Network) -- Question: My office serves catered lunches every day, and the company provides plastic plates and cutlery. I've been eating the lunches for years, and yesterday, when I walked out of the conference room where the food is kept, I noticed the overflowing garbage can in the corner stuffed to the gills with plasticware.
It got me thinking: is the stuff we use every day for lunch recyclable?
Answer: Wow! Where do you work and are there any openings for snarky advice columnists? Catered lunches? That beats brown bagging it any day. You're probably saving a fortune! Then again, maybe your company saw catered lunches as a way to avoid giving everyone a raise this year -- and the company is the one saving a fortune.
Truth be told, plastic plates and silverware (labeled with #6 underneath as the resin identification code) are recyclable, and many curbside recycling programs accept them along with other types of plastic; however, many don't, and that's because it's simply not cost-effective.
MNN: Bird-loving fifth-grader raises thousands for the Gulf
Interestingly, another type of #6 plastic is packing peanuts, which many shipping stores will take back and reuse. You could try to sneak in some of your used plastic cutlery with your next drop-off at your local UPS store, but chances are after that, they won't let you recycle your peanuts there again.
If you do have a curbside recycling program that accepts #6 plastic, by all means recycle them. But if not, and you want to be eco-conscious, you can try re-using them yourself. They're usually good for about a week or so before they start to take on the smell and color of Tuesday's spinach lasagna.
MNN: 10 of the tiniest homes in the world
Another option is to bring your own non-disposable cutlery from home and not use the plastic stuff. If it's inevitable (as many pre-packaged lunches these days come with cutlery inside), then why not save them and use them for your next party or family get-together?
You could also take some home and make a cutlery wind chime out of them with your kids. Better yet, collect a whole bunch and donate them to your preschooler's teacher to make wind chimes with the entire class for an art activity. She'll probably be grateful to you for the idea and for donating the supplies.
MNN: Opting out of unwanted mail just got easier
Can you take reusing plastic cutlery too far? I didn't think so, until it recently came to light that Qantas Airlines was accused of reusing plastic cutlery on as many as 30 flights. They said they were sending them to a special washing facility in between each use and that the airline's cutlery stands up to more wear and tear than regular cutlery -- but eek. Doesn't that make you cringe?
It's one thing to reuse your own plastic cutlery, even your family's plastic cutlery. It's entirely another to use some random passenger's cutlery from yesterday's red-eye from Melbourne.
I would also suggest that you ask your company to cut down on the amount of plastic used at those catered lunches. Maybe you can get the whole office to bring in their own non-disposable plates and cutlery from home or get your company to provide the real dishes and silverware. You could eliminate the need for plastic tableware altogether.
Until then, enjoy the free food and don't forget to pass along the contact info for the head of HR at your company. Happy lunching!
MNN: 10 surprisingly easy sources of alternative energy
© Copyright 2011 Mother Nature Network