STORY HIGHLIGHTS
Musicians, paying guests flock to performances in private homes
House concerts foster intimate connection between artist and audience
Performers can make more money in a house concert than in a club or bar
Artist gets 100 percent of donations, free bed, free meals -- and full attention
Covington, Georgia -- Around a northern Georgia home sporadically illuminated by fireflies and distant lightning, music rises as darkness falls. A couple dozen smiling guests, glasses of sweet tea or white wine in their hands, settle onto sofas or lean against doorposts.
It's time for the magic to begin.
This is a house concert, a growing phenomenon in which musicians perform in private living rooms for a small but attentive paying audience.
The connection between performer and patron is almost palpable.
"We've seen magic happen here," said Natalie Cole, who recently co-hosted a house concert by folk singer Jonathan Byrd at her friend Cindy Ladd's mountainside home in Dahlonega, Georgia.
"There's an interaction that occurs between the artist and the audience that's different from anything that I've experienced in a club or a venue like a bar. It's more intimate."
Audience members "are here for the music," Ladd said. "They're not here to find a date or to cruise around the bar and talk."
And artists appreciate not having to compete with billiard games or blaring televisions.
"There's this intimacy to it where, as a storyteller and an acoustic musician, the subtleties of that kind of craft can come across," Byrd said. "When you're in a really big place with a lot of people, it's harder to get the subtlety of acoustic music, the dynamic range of it."
That intimacy is just as valuable to a big-voiced R&B singer like Kira Small. She and husband-bassist Bryan Beller have been performing at house concerts for about a year, most recently in Bill and Teri Hooson's tightly packed living room in Covington, Georgia.
"We just love being able to connect with everybody this closely," said Small, standing barefoot behind her electronic keyboard not 10 feet from the first row of seats.

Video: A private concert in your living room
"If we get a bigger crowd, I tell people, 'You may not have been friends when you got here, but you'll be friends by the time you leave,' " said Bill Hooson, who has been hosting monthly house concerts for 30 years.
"We've just always had music in and around our house," he said.
Concert hosts usually ask guests to make a $15 to $30 donation; they don't call it an admission charge because that would make the venture a business and raise zoning issues, said Fran Snyder, who runs ConcertsInYourHome.com, one of several sites that help match performers with home venues.
Snyder's site also offers practical advice for hosts.
"It's not rocket science, but it does take a little bit of effort," he said. "You've got to be friendly with your neighbors if you're going to do this stuff."
Interest in house concerts is growing "by magnitude," Snyder said. When he started the website four years ago, he was getting four or five inquiries a day; now he gets that many per hour, he said.
Texas is a hotbed for house concerts, as is the urban Northeast, Snyder said, including Brooklyn, New York, and Boston, Massachusetts. And "California is just on fire with it. We have probably a hundred hosts in California," he said.
Other concert networking sites include houseconcerts.com and gaiaconsort.com. Russ & Julie's House Concerts in Los Angeles, California, provides a rich resource page at http://jrp-graphics.com/houseconcerts/resources.html.
Artists also are using Twitter and Facebook to announce that they will be touring in a certain area on a given date and are available for house concerts on surrounding nights, Snyder said.
Besides the artistic benefits, there's a clear economic advantage for the performers: All the donations go to them.
"When you play in a club, the house gets a cut, the sound man gets a cut, the door man gets a cut, and by the end of it, there's no cut for the artist," Byrd said.
"I can play for 300 people at a club and make as much or less money as I make playing for 40 or 50 people here tonight."
Some hosts pay the artist a set amount regardless of the gate, while others pay whatever is collected.
"I like to have a guarantee for the artist," said Ladd, the host in Dahlonega. "Sometimes I've had to pay out of my pocket, but I'd still rather they leave with what they were expecting to leave with."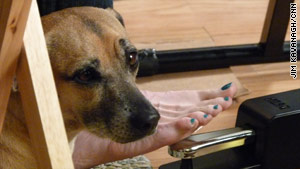 Bill and Teri Hooson's dog Lucy shares the stage with Kira Small, who likes to play in her bare feet.
The musicians also usually don't have to book a hotel.
"Often, the hosts will provide artists a place to stay, which is another touring cost, and they usually feed us too, which is really nice," Small said.
Additionally, those intimate audiences often are eager to buy CDs and T-shirts from their new musician friends.
"Sometimes they'll buy everything you've got," said Snyder, himself a touring folk musician and award-winning songwriter.
Things don't always go perfectly. Small recalled playing an outdoor house concert that was visited by a surprise rainstorm. But the audience opted to go with the flow.
"It was like Woodstock out there, with people stomping around in the mud and dancing in the rain," Small said.
Hosts generally don't make any money from their efforts. But they're not in it for the money.
"The tradition of house concerts is that they do it because they love it," Snyder said. "They do it for their friends. They like being the taste-makers in their community.
"A lot of hosts were musicians at one time. Hosting these house concerts is one way of reconnecting with that part of themselves."
For the guests, it's just good music, up close and personal.
"Seems like the smaller the venue, the better the music," said Jerry Whidden, a Gainesville, Georgia, social studies teacher who was at the Jonathan Byrd show.
Added Laurie Oliver of Covington, who came to hear Small sing: "It's like you're listening to your best friend play the best music."
FOLLOW THIS TOPIC