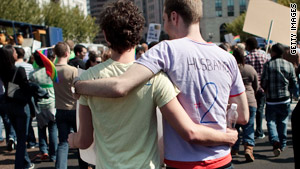 The District of Columbia in March joined five states to legalize gay marriage. Now gay divorce is becoming an issue.
STORY HIGHLIGHTS
In Texas, there's a battle over whether the state can allow a gay divorce

Six states have legalized gay marriage but not all states will perform gay divorces

Critics of gay marriage argue allowing gay divorce means acknowledging gay marriage is legal

Same-sex couples who wed need to be careful which state they move to, attorneys warn
(CNN) -- It's only been two months since the District of Columbia legalized same-sex marriage, but local attorney Lawrence Jacobs is already cautioning his clients: Marriage may be allowed, but divorce will be much harder to do.
While the District and five states have legalized same-sex marriage and consequently allow divorces, granting same-sex divorce elsewhere is often murky. As married same-sex couples cross into states that explicitly ban or don't recognize gay marriage, they face a dilemma.
"Be careful what you ask for," says Jacobs, who consults and represents gay couples considering marriage. Jacobs married his partner in Connecticut in 2009. "When you break up, you may have a nasty fight in a court with no rules."
States across the country are grappling with their stance on gay divorce. The Texas attorney general is resisting a gay divorce approved by an Austin, Texas, judge involving a lesbian couple. Two months ago in Pennsylvania, a judge denied a divorce for two women who were married in Massachusetts. Rhode Island's top court rejected the idea of allowing gay divorce several years ago.
"I'm still legally married, and if I want to marry again I can't," says a disappointed Carole Kern, 47, who filed the petition for divorce that was rejected by the Pennsylvania judge in March.
Kern is from Pennsylvania and traveled to Massachusetts in 2009 to marry her partner Robin Taney. Kern would not comment on the reason for their divorce.
Some states, like Maryland, don't allow gay marriage, but Maryland will recognize gay marriages performed out of state, according to a February opinion issued by the state's attorney general. Some legal experts say that means Maryland will be able to perform gay divorces.
California no longer allows gay marriage, but since the state had legalized gay marriage for several months in 2008, the courts are still hearing same sex divorce cases from marriages during that period, attorneys say.
Under the U.S. Constitution, states generally recognize the laws of other states. Heterosexual marriages and divorces are recognized when a couple moves states. They are not required to get remarried -- or re-divorced -- each time they relocate. But the rules vary by state for legally married gay couples, family law experts say.
The battle over gay divorce comes with plenty of conflicts: If the state doesn't recognize gay marriage, then how can that state dissolve a gay marriage? What if a state that outlaws gay marriage grants a same-sex divorce? Does that imply gay marriage is recognized? Some critics of legalizing gay marriage seem to think so.
Last month, an Texas divorce case involving a lesbian couple, Angelique Naylor and Sabina Daly, made headlines. A judge granted the couple a divorce in March, but the state has a constitutional amendment, passed in 2005, that defines marriage as a union between "a man and a woman."
The judge ruled the constitutional amendment violated the federal Equal Protection Act of the U.S. Constitution. The lesbian couple had been married in Massachusetts in 2004, where gay marriage is legal.
Texas Attorney General Greg Abbott appealed the decision. The court doesn't have the legal power to divorce the lesbian couple and other courts may not recognize the divorce, he argues.
"It would not provide the parties with finality and certainty they seek in order to move on with their lives," court documents filed by his office say. "It would subject them to the expense and worry of protracted litigation, as well as years of legal and personal uncertainly."
Yet Angelique Naylor, one of the plaintiffs, didn't see it that way. She argued the divorce in Texas was necessary because the couple shared a house and have an adopted son, according to CNN affiliate KXAN. The couple had tried mediation, but the process failed.
If Texas did not perform the divorce, the couple would have had to move back to Massachusetts to obtain a divorce. Even then, under Massachusetts law, it would have taken at least a year to establish residency before filing for divorce. Other states have similar residency requirements, which complicate the divorce process.
"Sometimes people do want to end their relationships," Naylor told CNN affiliate KXAN. "We aren't given equal protection under the law to do that."
Sarah Warbelow, legislative director for the Human Rights Campaign, wants same sex couples to have equal access to marriage and divorce no matter what state they reside in. Human Rights Campaign, a national nonprofit, advocates for equal rights for gays, lesbians, bisexuals and transgender individuals.
"The inability to get divorced could have real impacts on the ability to decide who gets property, a child's visitation and the ability to enter a new relationship in the future," she says.
This isn't the first time filing for a gay divorce has riled up Texas courts. Last October, a gay couple, named J.B. and H.B. in court documents, was granted a divorce by a Dallas, Texas, judge. Abbott, the Texas attorney general, filed a similar appeal claiming the Texas courts can't grant a divorce.
The case is pending in the Fifth Circuit Court of Appeals in Texas and has the potential to make its way to the U.S. Supreme Court since it involves discrepancies in how state courts have decided on the issue, several legal experts say.
A judge in New York did grant a divorce for a same-sex couple in 2008. But in New York there is no constitutional amendment banning gay marriage.
The Texas couple, J.B. and H.B., still has an amicable relationship as they wait to hear if they can get a divorce, says their attorney Peter Schulte. Schulte says some Texas critics have asked why their clients won't move back to Massachusetts where they were married in 2006 to get a divorce. It would be financially detrimental for his clients, who have homes and jobs in Texas, to move away.
"Ironically, if the attorney general [of Texas] is so against gay marriage, why is he trying to hard to keep these two men together?"