STORY HIGHLIGHTS
NEW: FDA official addresses criticism of the government's response time
Congresswoman asks whether there was a significant delay in informing the public
She notes three-day delay between announcements by an egg company and the CDC
New egg rules are the key to prevention, federal officials say
The Egg Safety Center has a complete list of recalled eggs, their expiration dates, and brands. Here are safety tips and a list of affected states.
(CNN) -- The congresswoman who leads the House subcommittee that oversees the Food and Drug Administration said Friday that she is questioning whether there was a significant delay in public notification about a massive egg recall.
Rep. Rosa DeLauro, D-Connecticut, said she sent a letter Thursday to the director of the Centers for Disease Control and Prevention, Thomas Frieden, and the commissioner of the FDA, Margaret Hamburg.
In the letter, according to a copy furnished by DeLauro's office, she pointed out that a posting on the FDA website on August 13 by Wright County Egg Co. reported a voluntary recall involving three of its five farms. The first formal communication to the public, she said, was on the CDC's website on August 16.
"Between the initial company press release on Friday and the CDC announcement the following Monday, it was possible for many consumers to purchase recalled eggs over the weekend, which is when many Americans do their grocery shopping," DeLauro said. "Also, because of the absence of any CDC guidance, many more [people] may have consumed recalled eggs over the weekend."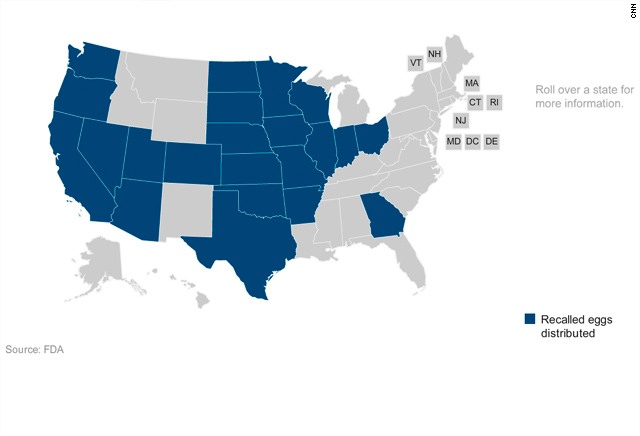 Map of recalled eggs

Video: Safe from salmonella?

Video: What is salmonella?

Video: Texas woman files egg lawsuit
DeLauro is calling for a detailed report on the outbreak response.
"It is imperative that the federal government clearly and timely communicate information to prevent people from becoming sick from products we know are contaminated," she said. "It is troubling that a nationwide outbreak would be announced in such seemingly disjointed fashion."
In a conference call Thursday, the FDA's Jeff Farrar addressed criticism about the government's response time.
Farrar, the FDA's associate commissioner for food protection, said the CDC was first notified in May of a "significant increase in the cases of salmonella."
By July 26, "distinct clusters" of illness were reported, but Farrar noted that "there was a wide range of theories for what could have been behind the outbreak," such as food workers or shell eggs.
FDA investigators and state and federal officials worked from late July to mid-August to confirm the source of the contaminated eggs, Farrar said.
"It is important to note that by August 11, we did not have any confirmed laboratory tests at the farm," he said, adding, however, that the "FDA believed that the evidence was clear enough that we obviously wanted to err on the side of protecting public health."
"We did not have proof positive but yet ... we urged the firm to initiate the voluntary recalls that began at Wright County Egg Farm," Farrar said.
He acknowledged "it is certainly a fair question whether anything could have gone faster," but noted that the agency seeks to "strike the balance between being timely and being accurate."
Farrar said the agencies' approach to such recalls is "to find the appropriate middle ground" between pursuing recalls of all foods under consideration as a possible source and waiting until there is a confirmed laboratory test before issuing the recall.
Meanwhile, Rep. Bart Stupak, D-Michigan, announced Thursday a separate House subcommittee will hold hearings September 14 on the safety of the nation's food supply.
The subcommittee has requested inspection reports and notices of any violations, among other documents, from Wright County Egg and Hillandale Farms. Between them, those two companies have recalled more than a half-billion eggs since the salmonella outbreak.
"We are working right now to respond to the committee, and we will approach it in the same forthright manner as we have in our cooperation with FDA to date," said Wright County Egg spokeswoman Hinda Mitchell, confirming that owner Jack DeCoster has been invited to appear.
Hillandale Farms founder Orland Bethel also has been asked to attend, said spokeswoman Julie DeYoung, who likewise said the company is cooperating with officials.
The FDA's Farrar said some provisions of food safety legislation in Congress "could have sped up this investigation," specifically naming the usefulness of an improved traceability system, the institution of mandatory access to farm records and the authority to issue mandatory recalls.
"In this case, we found the companies to be generally cooperative. However, we do not believe that those decisions should rest with the private companies," Farrar said.
Federal investigators found salmonella bacteria in chicken feed and in barn and walkway areas at Iowa farms at the center of the nationwide outbreak, officials said Thursday.
The feed or feed ingredients could have become contaminated after they went through heat treatment that was sufficient to kill salmonella, officials from the Food and Drug Administration told reporters.
Produced at a mill at a Wright County Egg facility, the feed was given to pullet chickens at both Wright County and Hillandale Farms.
The feed was the source of the salmonella, but perhaps not the only source, Sherri McGarry of the Food and Drug Administration said.
Wright County Egg, in a statement issued later Thursday, said it will "work with FDA as they expand their review of feed ingredients purchased from outside vendors for our farm, as well as for their ongoing review of our farms."
"This finding obviously is of great concern to us. As part of our internal investigation and in response to FDA's initial consideration of feed as a possible source, on August 23 we pulled and sent samples of all ingredients used in our feed for further SE [Salmonella enteriditis] testing. In addition, today we provided FDA with information about our third-party supplier and immediately notified that supplier of the testing results."
Wright County Egg spokeswoman Mitchell said the third-party supplier and manufacturer is Central Bi-Products. In a call to the company Friday, a representative said Central Bi-Products official Don Davis would address inquiries Monday.
No deaths have been linked to the outbreak, regulators said.
The CDC said a total of 2,403 cases of Salmonella enteriditis had been reported in the United States between May 1 and August 25. Normally, 933 cases would be reported in that time period. The dramatic difference of 1,470 cases may be linked, at least in part, to the outbreak and the tainted eggs, a CDC spokeswoman said.
Officials indicated in a conference call that this is the largest Salmonella enteriditis outbreak since tracking began in the mid-1970s.
CNN's Phil Gast and Senior Medical Producer Caleb Hellerman contributed to this report.
FOLLOW THIS TOPIC