STORY HIGHLIGHTS
NEW: The head of the National Black Farmers Association says more inspections were needed
Some egg consumers are changing their eating and shopping habits
Inspections continue, but no further recalls expected, FDA says
"Complicated" food distribution network can expose the entire nation, official says
No further egg recalls are expected. The Egg Safety Center has a complete list of recalled eggs, their expiration dates, and brands. Here are safety tips and a list of affected states.
(CNN) -- As the federal government investigates the recent egg recall and the related salmonella outbreak that it says has sickened about 1,300 Americans, the regulatory process is coming under scrutiny from the agencies responsible and people affected by the food safety crisis.
Bill Marler, who represents 35 families whose members contracted salmonella, told CNN on Tuesday that "one of the things about civil litigation and what I do is we fill in where the government has failed. And even [FDA] Commissioner [Margaret] Hamburg yesterday certainly admitted that the FDA and USDA didn't have the resources to do the kind of inspection on this plant. And many times we have to come in, sometimes lawyers, sometimes the media, to shine the light on the problems and to try to get it corrected."
Speaking on a conference call with reporters Monday afternoon, Hamburg said federal regulations that took effect in July could have prevented the recall.
The new regulations went into effect July 9, requiring egg producers with more than 3,000 hens to take measures designed to prevent the spread of salmonella. The current outbreak began in May, according to the FDA.

Video: How free range eggs are produced

Video: What is salmonella?

Video: Still eating eggs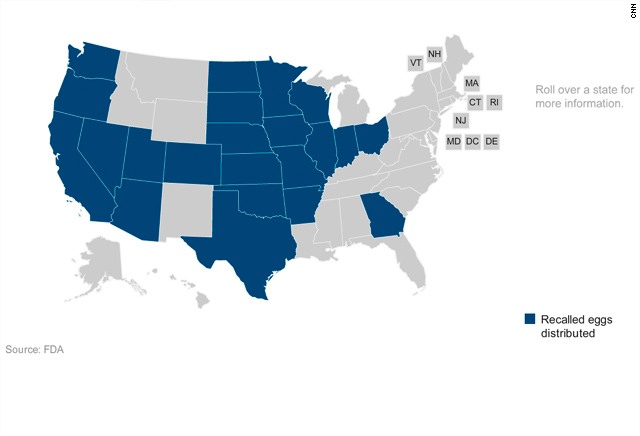 Where are the bad eggs?
"We believe that had these rules been in place at an earlier time, it would have very likely enabled us to identify the problems on this farm before this kind of outbreak occurred," Hamburg said.
While FDA inspectors typically didn't inspect farms until after an outbreak of illness, Jeff Farrar, the associate commissioner for food safety at the Food and Drug Administration, said under the new rule, "We will be beginning routine inspections of egg farms throughout the United States."
Food safety regulators don't expect any more recalls after last week's withdrawal of about 550 million eggs from the U.S. market, but inspections are still going on, following a salmonella outbreak traced to two Iowa farms, federal officials said Monday.
Farrar would not release details of the inspections, which also involve a third operation that supplied the two egg producers, but the results could be released later this week, he said.
John Boyd Jr., the founder and president of the National Black Farmers Association, who said he's been a poultry farmer for 14 years, told CNN the action is too little, too late.
"The bottom line here is there should have been more inspections before the outbreak. I know Congress is looking at a bill passing -- legislation to bring more enforcement," Boyd said on Tuesday's "CNN Newsroom."
Supporters of a long-stalled bill to bolster the safety of the nation's food supply are hoping the egg-linked salmonella outbreak will give them momentum to pass their bill in the Senate as early as next month.
The bipartisan bill would give new powers and resources to the Food and Drug Administration to crack down on risky food suppliers in the United States and abroad. For instance, in the current situation, the FDA could quickly order direct recalls
of suspected eggs instead of relying on voluntary recalls by the manufacturers.
The bill aims to increase the number of inspections at U.S. and foreign facilities and improve the FDA's surveillance of food-borne illnesses. It would boost the agency's ability to track suspected foods and remove them from stores more quickly. In addition to allowing the FDA to recall tainted foods, it grants the agency the ability to shut down a plant if there is "reasonable probability that food from the facility will cause serious adverse health consequences or death," according to a Senate summary of the bill.
"It is really important that as a nation we continue to invest in food safety and strengthen our food safety programs," Hamburg said Monday in support of the legislation.
The measure is likely to gain broad support from Democrats and Republicans, after a bipartisan group of senators reached an agreement on a final compromise earlier this month, several Senate aides from both sides of the aisle said Monday.
Democratic leaders are trying to schedule a vote in the next several weeks, sometime before the mid-term elections, Democratic aides said.
If the Senate passes the bill, it will have to be melded with the somewhat different House bill.
About 1,300 cases of salmonella have been linked to eggs from Wright County Egg and Hillandale Farms of Iowa, forcing a recall of their products in at least 17 states, the FDA and the Centers for Disease Control reported. Wright County Egg has recalled 380 million eggs, while Hillandale Farms recalled 170 million eggs.
Hamburg said on Sunday night that farms involved in the recall fell short of safety standards.
The FDA said some companies that bought and resold eggs from Wright County or Hillandale could issue sub-recalls, meaning they would ask their customers to return the products. But that won't add to the more than half a billion eggs already recalled.
"We have a very complicated network of food distribution in this country," Hamburg told CNN's "American Morning" on Monday. "You start with a couple of farms in Iowa and you can get nationwide exposure."
That nationwide exposure is causing some individuals and businesses across the United States to adjust to a new reality.
Some shoppers are making adjustments to their grocery lists. CNN affiliate WFAA caught up with Mallory Biegler as she was loading her groceries into her car in Dallas, Texas. She says she won't buy eggs anytime soon.
"[I'm] just not going to get them until they come out saying everywhere, across the board, they aren't affected." she said.
"The personal injury side of these equations, although tragic for my clients and tragic for other families, is really a very small component to what actually the cost is," Marler, a veteran litigator of food poisoning cases, told CNN.
"You know, 1,300 sick -- that's a tragedy, that's going to be expensive. But the real cost: recall costs, lost business, I mean egg producers who are doing a very good job -- and there are lots of those -- they're seeing lost sales. Restaurants are seeing lost sales because people aren't having bacon and eggs in the morning," he said.
Hillandale Farms, one of the largest U.S. producers, said in a statement Sunday it is devastated by the possible connection between its product and salmonella. The company said it would work with the FDA to review "every phase of our operation" and fix any problems.
Both Wright County Egg and Hillandale Farms were supplied by another company, Quality Egg, which provided feed and young birds. Both Wright County and Quality Egg are owned by the DeCoster family, which has a string of agribusiness interests in the Midwest and Northeast -- and a string of settlements and fines dating back to 1996. DeCoster's infractions include reports of animal cruelty, violation of labor laws and environmental pollution.
In a statement issued Monday morning, Wright County Egg said it was working with the FDA on the current recalls and defended its record.
"Wright County Egg strives to operate our farms in the most responsible manner, and our management team has worked closely with FDA through their review of our farms. We have reviewed Commissioner Hamburg's comments to the media, but because we have not received any written reports from FDA to date, it would be inappropriate to respond to her remarks. It is important to note that any concerns raised verbally during FDA's on-farm visit were immediately addressed or are in the process of being addressed," the statement said.
"When issues have been raised about our farms, our management team has addressed them swiftly and effectively, working with recognized outside experts to identify and implement corrective measures for our operations," it said. "We are approaching our work with FDA in the same forthright manner."
While the recall involves hundreds of millions of eggs, they represent less than 1 percent of the 80 billion eggs produced in the United States each year, said Krista Eberle, director of the food safety program at the Egg Safety Center, a trade association entity.
"This is one of the larger recalls that have happened," Eberle said. But she added, "This is an extremely rare occurrence."
Plenty of people seem to believe that rarity means they won't be affected, so long as they take precautions, including changing their breakfast habits.The Waveland Cafe in Des Moines, Iowa, is still bustling at breakfast time.
Dana Ericson, a regular at "The Wave," told CNN affiliate KCCI she usually has two eggs basted over medium, but she's now avoiding runny yolks.
"I just started ordering the eggs cooked solid," she said.
Despite the scare, the egg is a breakfast staple. As one male patron of "The Wave" told KCCI, "When you want eggs, you want eggs."
CNN Congressional Producer Ted Barrett contributed to this report
FOLLOW THIS TOPIC