STORY HIGHLIGHTS
Women are increasingly choosing home births, much to the dismay of doctors
Editorial by a British medical journal angered some home birth advocates
Even low-risk pregnancies can have unforeseen emergencies, doctors say
(CNN) -- Erin Riley immersed herself in warm bathwater, tilted her head against the tub and dozed in and out of sleep between contractions.
She serenely prepared to push her son into the world, and other times, she winced in pain and moaned to the midwife, "I can't do this anymore."
After six hours of labor, Riley gave birth in January. Her son, Sullivan, was cleaned and placed in her arms in their Okolona, Ohio, home.
There were no doctors or drugs -- just a bathtub and a midwife.
Women like Riley are increasingly choosing home births in the United States. Home births increased by about 5 percent in 2005 from the year before, according to the latest National Vital Statistics Report published in March. Reports often are released years later because of the time required for data collection and analysis.
However, some doctors are warning that home births can be risky.
A recent editorial by the British medical journal The Lancet stated that: "Women have the right to choose how and where to give birth, but they do not have the right to put their baby at risk. There are competing interests that need to be weighed carefully."
While home births have benefits like shorter recovery time and fewer lacerations, the writers of the editorial warned that complications could arise and that high-risk pregnancies should be delivered at hospitals.
Out-of-hospital births represent about 38,500 of the 4.3 million live U.S. births, making up about 0.90 percent in 2005 and 2006, according to the National Vital Statistics Report.
Home birth supporters say childbirth is a natural part of life that has been treated like a disorder in hospitals. Some mothers expressed concern about Caesarean sections, induced labor and hospital infections.
"I wanted more of a personal type of care," said Riley, an iReport contributor. "I didn't want nurses coming in and out of the room, chaos and being told to lay down on the bed to be strapped to monitors. It's just not natural. Some women in other cultures, they are working in fields, they squat and have their child and move on with life."
Medical organizations such as the American Medical Association and the American College of Obstetricians and Gynecologists do not support home births.
The obstetricians organization's policy is that hospitals including birthing centers are "the safest setting for labor, delivery and the immediate postpartum period."
"Most patients will have a fine delivery," said Dr. Erin Tracy, a delegate for the American College of Obstetricians and Gynecologists. "It's the ones where complications arise."
Even in low-risk pregnancies, there are possible medical emergencies such as blood vessels getting trapped or the fetus' shoulders becoming stuck during delivery that could cut off oxygen flow, said Tracy, an obstetrician and gynecologist at Massachusetts General Hospital in Boston.
Although those incidents are rare, it could result in a "catastrophic outcome" without immediate access to an operating room, medical resources and expertise, Tracy said.
That doesn't mean that medicine and midwives are opposing forces. At her hospital, a mother can deliver with a midwife, who coordinates with an obstetrician to only appear in case of emergency, Tracy said.
But some don't want to be in the hospital setting at all.
"We're biologically programmed to have children," Riley said. "It's in the hospital setting they take that away."
After researching the topic on the internet and in books, she chose to give birth at home. Her skepticism also extends to childhood immunizations, and she decided not to vaccinate her son until she does more research.
Riley's iReport about her home birth
There is an increasing distrust of medicine, said Dr. Amy Tuteur, a retired obstetrician, who blogs about the topic.
"Going to hospitals and dealing with the doctor is not a pleasant experience," she said. "We have an awful lot to apologize for. People are fed up with doctors. They need to be nicer, more forthcoming, explain things more."
But that distrust has turned into a form of "reflexive doubt" that constantly challenges conventional wisdom in a belief that "smart, empowered people don't listen to their doctors," said Tuteur.
Some mothers have become increasingly competitive about how natural their births are, she said.
"First it was, 'I had my baby in a hospital, but I didn't have an epidural,' " said Tuteur, who doesn't support home births. "Then it was, 'I had a baby with a midwife at home, not in the hospital.' The cutting edge is now unassisted birth -- 'I had my baby at home, and I had no one there except for my husband.' "
Home birthing is a polarizing issue. A CNN blog post about the topic drew hundreds of comments, with many criticizing previous studies and birthing decisions.
It can get harsh, said Beverly Flaxington.
The Walpole, Massachusetts, resident gave birth to her second child at home because she believed "it was safer and healthier to be at home than to be at the hospital" and she didn't want the "loss of control."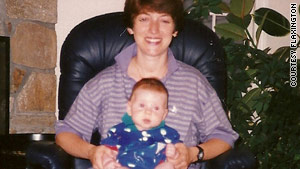 Beverly Flaxington wanted to give birth to her son, Kiernan, in a home setting rather than a hospital.
Flaxington also wanted to have a vaginal birth after having a Caesarean section for her first child.
During the home birth, her 10.5-pound baby's shoulders lodged into her pelvic bone. The midwife cut Flaxington about six or seven times to remove the baby.
"She started to pray out loud," Flaxington recalled. "Everyone started doing that and I remember thinking, 'This is not normal.' "
When the baby came out, his face was blue. They rushed him to the hospital to have him checked.
Kiernan was perfectly healthy, but because the hospital staff started him on antibiotics, he had to stay in the neonatal intensive care unit for 10 days.
The nurses "would not have anything to do with me," Flaxington recalled. She said one nurse told her, "You have some nerve trying to have a baby at home. You should be in jail."
Despite the complication, Flaxington said, "I don't have any regrets. Everything happens for a reason. My son is healthy. I'm not a religious person, but I thank God he's fine."
Kiernan is now 11.
When Flaxington became pregnant for the third time, she found a doctor who was willing to work with her for a vaginal birth. Because of complications, she ended up having another Caesarean.
"This is such a personal decision that women and their significant others need to make," she said. "There are tremendous benefits to working with midwives and there are benefits to hospitals and Western medicine. It's a waste of energy to fight about what's right or wrong."
Holly Powell Kennedy, president of the American College of Nurse-Midwives agreed.
"Our belief is that the best care of a woman is to individualize her care to what she needs -- what works best for her, based on her health, past history, emotional and psychological concerns and who she wants around her."
FOLLOW THIS TOPIC