STORY HIGHLIGHTS
In the early days of HIV/AIDS, there were no treatments and patients died quickly

Today, with the development of antiretroviral drugs, people in the U.S. are living decades

A small number of long-term survivors are now middle-aged

Survivors Phill Wilson, Jim Chud and Cleve Jones share how living with HIV has changed

(CNN) -- June 5, 1981. The U.S. Centers for Disease Control and Prevention issued its first warning about a rare pneumonia called pneumocystis circulating among a small group of young gay men.
Unrealized at the time, it was the official beginning of the HIV/AIDS epidemic.
Dr. Michael Gottlieb, then a 33-year-old immunologist at the University of California Los Angeles, treated one of the first patients, a 31-year-old gay male with pneumocystis.
"In those days patients were essentially given a terminal diagnosis," Gottlieb says. "We had no medication whatsoever. At the very beginning we did not even know it was viral infection."
In 1982, the CDC coined the term AIDS, for Acquired Immune Deficiency Syndrome, but the cause was still unknown. In 1983, the virus was finally isolated and given a name: Human Immunodeficiency Virus or HIV.
At that time there were no treatments. Patients died quickly. Today, with the development of antiretroviral drugs and a much greater understanding of the disease, people who contract HIV in the United States are living decades.
The drugs carry side effects, some extremely debilitating, but because of those drugs, a small number of long-term survivors are experiencing what they couldn't have imagined when they got their diagnosis in the epidemic's early days -- middle age.
Gel cuts HIV transmission in study
"The first antiretrovirals were introduced in 1987; that gave us a glimmer of hope," Gottlieb says, describing drugs that disrupted the virus' ability to multiply in the body.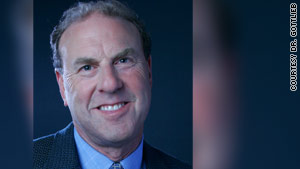 Dr. Michael Gottlieb, then a 33-year old immunologist at the University of California Los Angeles, treated one of the first patients.
"In 1996, the advent of the protease inhibitor and the so-called cocktail changed the prognosis for HIV, and that therapy has required considerable refinement, because even that therapy had complications from the drugs themselves that caused a lot of damage -- lasting damage -- and many of those long-term survivors suffered and continue to suffer the complications of the earlier medication."
Jim Chud is one of those long-term survivors. The 53-year-old AIDS activist says he was a 20-year old bisexual athlete at Yale University when he contracted the virus. Chud thinks it was 1977 when he got sick. He was leading a double life: He had a steady girlfriend, but took weekend visits to the bathhouses in New York.
By 1985, Chud was living in Washington. Having watched many of his friends get sick and die, Chud was at the head of the line when the new HIV test arrived. By 1989 he had full-blown AIDS -- the most advanced stages of HIV. "I thought I was going to die," he says. "I didn't think I would see 30."
He started volunteering for drug trials. One, a National Institutes of Health study looking at the combination of drugs AZT and DDC, left him paralyzed for four months. He has had more than 30 surgeries on his spine and neck.
World economic woes imperil AIDS advances
In 1999, Chud contracted a fungal infection in his sinuses that spread to his brain. There were more toxic drugs and six more surgeries. Over the years he's been on 12 different HIV drugs. Today he's disabled and along with HIV medications takes prescriptions to battle pain, infections and depression.
His concern? That HIV has vanished from the spotlight. "People are still dying, and to think that doesn't happen anymore and isn't newsworthy is a problem. Kids aren't getting the message today that we got many years ago that this is a fatal disease and it's not to be taken lightly."
Cleve Jones has never taken the disease lightly. The 55-year-old human rights activist and founder of the NAMES Project AIDS Memorial Quilt thinks he contracted the virus in the winter of 1978-79. Jones was living in San Francisco, California, and was working for pioneer gay rights leader and San Francisco Supervisor Harvey Milk. AIDS was already exacting a heavy toll on the community. After the HIV test became available in spring 1985, Jones received his official diagnosis.
"I was living with the virus in my body for a full 10 years before treatment became available," he says.
He participated in the first clinical trial looking at multiple drugs, now called combination therapy. But back then the drugs didn't work for very long. "The science was pretty primitive then," he says. "I was always looking a year ahead, two to three years ahead into the research pipeline, knowing that whatever combination was working for me at any particular moment -- the odds were good it wouldn't be working a few months later."
Bush led on AIDS funding; will Obama?
Today, the prognosis is much better. While other countries continue to struggle to manage the disease, in the United States a diagnosis is no longer an automatic death sentence. But Jones says there aren't many long-term survivors left. "It's bittersweet for us. There is nobody left in my life today that knew me when I was young."
When he looks back over the last 30-plus years, Jones can acknowledge how far the fight has come. "I still hope for an outright cure. I still hope for a vaccine. But it took a very long time and there were many dark periods where I felt the world had waited too long to respond."
Phill Wilson has devoted his life to stopping the AIDS pandemic in the black community. His diagnosis in 1985 spurred him to help found a number of AIDS service organizations. The 53-year-old was living in Los Angeles, California, with his partner and believes he was infected in 1980 at age 24. Like Chud and Jones, Wilson says he was also one of the first tested and diagnosed and among the first in Los Angeles put on AZT, the first antiviral drug approved for treating HIV.
Straight poor at higher risk of AIDS
"It was not a question of if you were going to die, it was a question of when you were going to die," he says. "We knew that AZT was not good enough and so the goal was to stay alive until there was another option."
Wilson says he no longer remembers what it's like not to live with HIV.
"When I was diagnosed, a long-term survivor was someone who lived 12 months, and most people were dead in six months. And so there was no expectation that someone would live as long as I have lived."
The disease and the drugs took a heavy toll on Wilson. There were three near-death experiences. Once, doctors gave him less than 48 hours to live. "It's hard to describe what it was like living in the middle of the storm during the worst of the plague years. But one of the things that I think happens is when you witness firsthand that kind of death and devastation, I don't think that you are so afraid."
In 1999, Wilson founded the Black AIDS Institute, the only national HIV/AIDS think tank that focuses solely on black people. In February, he was appointed to the Presidential Advisory Council on HIV/AIDS. He is driven and has no plans to slow down.
This week Wilson has been in Vienna, Austria, at the 18th International AIDS Conference, keeping his finger on the pulse of the disease. But in the shadow of these new advances, he can't help looking to the past.
"It's bittersweet, because while it is incredibly inspiring to know that there are going to be people who won't get infected and there are going to be people who get infected and won't get sick and there are people who'll get sick and won't die and that is inspirational, and I can celebrate the life I have to live, but I can never forget all the advances in the world came too late for my first partner and the literally hundreds of people that I know who have died from this disease."
FOLLOW THIS TOPIC