STORY HIGHLIGHTS
Effective this year, children with pre-existing conditions cannot be denied health care
Businesses of fewer than 50 workers will not incur a penalty for not offering health insurance
The Medicare "doughnut hole" will be narrowed more each year, until it is gone in 2020
(CNN) -- About 32 million Americans who don't have health insurance will get access to coverage when the $940 billion health care plan takes effect.
What does that mean for Americans who don't have insurance, or who are in danger of losing it? A few shared their thoughts with CNN about health care reform and how it affects them. Then CNN sought expert opinions on how reform might really work in their lives.
Child with pre-existing condition
The situation: Erica Mohamed, 31, of Houston, Texas, is separated, and has a 6-year-old son, Jeremiah, with a rare congenital heart disease called Tetralogy of Fallot. He has had three open-heart surgeries already, and will need to have another procedure to remove a stent in early adolescence. Mohamed's job, through which she gets insurance, is not secure. Mohamed's mother, Vera Richardson, wrote to CNN's iReport about the situation.
Mohamed says: She is glad that she will be able to keep her insurance for her son even if she loses her job. "Did I get everything that I thought that I wanted in this bill? No, not at all because I still think we need at least a public option. But at least it's something, at least it's moving forward, and it's going to get more coverage to more people," she said.
Expert says: Effective this year, in six months, children with pre-existing conditions cannot be denied health care, said Karen Davis, president of the Commonwealth Fund, an independent organization that researches health policy issues. In Texas, currently, the Children's Health Insurance Program covers children up to 200 percent of the federal poverty level, which this reform does not affect. But if Mohamed were to lose her job and get a new one earning above that limit -- $29,140 for a family of two -- she would not be denied private insurance based on her son's condition.
By 2014, children will be covered up to 133 percent of the the federal poverty level. For a family of two, the poverty level is $14,570 in the 48 contiguous states and the District of Columbia.
Health care reform: What happens when
Adult with pre-existing condition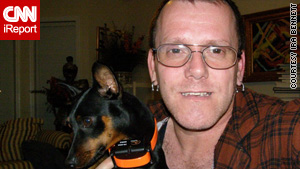 Ira Bennett hasn't sought health insurance for several years because of how disheartened he felt after being denied.
The situation: Ira Bennett, 47 and self-employed without insurance, is HIV-positive, and had a heart attack in his early 40s. He estimates his income is about $500 a month from doing yard work and watching a friend's house. Since he couldn't pay for the $70,000 bill for his heart attack treatment, the costs fell to the state and federal government. Paying for his AIDS medications, costing around $2,000 a month, also falls to federal funding through the Ryan White Care Act.
Bennett says: He hasn't sought health insurance for more than five years because of how disheartened he felt after being denied, and reading about others in a similar situation. Ironically, "I can get insurance for my dog, but I cannot get it for me," he said, pointing to his iReport. Now, with the new bill, "I can sleep better knowing that I'll be able to be taken care of, that I'm not a burden of the state, that I can actually pull my weight a little bit," he said.
Expert says: In 2014, Medicaid will cover individuals up to 133 percent of the poverty level, Davis said. The current poverty level for an individual in the 48 contiguous states and the District of Columbia is $10,830, according to the Department of Health and Human Services. Also in 2014, insurance companies will not be able to deny adults with a pre-existing condition coverage or charge them higher premiums. Someone like Bennett might be eligible for Medicaid, or could get insurance through an exchange, a state-based pool established by the reform measure.
Unemployed and uninsured
The situation: When Daniel Boren, 37, was working as a dishwasher at a hotel, he made too little money to afford insurance through his employer, but too much to qualify for Medicaid. He has worked a variety of jobs and been on and off Medicaid, but now he is uninsured, living on food stamps and looking for work. He has hypertension and takes medication for it, but can't afford to see a doctor.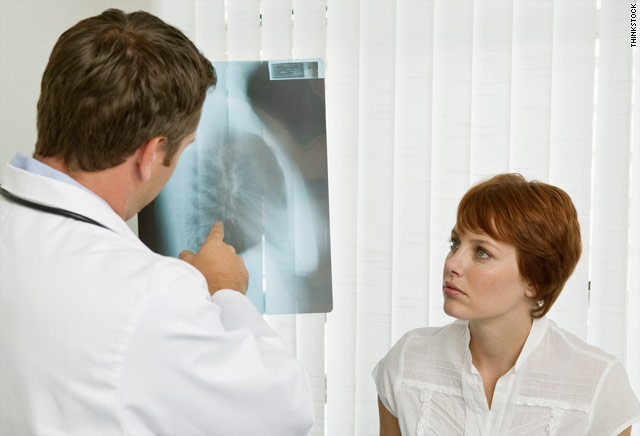 How the health care bill could affect you
Boren says: With health insurance, "I'd be able to see the doctor on a routine basis, not when I'm so bad that I can't take it anymore I have to go to the emergency room, or they have to basically look the other way and bill me and hope that I can eventually pay them if I go to the doctor's office," he said. "The affordable health care is what I keep looking toward."
Expert says: Someone like Boren would likely qualify for Medicaid under the 2014 rules, Davis said. More immediately, however, he will benefit from the expansion of funding for community health centers, which offer free and reduced-cost care. They'll receive $1 billion in fiscal year 2011 under reform.
Small business owner
The situation: Marilyn Landis' company, Basic Business Concepts, staffed by 10 employees offers financial services. She worries the new health insurance requirements will stifle her business' ability to expand.
Landis says: "Does it make me rethink growing and expanding it? Absolutely. My goal when I started the company 10 years ago was to go nationwide. Do I still want to do that? Can I make my financial model work? I don't know. It's that uncertainty that will make me hold back until I can figure it out." Landis also worries about the expenses of health coverage. "I'm afraid of seeing my premiums go up dramatically that I can't afford it. That's money I can't pay in wages, training, and to expand my business to hire more people."
Expert says: Small businesses of fewer than 50 employees will not incur a penalty for not offering health insurance, Davis said. Because Landis has 10 or fewer employees, she may be eligible for a tax credit beginning this year, and lasting two years. For a company with an average wage of $25,000, if the employer provides at least half of the premium to employees, the employer is eligible for a tax credit of 35 percent of her contribution, said Sara Collins, vice president of the Commonwealth Fund.
Retiree on Medicare
Morton Genser, 73, has found himself in the "doughnut hole" of Medicare.
The situation: Morton Genser, 73, takes 26 different drugs for his diabetes, heart and kidney problems. He has Medicare, but for the last two years, Genser has fallen into the "doughnut hole." Under current law, Medicare stops covering drug costs after a plan and beneficiary have spent more than $2,830 on prescription drugs. Seniors who surpass that amount pay 100 percent out-of-pocket costs for medications until they exceed $4,550. When he hit that gap in coverage, he and his wife juggled the $4,000 expenses in yearly prescriptions. His wife resorted to visiting various doctors and asking for samples of his prescription drugs.
Genser says: "All these little things tie on you. You feel like you're doing some sort of course and you've got to duck and bob and find a way," Genser said about making it through the gap in coverage. "No more doughnut hole -- that is all right with me."
Expert says: The "doughnut hole" will be narrowed more each year, until it is gone in 2020, Davis said. Those in it now will receive a $250 rebate this year, and by 2020 will pay 25 percent of drug costs.
College student about to graduate
The situation: Sylvia Martinez of Torrance, California, was relieved that her 22-year-old daughter's health coverage will be extended. Her art-major daughter graduates in May and is looking into unpaid internships and jobs in the field; many of them don't provide health insurance.
Martinez says: "It's an amazing reprieve essentially," she said. "People like my daughter can become an artist and pursue her dreams" rather than taking a job for the sake of getting health insurance.
Expert says: "Young adults can stay on their parents' health plans up to their 26th birthday, and that starts [in six months], so this is a really important provision for this individual," she said.