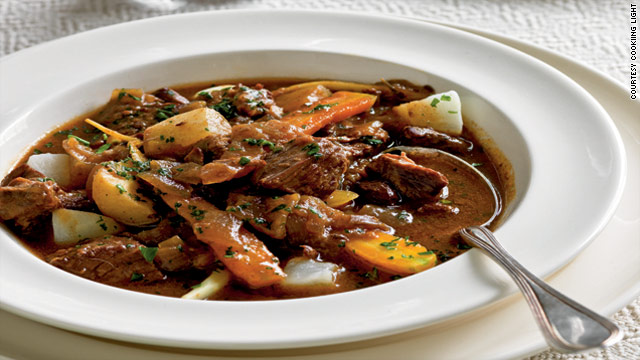 STORY HIGHLIGHTS
Margaret Johnson has authored seven cookbooks on Irish meals

Her Irish grandmother would cook a traditional meal for St. Patrick's Day

Margaret continues the tradition with her family, including her grandchildren

Cooking time for beef and Guinness stew is a little under three hours

(CookingLight.com) -- Long before the first band marched in South Boston's now-famous -parade, and long before Chicago colored its river green, Irish Catholics quietly honored St. Patrick on March 17.
In Ireland it was a national holiday, the anniversary of the death of a patron saint who converted pagans to Christianity.
Until the 1970s, Irish bars weren't even allowed to open.
St. Patrick's Day Feast
This idea of a more reverent, religious holiday was carried to America. Margaret Johnson, a second-generation Irish-American and Irish food expert who now lives on Long Island in New York, recalls St. Patrick's Day from her childhood as a time for family, community, and food.
"I grew up in Newburyport, Massachusetts," says Johnson of the small, mostly Catholic community where she lived. "Almost all my friends had last names like McLaughlin, Sullivan, or O'Keefe. My maiden name was McGlew. So we were all alike."
There was a large Irish population, but also quite a few French-Canadians and a couple of parochial schools: Immaculate Conception and St. Louis de-Gonzague.
"They were always simply called the Irish church and the French church, the Irish school and the French school," Johnson says.
Of course, she attended the Irish school, where she always participated in the annual St. Patrick's Day pageant, which preceded a school holiday.
Cooking Light: Healthy Irish recipes
At home, her extended family celebrated by gathering for corned beef and cabbage prepared by her mother. Though not traditionally Irish, this dish was the closest thing they could find to approximate the bacon and cabbage Margaret's Irish-born grandmother knew in the old country, where butchers cured pork in a manner similar to Jewish-American corned beef.
Cooking Light: Traditional Irish meals
She also recalls that her family often drove to Boston -- 40 miles away -- for the parade during the 1950s and '60s because Newburyport didn't have one. In the big city, Johnson watched starry-eyed as bands marched by and music filled the air, but she always liked the Irish pipe bands best.
Like her mother, who never visited Ireland, Margaret dreamed of one day going to the motherland, a goal she finally realized on her 40th birthday when her husband took her and her children. Now, 25 years later, she's made 50 trips and visited all 32 counties.
Johnson, the author of seven Irish cookbooks (two published in Ireland), knows a thing or two about authentic cuisine. Asked if she cooks Irish food year-round or only for St. Patrick's Day, she responds, "People eat Italian food 365 days a year, so why not Irish?"
Root veggies like parsnips, turnips, rutabagas, and of course potatoes are popular in Irish cooking.
"It's not uncommon to serve potatoes three or four different ways," Johnson says. "Boiled, mashed, and fried -- all in the same meal."
Although we tend to think of lamb, beef, and pork, Ireland is also known for its seafood, like smoked salmon.
"And considering that the country is an island surrounded by some of the cleanest water on the planet, the fish there is wonderful," Johnson says.
A meal is typically served with hearty Irish soda bread, be it brown or white. The real deal is quite different from the American version, which is usually sweet and more cake-like, with raisins and caraway seeds.
Today, Johnson lives in Westhampton Beach, New York, where many New York City residents have summer homes. The Irish influence may not be quite as strong, but this sleepy winter town comes to life on St. Paddy's Day. Restaurants that close for the winter open for the day.
And as she did in her childhood, Margaret now gathers her family to celebrate. The morning begins at her home with a hearty breakfast or brunch of Smoked Salmon with Tangy Horseradish Sauce, an easy recipe to manage, as the salmon is store-bought. She makes the sauce and her famous Brown Soda Bread up to two days ahead. Then they bundle up, plop her young grandchildren in the little red wagon, and head out to The Patio restaurant, their designated spot to watch the local parade.
Afterward, they head back home, where Margaret starts a pot of her favorite Irish stew for dinner. While they wait, she sets out a traditional Irish Ploughman's Lunch Platter of Irish cheeses, cold meats, salad, and sweet-tart Tomato Chutney. And, of course, they drink a Guinness or two.
Cooking Light: Five traditional Irish favorites
RECIPE: Beef and Guinness stew
By Margaret Johnson
Yield: 8 servings
Serving size: about 1 cup
Ingredients
2 tablespoons canola oil, divided
1 tablespoon butter, divided
1/4 cup all-purpose flour
2 pounds boneless chuck roast, trimmed and cut into 1-inch cubes
1 teaspoon salt, divided
5 cups chopped onion (about 3 onions)
1 tablespoon tomato paste
4 cups fat-free, less-sodium beef broth
1 (11.2-ounce) bottle Guinness Draught
1 tablespoon raisins
1 teaspoon caraway seeds
1/2 teaspoon black pepper
1 1/2 cups (1/2-inch-thick) diagonal slices carrot (about 8 ounces)
1 1/2 cups (1/2-inch-thick) diagonal slices parsnip (about 8 ounces)
1 cup (1/2-inch) cubed peeled turnip (about 8 ounces)
2 tablespoons finely chopped fresh flat-leaf parsley
Preparation
1. Heat 1 tablespoon oil in a Dutch oven over medium-high heat. Add 1 1/2 teaspoons butter to pan.
2. Place flour in a shallow dish. Sprinkle beef with 1/2 teaspoon salt; dredge beef in flour.
3. Add half of beef to pan; cook 5 minutes, turning to brown on all sides. Remove beef from pan with a slotted spoon.
4. Repeat procedure with remaining 1 tablespoon oil, 1 1/2 teaspoons butter, and beef.
5. Add onion to pan; cook 5 minutes or until tender, stirring occasionally.
6. Stir in tomato paste; cook 1 minute, stirring frequently.
7. Stir in broth and beer, scraping pan to loosen browned bits. Return meat to pan.
8. Stir in remaining 1/2 teaspoon salt, raisins, caraway seeds, and pepper; bring to a boil.
9. Cover, reduce heat, and simmer 1 hour, stirring occasionally.
10. Uncover and bring to a boil. Cook 50 minutes, stirring occasionally. Add carrot, parsnip, and turnip.
11. Cover, reduce heat to low, and simmer 30 minutes, stirring occasionally.
12. Uncover and bring to a boil; cook 10 minutes or until vegetables are tender. Sprinkle with parsley.
Nutritional information
Calories: 365
Fat: 19.4g (sat 6.8g, mono 8.6g, poly 1.7g)
Protein: 25.3g
Carbohydrate: 18.8g
Fiber: 3.6g
Cholesterol: 62mg
Iron: 2.6mg
Sodium: 454mg
Calcium: 52mg
Enter for a chance to win in our $5,000 Grocery Giveaway
Copyright 2011 Cooking Light magazine. All rights reserved.
FOLLOW THIS TOPIC