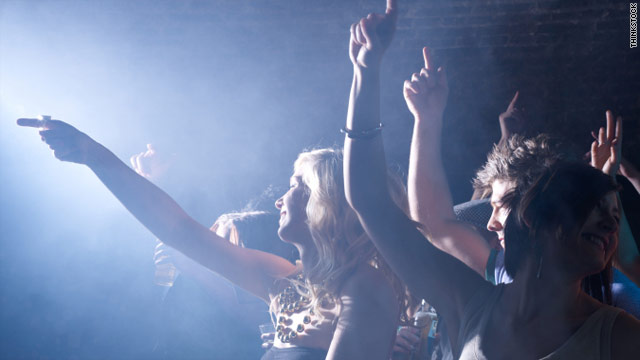 STORY HIGHLIGHTS
Moderate female drinkers tend to gain less weight over time than teetotalers, study finds
Risk of overweight, obese falls even when other health factors are taken into account
Expert: Strongest evidence to date that calories from food and booze are not created equal
(Health.com) -- Some women avoid drinking calorie-filled cocktails, wine, and beer because they're worried about packing on the pounds. Now, a new study suggests that women who are moderate drinkers actually tend to gain less weight over time than teetotalers.
The risk of becoming overweight or obese falls as alcohol consumption rises, even when factors such as smoking, fruit and vegetable consumption, and physical activity are taken into account, the study found.
Women who consumed between 1.5 and 3 drinks daily had a 27 percent and 61 percent lower risk of becoming overweight or obese, respectively, than women who didn't drink at all, according to the study, which was published in the Archives of Internal Medicine.
However, the researchers did not look at how the participants' drinking may have affected their lives besides weight gain. Alcohol use can lead to health problems and "psychosocial problems," they point out, and they caution that appropriate alcohol intake differs for each individual and depends on a range of factors.
In addition to potentially causing problems at work and with relationships, daily alcohol consumption has a number of health risks, including a small increase in the risk of breast cancer.
Experts recommend that women drink no more than one alcoholic beverage a day, and that men limit themselves to two.
And if you don't drink, experts say, these findings shouldn't inspire you to start hitting the bottle.
"It won't change recommendations for my patients, I can say that for certain," says Scott Kahan, M.D., the co-director of the George Washington University Weight Management Program, in Washington, D.C. "If you don't drink, there's no reason to start."
But, he adds, "I think [the study] suggests that there's no need to quit or avoid alcohol if it's something you enjoy."
Health.com: Eat this and burn more fat
In the study, researchers at the Harvard School of Public Health and Brigham and Women's Hospital, in Boston, Massachusetts, surveyed 19,220 healthy, normal-weight women about their diet and drinking habits. Nearly 40 percent of the women didn't drink at all, and a very small number -- just 3 percent -- consumed more than about 2.5 drinks a day. Over the 13-year study period, 4 out of 10 women became overweight or obese.
The women who drank cut down on their calorie intake from food, especially carbohydrates, the study showed. However, total calorie intake did inch up as alcohol consumption increased; women who drank at least 2.5 drinks a day averaged about 1,800 calories a day, compared with 1,670 for teetotalers.
R. Curtis Ellison, M.D., the director of the Institute on Lifestyle and Health at the Boston University School of Medicine, says this study is the strongest evidence to date that calories from food and booze are not created equal.
"Many other studies that are not nearly as well done or as large as this suggest that calories from alcohol are metabolized differently," Ellison says. "The alcohol calories probably don't count as much as calories from a Hershey's bar."
Health.com: Cocktails under 220 calories
Kahan says that the findings challenge the conventional wisdom about calories from alcohol. "The way that the body handles those calories very possibly might be very different from carbohydrates, fats, and proteins," he says. "It makes you wonder if we've been thinking about alcohol as a nutrient a little bit incorrectly."
One drawback of the study, Kahan adds, is that the researchers did not examine how alcohol consumption might influence weight gain in women who are already overweight or obese.
Another limitation, according to Ellison, is that the study contains no information on the role a woman's drinking patterns might have played -- whether, for instance, a glass of wine each day had a different effect than downing several drinks once or twice a week.
Although recovering alcoholics and people with uncontrolled epilepsy shouldn't drink, Ellison says, moderate alcohol consumption can have health benefits for people middle-aged and older, especially when it comes to heart health and stroke risk.
For most women, he adds, these benefits will outweigh the small increase in breast cancer risk associated with alcohol consumption. "I am someone who's a strong believer that substances in wine are helpful," he says.