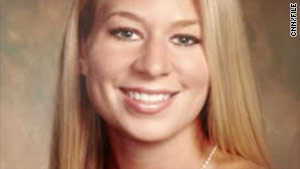 Natalee Holloway, 18, was last seen in May 2005 leaving an Aruban nightclub.
STORY HIGHLIGHTS
NEW: Natalee Holloway's father reportedly believes the bone belongs to his daughter
The jawbone was found near an Aruba beach hotel
A second found bone doesn't appear to be human
Nancy Grace has an exclusive interview with the tourist who found the human jawbone at an Aruba beach hotel. Watch "Nancy Grace" for the latest in the investigation at 8 and 10 p.m. ET on HLN.
Oranjestad, Aruba (CNN) -- Aruban prosecutors plan to release Tuesday the results of tests conducted on a jawbone found on an island beach and disclose whether it belongs to missing U.S. teenager Natalee Holloway, officials said.
The tests, conducted at the Netherlands Forensic Institute in The Hague, Netherlands, were to first determine whether the bone is that of a human or that of an animal. If the bone is human, authorities said, they would attempt to determine through DNA testing if it belonged to Holloway. The Alabama 18-year-old was last seen on the island in 2005.
Aruba Solicitor General Taco Stein said prosecutors will issue a statement Tuesday with the test results.
Holloway's dental records were sent to the forensic institute last week, according to the FBI.
Tim Miller, director of Texas EquuSearch -- a search-and-rescue organization that has looked for Natalee Holloway -- said the girl's father believes it is his daughter's bone.

Jawbone tested in Holloway case

Natalee Holloway's aunt on bone found

Holloway's mom confronts van der Sloot
"Dave has been in contact with Aruban authorities and spoke with FBI this morning, the agent working the case. Dave believes it is Natalee," Miller said about Holloway's father, Dave Holloway.
A call to the father was not immediately returned Monday.
Part of a jawbone with a tooth was found earlier this month by an American tourist near the Phoenix Hotel, a large resort on the western side of the island, Aruban prosecutor Peter Blanken said. Contacted by CNN, the hotel referred questions to local authorities.
The prosecutor said the bone was initially examined by a forensic expert in Aruba, who determined it was from a young woman. But Blanken cautioned the final determination would be made by the forensic institute.
Also on Monday, police collected a second bone that was found earlier this month on the beach by a New Jersey family, said Ana Angela, spokeswoman for Aruban prosecutors. However, "it does not appear to be human," said Richard Roy, general manager of the Westin Hotel.
The bone was found in the same general area as the first. The family, who was staying at the Westin, put it on their hotel balcony. They told CNN that once they returned home and heard media reports on the jawbone, they called the FBI and then contacted the Westin. Staffers at the hotel found the bone on the balcony and notified police.
Holloway was last seen in the early hours of May 30, 2005, leaving an Oranjestad nightclub with Joran van der Sloot and two other men. She was visiting the island with about 100 classmates to celebrate their graduation from Mountain Brook High School in suburban Birmingham, Alabama.
Van der Slootwasdetained twice in connection with Holloway's disappearance but never charged. He is now awaiting trial in Lima, Peru, on a murder charge in the death of Peruvian student Stephany Flores. Her body was found in May in a hotel room registered to van der Sloot. A surveillance camera captured images of the two entering the room .
Van der Sloot, 23, is also charged with wire fraud and extortion in Alabama for allegedly attempting to extort more than $250,000 from Holloway's family in return for disclosing the location of her body.
CNN's Rich Phillips, In Session's Jean Casarez and HLN's Rupa Mikkilineni contributed to this report.
FOLLOW THIS TOPIC