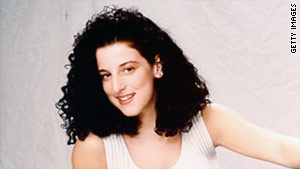 Chandra Levy disappeared while jogging nine years ago; her body was found in a park.
STORY HIGHLIGHTS
NEW: Condit says he became reluctant to help investigators
Condit won't say whether he, Levy had sex
Prosecution plays answering machine messages
He was never a suspect in the case
Washington (CNN) -- Former U.S. Rep. Gary Condit, testifying Monday in the trial of a man charged in the 2001 murder of Chandra Levy, an intern with whom Condit allegedly had an affair, refused to address the question of whether he had sex with Levy.
Condit told prosecutor Amanda Haines that it's been 10 years and he has never divulged whether he and Levy were intimate. Asked whether he would answer the question, Condit said, "We've lost our feeling for common decency. I didn't commit any crime. I didn't do anything wrong."
He added, "I didn't think it had any value to the discussion ... what my private life was, or Chandra's private life."
The disappearance of Levy, 24, an intern for the federal Bureau of Prisons, drew national attention after her parents discovered a connection with Condit, who was then a sitting congressman. Condit was never a suspect in the case but was questioned intensively for details as to Levy's whereabouts.

Video: The mystery of Chandra Levy
Ingmar Guandique, a reputed member of the Salvadoran gang Mara Salvatrucha, is charged with killing Levy. Prosecutors believe that he attacked her as she jogged in a park and then killed her when she began to scream. Her remains were found more than a year later off a jogging trail in Washington's Rock Creek Park.
Condit said of Levy, "We never had a fight. We never had any cross words."
But he admitted that he and Levy spoke by telephone a few times a week, and that he talked with her upset father, Robert, following her disappearance.
The former congressman said he didn't remember that a federal prosecutor told him he was a principal subject of the case -- not just a witness offering information -- when he was called before the grand jury that eventually indicted Guandique. A transcript of the appearance refreshed his memory.
But "I don't remember him telling me that at all," Condit said. "I have to say I was pretty lethargic. I'd been beaten down. I'd lost the election." Asked why he refused to testify further before the grand jury, Condit said, "I took the Fifth [Amendment] because I'd just about had it with law enforcement" -- including what he said was a suggestion by the investigating prosecutor that he would "do all he could to try to trick me."
Condit said several times during his testimony that the media frenzy surrounding Levy's disappearance was hard to handle, including a helicopter flight over his California home while his daughter and her friends were sunbathing at the family's pool. "They reported that I had young women in bikinis at my house," he said.
And he said he became reluctant to cooperate with investigators. "I was beginning to feel like a suspect," he said. "I was beginning to feel like they were prying" in places he considered irrelevant to finding Levy, he said.
Brought to the courtroom through a secure hallway in the courthouse, Condit identified himself to the jury, saying, 'I was a member of the United States Congress" but now he is "pretty much retired."
He said he met Levy through a friend who had come to work in his office. As he would with any constituent, he said he tried to help Levy during her time in Washington and as she began looking for a job.
"I did give her a gift," he said. "I gave her a bracelet." he said the trinket was one of a half-dozen his office kept on hand to reciprocate for small gifts visitors would give him.
Prosecutors played two recordings Condit left on Levy's answering machine near the time of her disappearance. In one, he asks her for a "rundown on kind of what your schedule is." In the other, he says, "I haven't heard from you. Maybe you're out of the country, so give me a call."
Guandique's defense attorney challenged Condit on cross-examination, attempting to get him to admit that he lied during the investigation.
Condit's daughter Cadee was in the courtroom, seated behind Levy's mother, Susan. Susan Levy clutched a small brown stuffed animal under her arm as she listened to Condit's testimony, at times taking notes
Last week, Robert Levy, the dead woman's father, testified that during the search for her, he called numbers he found on her cell phone bills. One of the numbers was Condit's office, Levy told the court.
Guandique denies that he attacked Levy, and there is no physical evidence linking him to the assault, leaving prosecutors to base their case largely on his alleged jailhouse admission that he killed the young intern.
FOLLOW THIS TOPIC