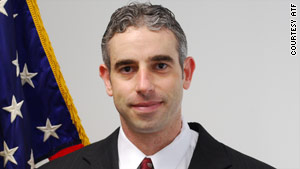 U.S. Virgin Islands authorities allege Will Clark used excessive force when he intervened in a domestic argument.
STORY HIGHLIGHTS
NEW: Prosecutor is considering options for next step
Special Agent Will Clark will return to full duty, source says
Source: Judge rules prosecutors hadn't proved the man Will Clark shot had died
The agent was charged in Virgin Islands after he intervened in a domestic altercation
(CNN) -- A judge dismissed a murder case Thursday against a U.S. Alcohol, Tobacco, Firearms and Explosives agent in the U.S. Virgin Islands, the ATF said.
"We are pleased with the judgment of acquittal on all counts against Special Agent [Will] Clark," said Scot Thomasson, spokesman for the bureau.
Clark was charged with second degree murder after intervening in a domestic confrontation between two of his neighbors, Marcus Sukow and Margie Duncan, in 2008.
Duncan was trying to flee and called for help. When Clark responded, Sukow began swinging the flashlight at the agent's head. Clark drew his service weapon and fired, hitting the man five times in the chest. Sukow died of his injuries.
A federal government multi-agency investigation of the 2008 incident unanimously concluded the shooting was justified.
But local prosecutors said that Clark -- who was authorized to carry a gun and use "reasonable force" to protect himself or others -- used too much force and was not authorized to enforce the law in the Virgin Islands.
Clark, who has not been working any investigations since the charges were filed against him, will be returning to full duty, a law enforcement official said.
The U.S. Virgin Islands is an unincorporated territory of the United States, and as such has a unique legal relationship with the federal government.
Senior Sitting Superior Court Judge Edgar J. Ross dismissed the case on a motion by the defense saying that government prosecutors had failed to prove that Sukow was the person who died, said Vincent F. Frazer, the attorney general of the U.S. Virgin Islands.
"It is truly a first- or second-year prosecutor screw up," a source close to the case said. "The judge did exactly what the law required."
The government cannot appeal the ruling, the source said.
But Frazer said that his department was considering its next course of action, which could include an appeal.
"We respectfully disagree with the judge's ruling," Frazier said. "We believe the court record will reflect that the People showed a distinct and indisputable connection between the body autopsied by Dr. Francisco Landron and the man who was shot and killed by William Clark."
Frazier said that Ross excluded several "pertinent documents from evidence .. a ruling that we would characterize as unprecedented on this issue." He added that the case "should have been decided by a jury of Virgin Islands residents, not by a single judge."
Clark's attorney, Mark Schamel, disagreed.
"Regardless of the reason, the outcome was correct," said Schamel. "William Clark's use of force was appropriate, justified and legal."
"Will Clark got up to go to the gym and Marcus Sukow and Margie Duncan dragged him into an nightmare that has finally ended today."
Clark's trial began Monday with jury selection and the prosecution's case. The defense did not have a chance to present its side.
The case enraged federal law enforcement authorities -- and made them so concerned that other federal agents could similarly be prosecuted that they removed all ATF agents from the Virgin Islands in 2008, the agency said. A law enforcement official said there is no timetable for returning agents to the territory.
"I think we are going to have to assess the totality of the situation and we will be making some determinations on the staffing of the Virgin Islands at a later date," the official said.
The incident occurred the morning of Sunday, September 7, 2008. According to a police affidavit, Clark was leaving his condo when he encountered Sukow and his girlfriend. They had been drinking and were having a "disagreement." Duncan asked Clark for a ride to the guard gate and got in Clark's sports utility vehicle.
Sukow approached Clark, who was sitting in the car with the driver's door open. One witness said he saw Sukow striking the driver's door with his flashlight and saw Clark draw his weapon and tell Sukow to step back.
"Mr. Sukow stood there with his hands at his side when William Clarke [sic] discharged his firearm at him several times," the affidavit reads. Local prosecutors evidently were heavily influenced by two facts: First, the deceased, Marcus Sukow, was armed only with a flashlight; second, Clark shot him five times.
But Schamel said the local police department's affidavit is inaccurate and its investigation grossly incomplete. The attorney said Sukow weighed 260 pounds, had a history of violent assaults and was acting violently at the time of the incident.
When Clark first encountered the fighting couple, Sukow was naked, intoxicated and shouting threats at his girlfriend and racial slurs at a neighbor who had come out during the commotion. At one point, Sukow went into his condo and returned wearing gym shorts and then pelted his girlfriend's car with landscaping stones.
After Duncan sought refuge in Clark's car, Sukow charged at Clark's open driver door, the flashlight -- a heavy-duty, 18-inch metal one -- raised "like a tomahawk," poised to strike Clark, Schamel said. Clark fired rapidly, as he was trained, Schamel said. Tests later showed that Sukow had a blood-alcohol content of 0.29 percent and had barbiturates and morphine in his blood, the defense lawyer said.
CNN's Jeanne Meserve and Carol Cratty contributed to this report.
FOLLOW THIS TOPIC